We're delighted to present Africa Economic & Cultural Week 2021, celebrating Africa Day, bringing Africa and her diaspora together.
About this event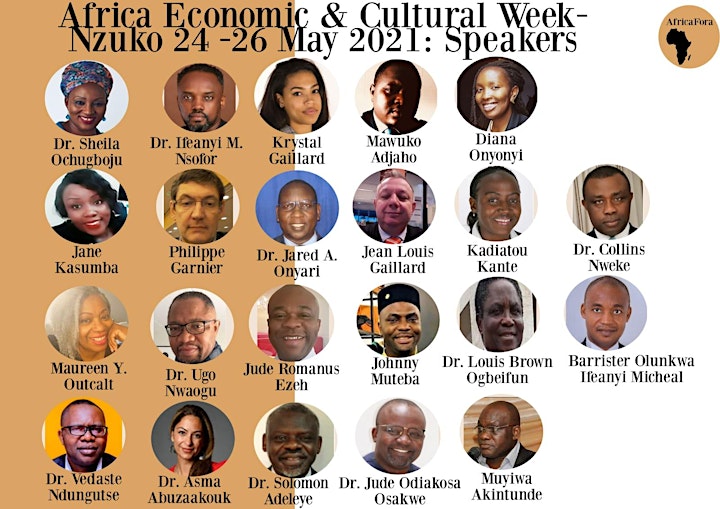 This edition will feature conferences by thought leaders and masterminds of the continent and its diaspora, as well as friends of Africa.
Our speakers are drawn from a large segment of the society: Ambassadors, CEOs, and other top-level executives in Good Governance & Policy, Healthcare, Politics, Economy, Energy, Oil & Gas, Law, Security, and Information Technology.
Please click the link below to join the webinar:
https://zoom.us/j/99210599494
Programme:
Monday, May 24th – Day One (10.00 – 14.05 CEST)
Session I (10.00 - 11.20) – Opening Session Culture, the driver for healing and building.
Session II (11.30 - 12.35) Black and African economic power in the modern world.
Session III (13.00 - 14.05) Shedding a new light on African governance.
Tuesday, May 25th – Day Two (10.00 - 13.05 CEST)
Session IV (10.00 - 11.05) Oil, mining and energy: how to maximise African resources.
Session V (12.00 - 13.05) Security as a driver for Black and African development.
Wednesday, May 26th – Day Three (10.00 - 12.25 CEST)
Session VI (10.00 - 11.00) Highlighting the necessity of non-Western understanding of modern medicine.
Session VII (11.00 - 12.25) Shifting the gaze on Black and African youth, from burden to power.
Due to the Covid19 pandemic, the safety of our participants obliges that we modify our schedule and action plans, therefore the event will now hold virtually.
Please contact us at admin@africafora.com for more information on the events or organisation.