Unlocking Renewable and Sustainable Energy Investment, Trade , Infrastructure Development and Consumer Market Opportunities
About this event
SSCG Africa Energy Summit 2021 will take place on Wednesday 21 April 2021 . The theme is Unlocking Renewable and Sustainable Energy Investment, Trade , Infrastructure Development and Consumer Market Opportunities.
Join us to connect with like minded business leaders, investors and entrepreneurs, to gain latest update, insights, perspectives, strategies and practical best practices.
TOPICS:
Electrifying Africa - Opportunities and challenges
Unlocking Africa's rich renewable energy sources and opportunities
Scaling up renewable energy investment and deployment in Africa
Investment opportunities in sustainable energy development projects
Development of renewable energy potential and power cross-border trade
Energy planning, demand, consumption and pricing
Effective energy policies and regulations
Future of African energy sector - green economy and markets
Driving energy transition towards sustainable and greener energy systems
Climate change and sustainability
Innovative and clean energy business models of the future
Energy and power supply infrastructure development opportunities
Unlocking Africa's solar power advantage
Structuring energy development and infrastructure investment PPPs
Filling the power gap - Accelerating household electrification and energy access
Remote communities off-grid and mini-grid solutions
Energy mixes - Integrating clean renewable energy and hybrid solar power systems
Advanced power distribution technologies and solutions
Developing reliable and efficient energy ecosystems
Efficient energy transmission and power supply systems
Oil and Gas Carbon capture and storage (CCS) utilisation and gas flaring reduction
Leapfrogging to Net Zero Emissions Strategies and CO2 emission reduction
For enquiries and discuss how you can participate and sponsor the summit, email us at info@sscg-group.com
Find more about SSCG at www.sscg-group.com or Twitter @SSCGConsulting and hashtag #SSCGConsulting #SSCGForum #SSCGSummit
SPEAKERS
Segun Adaju - CEO, Consistent Energy and President at The Renewable Energy Association of Nigeria (REAN).
GDPR COMPLIANCE
By registering to attend our events, you consent for us to hold your personal data and usage of event images inline with General Data Protection Regulation (GDPR) Compliance. We assure you that your data will be kept confidential and only be used to keep you updated of our events activities. For further inquiries, please email info@sscg-group.com.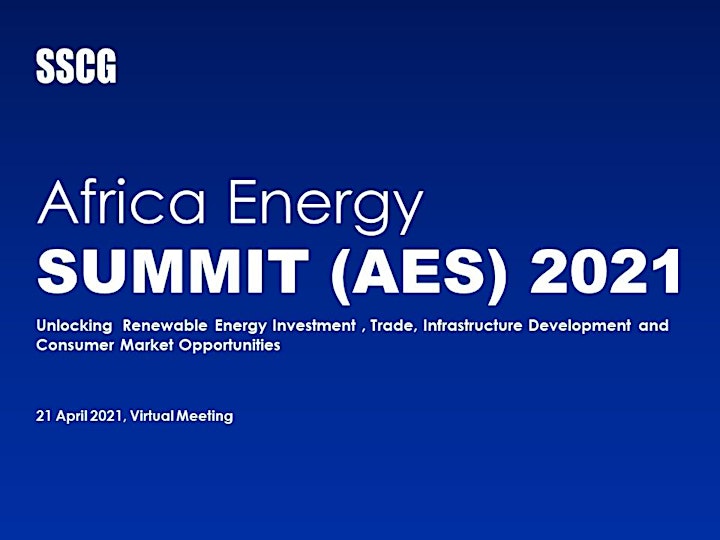 Organiser of Africa Energy Summit (AES) 2021