The Africa Fintech Summit is an event which brings together industry heavyweights, governments, investors and start-ups under one roof.
About this event
The Africa Fintech Summit is an event which brings together industry heavyweights, governments, investors and start-ups under one roof.
According to Disrupt Africa's Africa Tech Start-ups Funding Report 2020; new records were set in 2020, as 397 start-ups raised an impressive US$701,460,565 in total funding. Out of the 397 start-ups who raised capital, only 6 start-ups where from Cote d'Ivoire raising a total of US$ 3 935 000.00 in capital (0.56% of total raised on the continent).
The Fintech sector has grown rapidly in a space of a short time. The continent is creating unicorns which attracts global flow of well needed investments.
The Africa Fintech Summit, for the first time under one roof, is bringing together local and global market makers and movers to discuss the opportunities in Côte d'Ivoire and Africa.
Objectives
The main objective of the Africa Fintech Summit is, as a catalyst, to raise the profile of local businesses, financial institutions, telecoms and start-ups and to facilitate the global flow of investment to Côte d'Ivoire and the continent at large.
Theme/Topics
Financial Inclusion
Microfinance
Telecom and E-Money
Open Banking
CeFI (Centralised Finance) and DeFi (Decentralised Finance) and Blockchain
Mutual Finance and Fintech
Networking and Dinner
Panels
There will be a panel where attendees will have the opportunity to ask questions to the panel.
Panel A: Building a Thriving FinTech Ecosystem
Panel B: Financial Inclusion and the Role of FinTech
Panel C: Raising Capital for Startups
Host
Armel Nene
Guest Speakers & Keynotes & Panelists
- Elvis Darku - CEO and Founder InvestWise Africa
- Idriss Monthe - CEO Founder CinetPay
- Anthony Assassa - Investment Advisor
- Adebayo Data - CEO Founder RateMyPocket
- Dr. Kouame Oussou - University Professor
- Drissa Djiri - Fintech Consultant
- Armel Nene - Founder Afriq Money and Kiktronik Limited
Afterwork Networking
18h to 20h - Movenpick Hotels and Resorts
Avenue Terrasson De Fougeres Angle, Rue Gourgas, Abidjan, Côte d'Ivoire
Who should attend
Fintech start-ups
Entrepreneurs
Investors: venture capitalist – angel investors
Financial institution
Technology developers
Government
About the organisers
The event is organised by Kiktronik Limited, a technology company based in London and the EU. Kiktronik organises start-ups and fintech events in the UK. The company invests in start-ups and technology. It has multiple Facebook and LinkedIn groups with an average of fifteen thousand members. Kiktronik will open a start-up incubator in Abidjan in late 2021.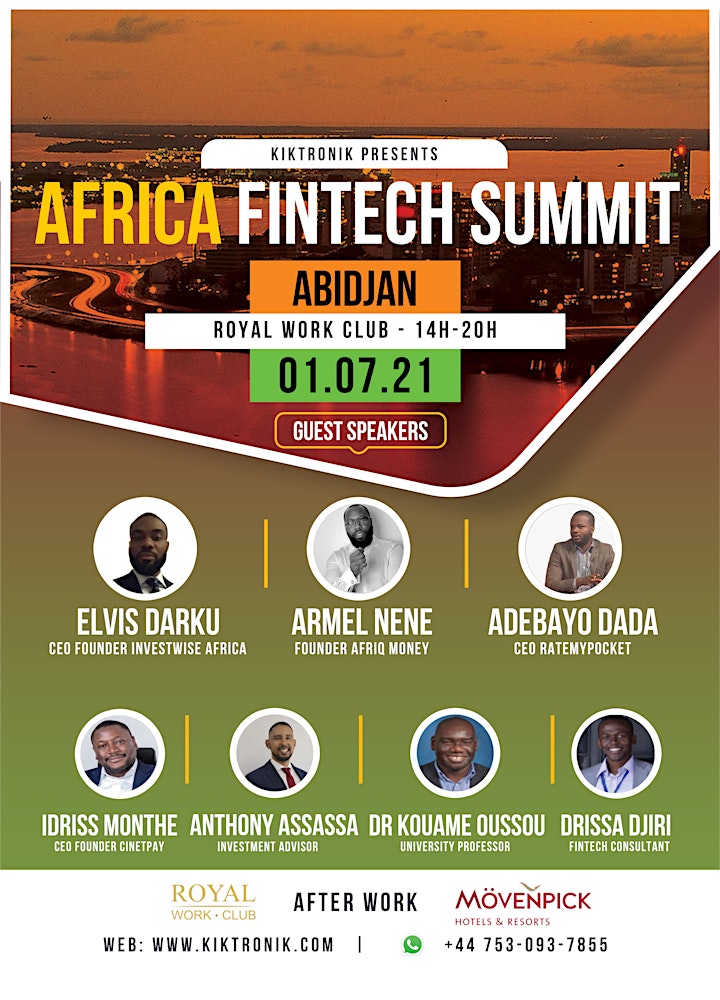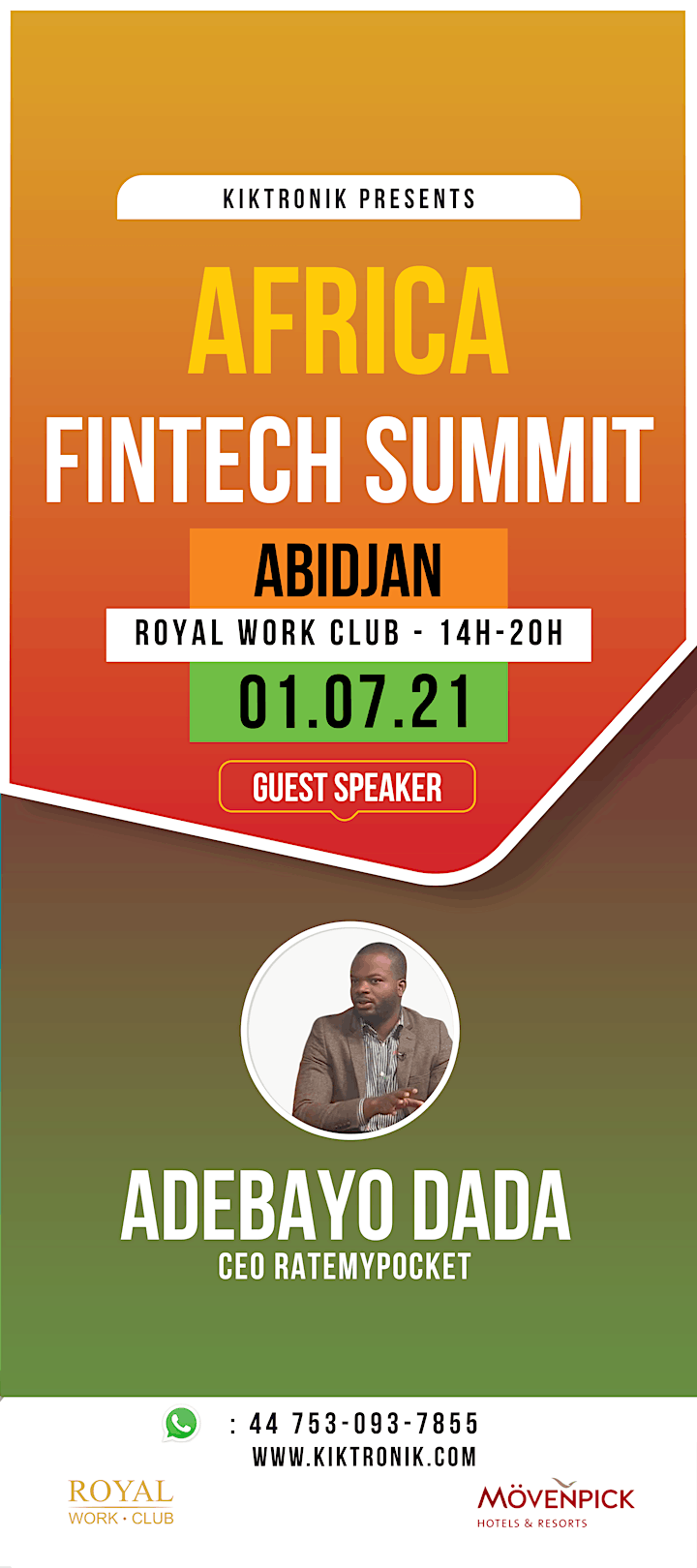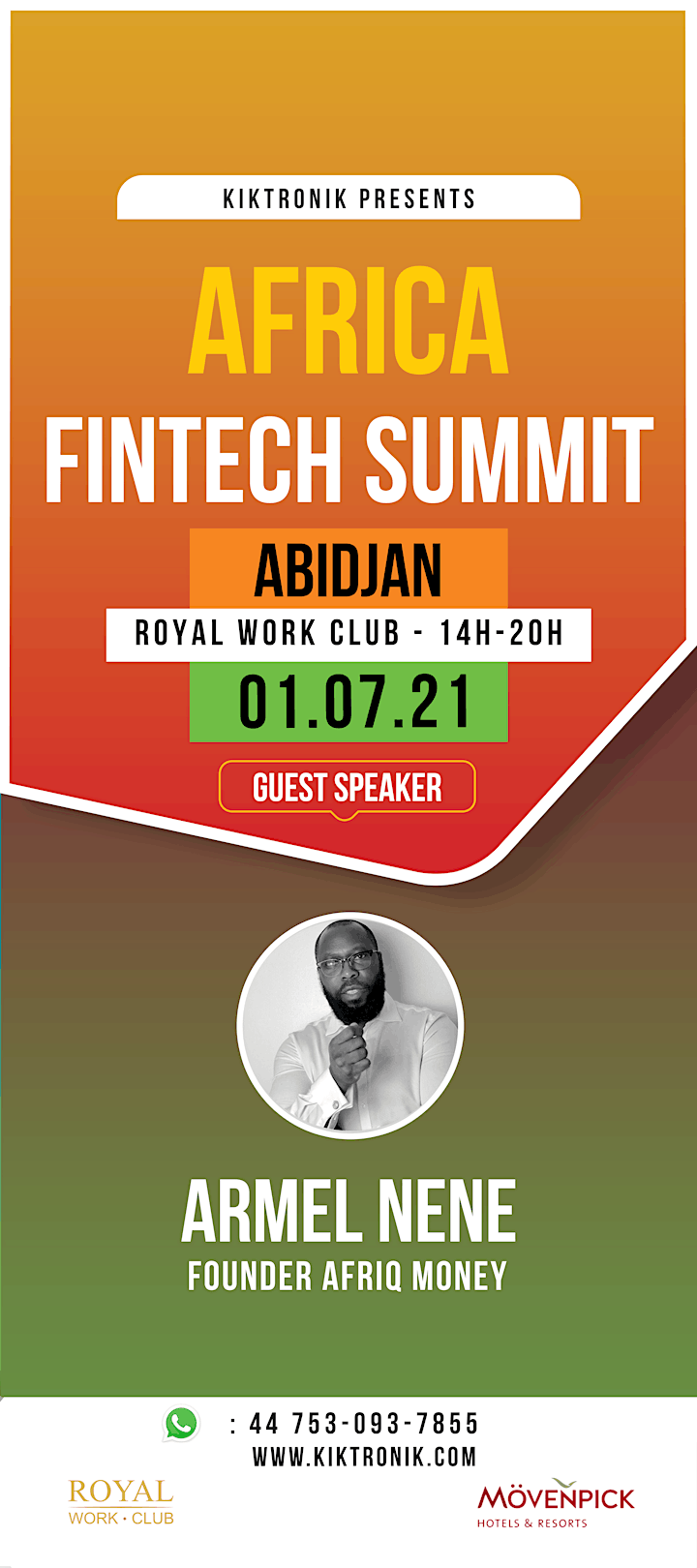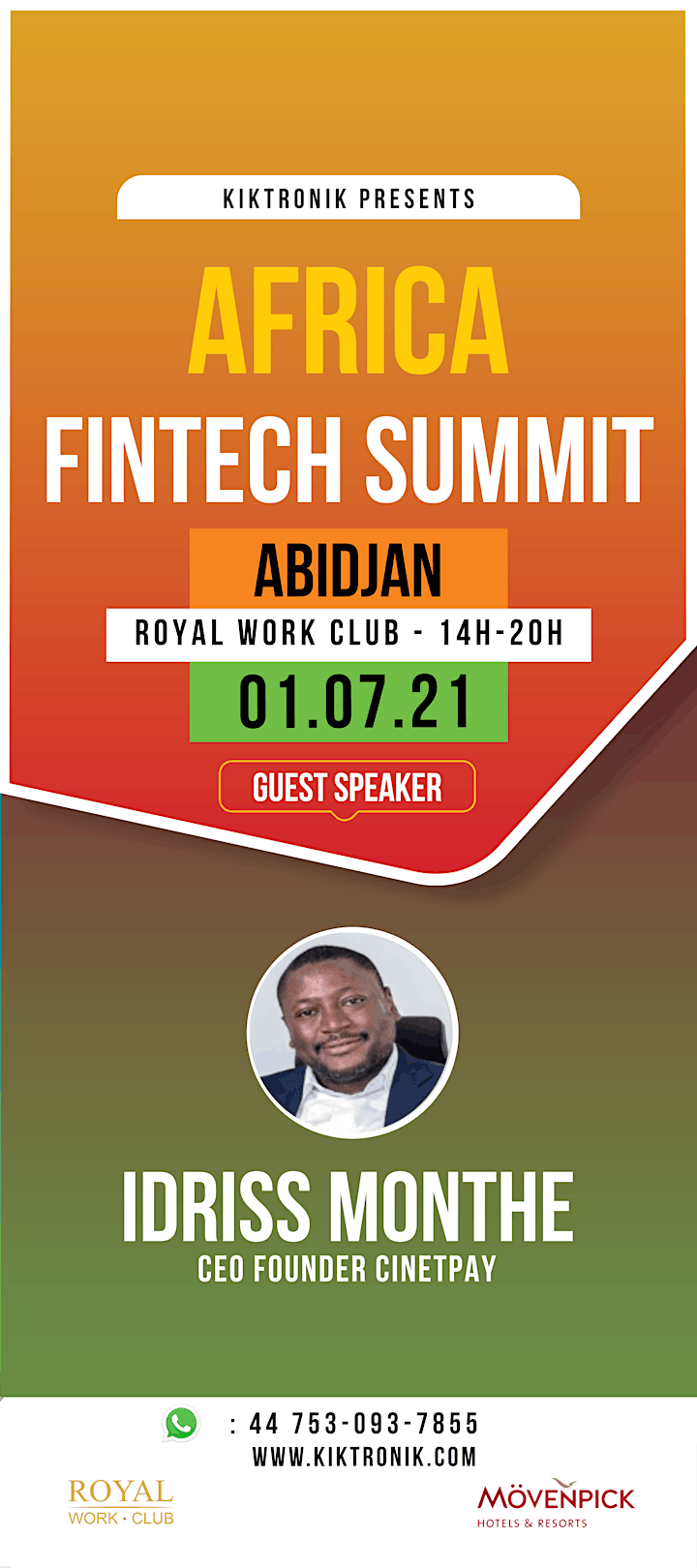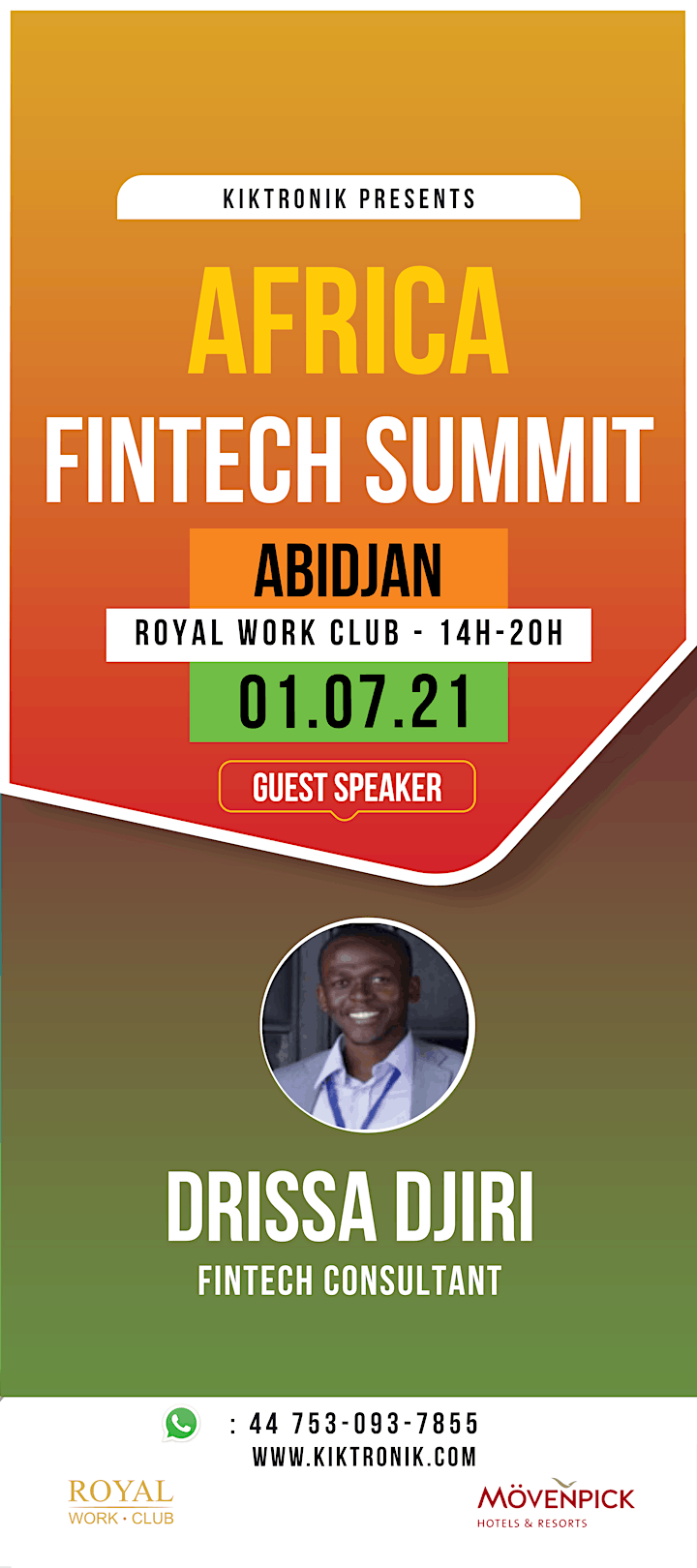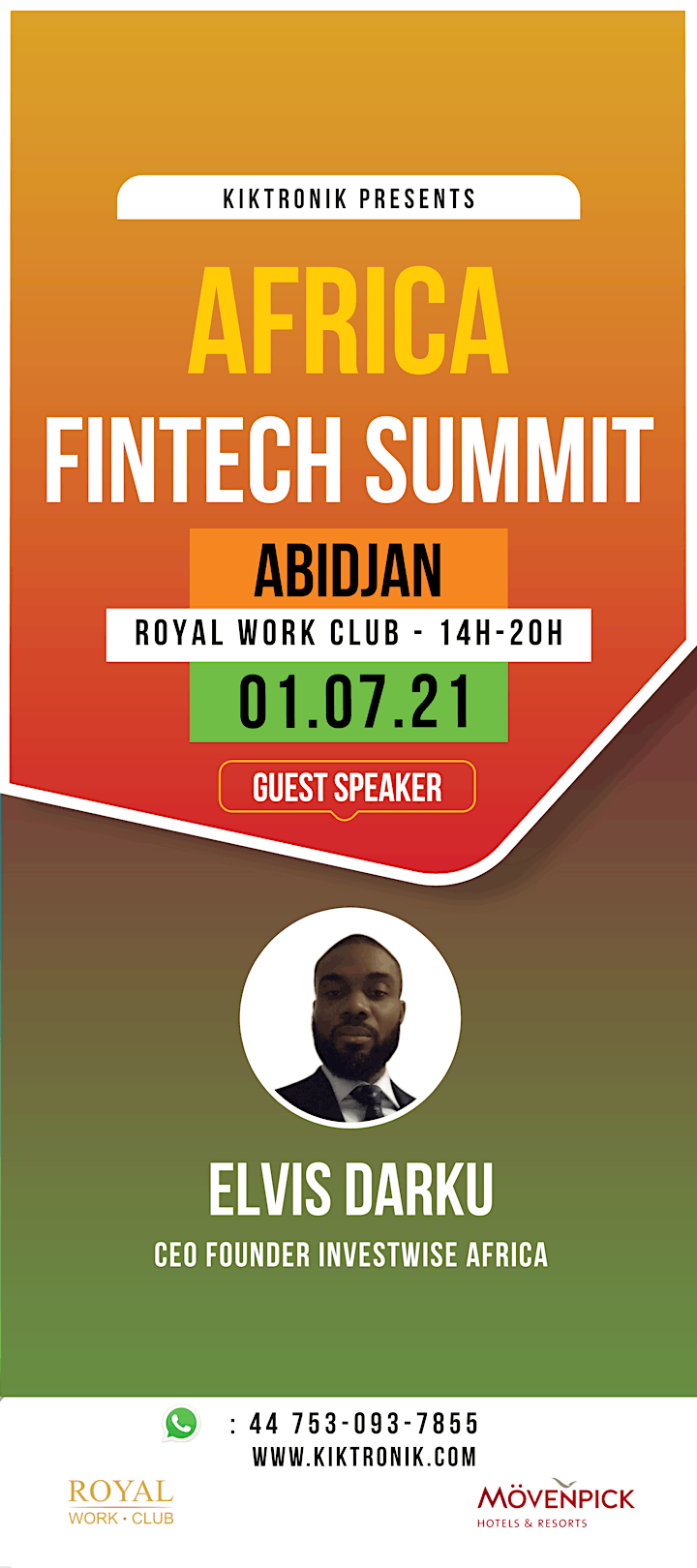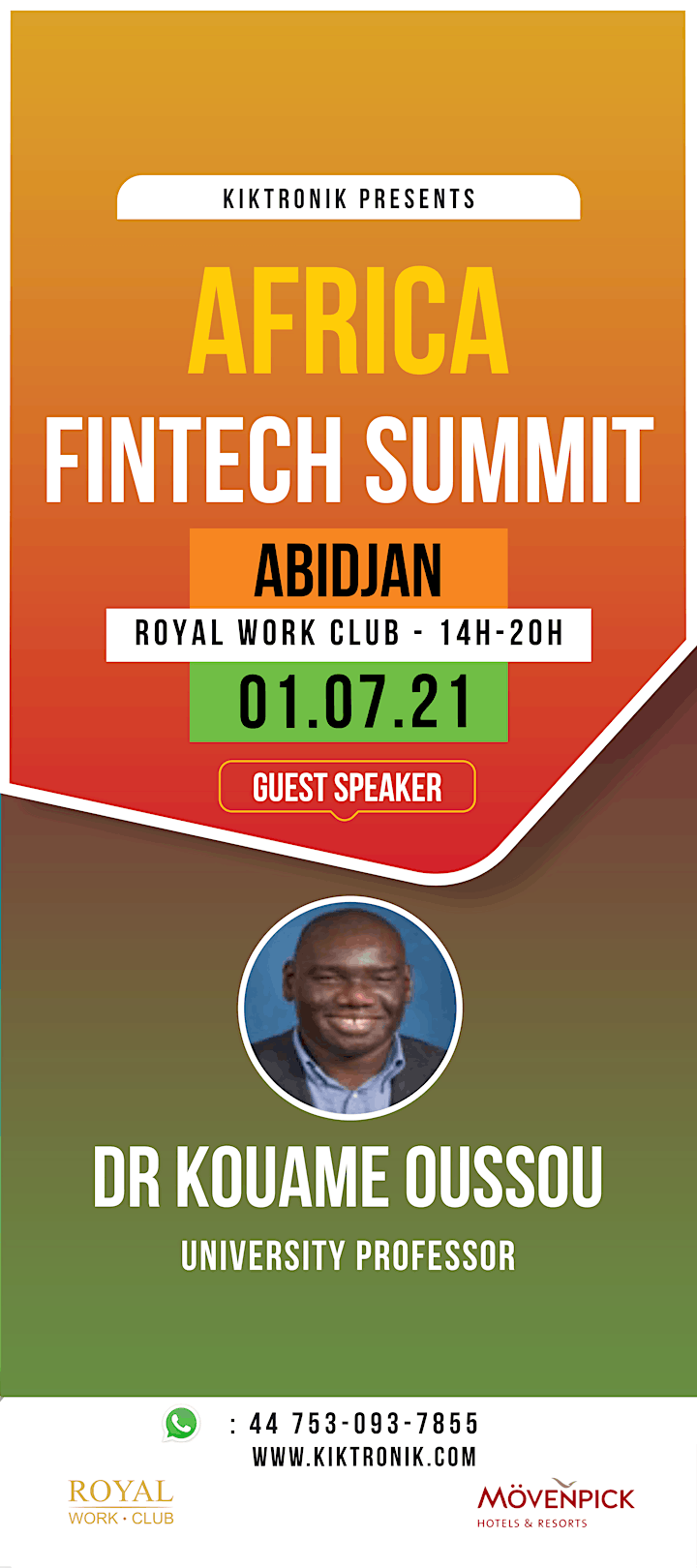 Organiser of Africa Fintech Summit in Abidjan
Kiktronik Limited is an IT consultancy and software development firm based in London. Our consultants are industry pioneers who worked across multiple verticals to harness unparalleled skills and knowledge. As part of consultancy services, we have trained employees of fortune 500 companies. Not only we know how to get the best out of learning but all our courses are based on what employers want.
Why study with us?
Industry experts with over 15 years' experience
Learn with real world scenarios
Work on real projects while learning
Tutor led lessons (no pre-recorded videos)
Classroom participation
Learn from your own comfort
CV surgery
LinkedIn support
Interview preparation
On-going mentoring
All our courses lead to industry recognized certification which will give credibility to what you have learned