Event Information
Location
London
tbc
London
United Kingdom
Celebrating the contribution, achievements, outstanding, innovation and professional excellence of African healthcare professionals
About this event
Join us at The Africa Healthcare Gala and Awards 2022 on Thursday 15 September 2021 in London as we celebrate the contribution, achievements, outstanding, innovation and professional excellence of African healthcare professionals in the UK and Africa.
The Gala and Awards will take place during the Annual Africa Healthcare + Pharmaceutical Summit 2022, and will be Hybrid - hosted both In person (London) and Virtual (Online)
Categories:
Healthcare Excellence Award
Doctor of the Year
Nurse of the Year
AHP of the Year
Health Tech Company
Pharma Company
Outstanding
Lifetime Achievement
Diversity Champion of the Year
Healthcare Business of the Year
Key Dates
Nomination Open 01 June 2022
Closing date 31 July 2022
Voting start 01 August 2022
Voting closes 31 August 2022
Awards Ceremony 15 September 2022
Nominations & voting
Nominations and votes are limited to one per person and require an email address to maintain integrity of the submission and to ensure fairness across the board. Voting will start on 01 August 2022 and Close on 31 August 2022
All the winners will be announced on the first week of September 2022 ahead of the ceremony which will take place on Thursday 15 September 2022
All shortlisted candidates will be invited to join and attend the 2022 Awards live in London or virtually anywhere in the World.
All nominees will receive notification of the success of their entry into the shortlist by email.
Eligibility
You must be over 18 yrs to nominate or vote, must be working or have worked in the healthcare industry. You must submit a valid email address. The awards are nominated and voted for by the public.
Register to attend the Awards Ceremony
Register to secure your early bird ticket to attend the ceremony in London or join virtually. Limited spaces available. REGISTER NOW
Join us to connect with like minded CEOs, business leaders, officials, investors, health professionals, entrepreneurs and multi national development organisations from across the world, to gain latest trends, insights, perspectives, strategies and practical best practices to drive African healthcare industry investment and improvement.
Contact Us to Discuss Sponsorship Opportunities and more - Gain Unprecedented Exposure to Healthcare Leadership and Investment Opportunities
This opportunity will allow you to position yourself as a key business leader in this rapidly changing African Healthcare industry. Plus, you have guaranteed exposure to a worldwide audience of 1000+ healthcare leaders. You need to be a part of this movement, to showcase your latest innovations and solutions with an industry that is eager to learn.
For enquiries and discuss how you can participate and sponsor the summit, email us at info@sscg-group.com
Why Sponsor?
Senior Healthcare Audience: We go above and beyond to deliver a high level audience, ensuring your time is well spent with the key decision-makers
Generate New Leads and Book Meetings: With our b2b networking app, pre-book meetings with our high-level leadership audience, giving you access to hundreds of new business leads
Become a Thought Leader: Lead decision-makers through some of their toughest technology and business model challenges and become their go-to solution provider
What you can expect when you sponsor SSCG Events
Your brand in front of your prospects: We will work with you to get your brand in front of the prospects and clients that can transform your business
Be seen as a thought-leader: With hundreds of industry leaders and experts joining our events, your company can be seen as a thought-leader in the space. Whether that be via a panel session, presentation, interactive workshop and marketing materials.
Showcase your solutions and services: More than ever, industry needs solutions and with our exposure, you can share product brochures, the latest research, and business cards with prospects who need it.
Kickstart sales cycles: Whether that be "cold" prospects or familiar face to face acquaintances, the Networking at a SSCG Events will enable you to set up meetings with industry leaders and accelerate your business development efforts.
Contact Us
For enquiries and discuss how you can participate , speak and sponsor the summit, Gala dinner and awards, email us at info@sscg-group.com
Find more about SSCG Healthcare services at www.sscg-group.com/healthcare or Twitter @SSCGConsulting and hashtag #SSCGConsulting #SSCGHealthcare #SSCGSummit
GDPR COMPLIANCE
By registering to attend our events, you consent for us to hold your personal data and usage of event images inline with General Data Protection Regulation (GDPR) Compliance. We assure you that your data will be kept confidential and only be used to keep you updated of our events activities. For further inquiries, please email info@sscg-group.com.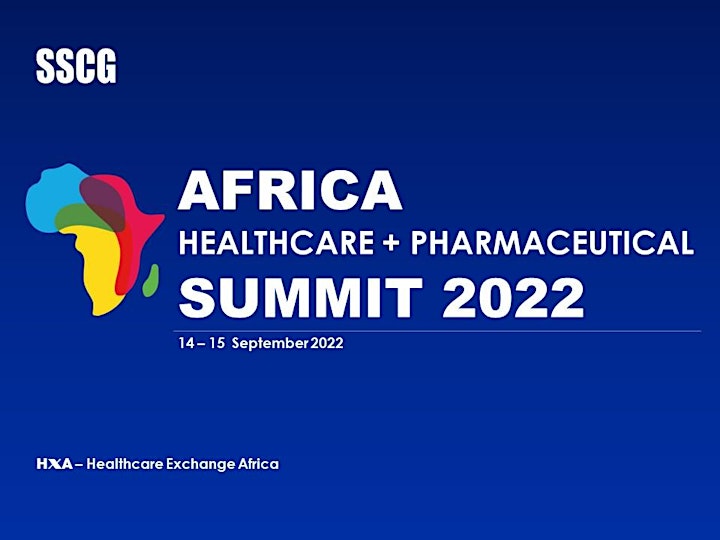 More https://www.eventbrite.co.uk/e/205622692007
Date and time
Location
London
tbc
London
United Kingdom