African Business Day 2018

Wednesday, 16 May 2018 from 10:00 to 10:00 (CEST)
Event Details
                    
ABOUT
This year's African Business Day will be under the theme, The African Dream" and will take place on, Wednesday 16th May 2018. During this years conference, we will share ideas on Africa's social, political and economic future. Furthermore, we intend to celebrate and promote awareness of existing innovative business solutions that have been implemented by Africans on the continent and abroad, as well as contemporary cultural movements such as, 'Women's Empowerment', a theme our all-female committee is quite excited about.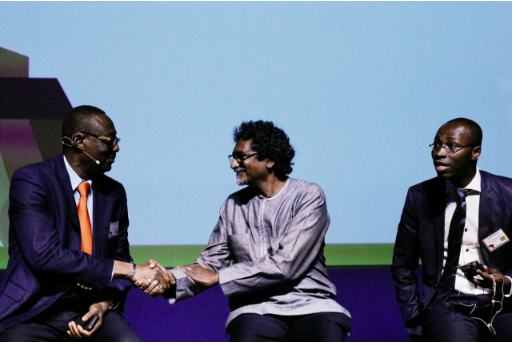 SPEAKERS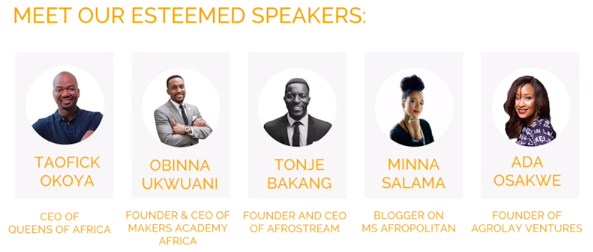 Ada Osakwe
For three years, Ada was the Senior Investment Adviser to Dr. Akinwumi Adesina, Nigeria's former Minister of Agriculture. She was Vice President at Kuramo Capital, a New York-based private equity firm, and from 2005 to 2009 was a Senior Investment Officer at the African Development Bank (AFDB).


     
Tonjé Bakang
Tonjé Bakang is the Founder CEO of, 'Afrostream', the "Netflix for African, African- American and Caribbean content" a streaming site serving the European and African markets. Afrostream is equally a platform for the digital distribution of Black films and series.

Taofick Okoya
"Empowering the African girl child" is the motto of Queens of Africa; a Nigerian brand of dolls founded by Taofick Okoya in 2007. Okoya's mission is to spread a message of empowerment for young black girls in an effort to promote good self-esteem by allowing them to have role models they can relate to from an early age.

Minna Salami
Minna Salami is a Nigerian, Finnish and Swedish writer, blogger and public speaker. She is the founder of the feminist blog, MsAfropolitan, which connects feminism with contemporary culture from an Africa-centred perspective.


   
Obinna John Ukwuani

Obinna is passionately engaged in education, social entrepreneurship, and technology. In 2012, he successfully founded and directed the Exposore Robotics program, a first-class, first-of- its-kind robotics education program in Lagos, Nigeria - the Exposure Robotics Academy (XRA). The Exposure Robotics Academy (XRA) is an intense MIT student-facilitated five-week boarding summer program based in Lagos, which teaches high school students computer programming and engineering fundamentals through building
and operating robots.

The conference will be presented by Keturah King, host of CNN African Voices.
SCHEDULE
The ABD is set up to ensure you get the most out of this excellent opportunity. The day will begin with several workshops with the aforementioned companies, which participants can sign up for beforehand. 
10:00 - 14:00 Workshops
15:00 - 18:30 Conference
18:30 - 19:30 Dinner and drinks 
After a lunch break of authentic tastes of Africa, we will continue with the business conference where all our esteemed guest speakers will share their perspectives on business in Africa.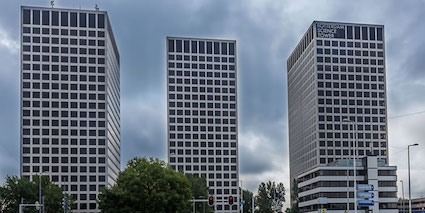 Venue, Erasmus Centre for Entrepreneurship
WORKSHOPS
The kick-off of the event starts at 10 am where students can attend interactive workshops conducted by multinational companies such as Royal Dutch Shell, Rabobank, Ringier, Nile Dutch and The Nationale Nederlanden. These companies are interested in meeting and recruiting motivated and high performing students for both full-time and internship positions! ASAH is proud to note that three participants at last years African Business Day secured full time jobs with some of the companies present, and are now working in Ghana and Senegal! You have until Thursday 10th May 23:59 PM to subscribe for the workshops. You can register for the workshops here: https://bit.ly/2Huk2xm.

IS THERE DINNER TOO?
The day will end with a delicious dinner, which will serve as a perfect setting for informal networking. Complimented by some light entertainment, this will be a relaxed end to a full day of excitement!
QUESTIONS?
Please email: abd@asah-eur.nl or call +31 6 53 81 74 53, for press inquiries please email: pr@asah-eur.nl.
When & Where

Erasmus Center for Entrepreneurship
Rotterdam Science Tower, 11th floor Marconistraat 16
3029 AK Rotterdam
Netherlands


Wednesday, 16 May 2018 from 10:00 to 10:00 (CEST)
Add to my calendar
Organiser
The Association of Students of African Heritage (ASAH) was founded during the autumn of 2006 by Erasmus University students. In 2007, the association was officially registered at the Dutch Chamber of Commerce situated in Rotterdam. 

Primarily, the purpose of ASAH is to give students of African Ancestry a voice and representation both at the University and within The Netherlands. Built on the pillars of organizing Educational, Career, Cultural and Social activities to enrich and complement the journey of a student, ASAH embraces diversity and "multi-ethnic" membership. Up-to-date, our members consist of students of African Heritage and students/persons with an affinity for Africa, within the Dutch society.

The mission of ASAH is to provide a platform for students of higher education to interact and advance learning on a Personal, Professional, Social and Cultural level (the aforementioned pillars). Through our values of Diversity, Access, Care and Engagement, ASAH strives to plan, organize and implement activities that benefits its members. The following goals are taken to heart:

- To create opportunities for personal growth, career building, acquisition of essential skills and knowledge and to exercise leadership.
- To provide opportunities to interact and to promote peace, tolerance, understanding and mutual respect.
- To highlight the similarities and shared-heritage between students from the African continent and those in the diaspora to strengthen identity.
- To make the youth aware of, as well as, provide necessary information concerning the possibilities of higher education in The Netherlands or abroad.
- To assist International/Exchange students at the university so that they feel at home in The Netherlands and get acquainted with the Dutch culture/society.