Description
ADVANCED TICKET SALES HAVE NOW ENDED.
TICKETS CAN BE PURCHASED ON THE DOOR FOR £7.00 (CASH ONLY)
Black History Studies and The Holy Qubtic Church presents...
African Culture

Birthed European Civilisations
Featuring from the USA
the Rev AJ Varmah (Ba-Sesh Haru-Hotep Tar)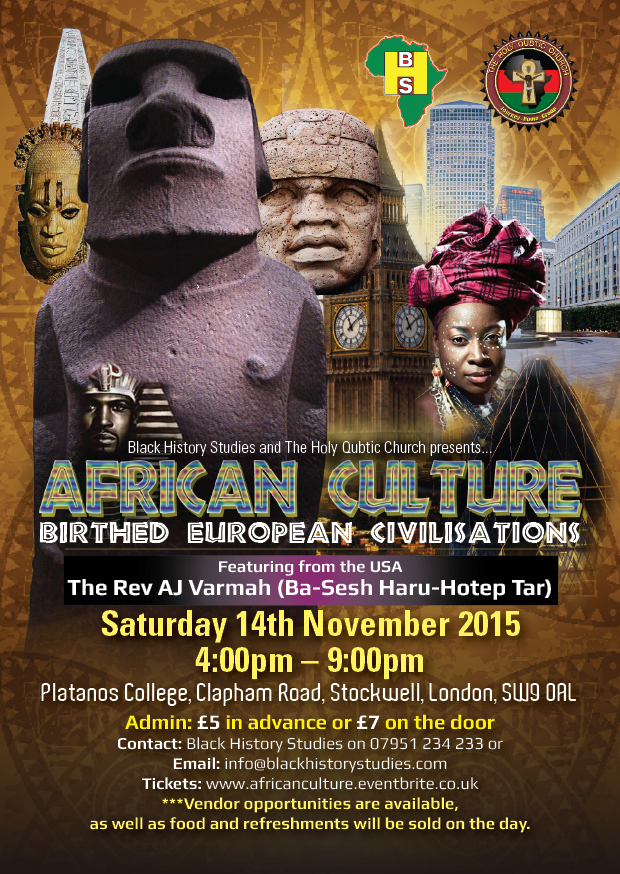 Many people are under the impression that the European invasion of Africa, as well as their colonisation methods, is what brought civilisation to the continent. On the contrary, when we look back at our history; it was the other way around. It was during their invasion that these Europeans studied our science, our governing systems, our agriculture methods, our history, our technological advancements, our spiritual practices and more. We will be explore the many things they stole, and why we used science in the manner that we did, as well as how to utilise our sciences today.


Rev. Dr Ahmadou J. Varmah is head of the global Holy Qubtic Church. Born in Liberia West Africa, but raised and educated in the USA, Dr Varmah is an accomplished author, public speaker, educator as well as an astounding teacher.

With over 30 years worth of experience, he is a leading authority on African and indigenous religions. He is the author of over 50 books, including 'How Egyptian and Sumerian Realities Became the Bible's Mythology.' Dr Varmah gives lectures on the African origins of monotheism, by conducting numerous Q&A fellowships all around the world.


This event will take place on Saturday 14th November 2015 from4pm to 9pm at Platanos College, Clapham Road, London, SW9 0AL. The nearest tube station is Stockwell (Victoria and Northern line). Buses 50, 88, 155, 345 stop nearby.


Hot food and refreshments will be on sale.
Admission will be £5 + bf in advance or £7 on the door.
There will be a small Black Market on the day with stalls selling books & DVDs, African arts and crafts, jewellery, body & hair care products and much more! The confirmed vendors are:


African Language Classes
All Knightz Limited
Black History Studies
Cabdeo Handmade Cards and Gifts
LOSA LTD (LEGACY OF SEVEN ANGELS LTD)
LOVE IS JUST A VERB
Moremi Books
Nyla's Naturals
Ooma and Yumi
Pieces By Keke
Shalshani Mineral Cosmetics
The Holy Qubtic Church
Viola Sparkles
WordPowerBooks
THIS EVENT IS NOT TO BE MISSED!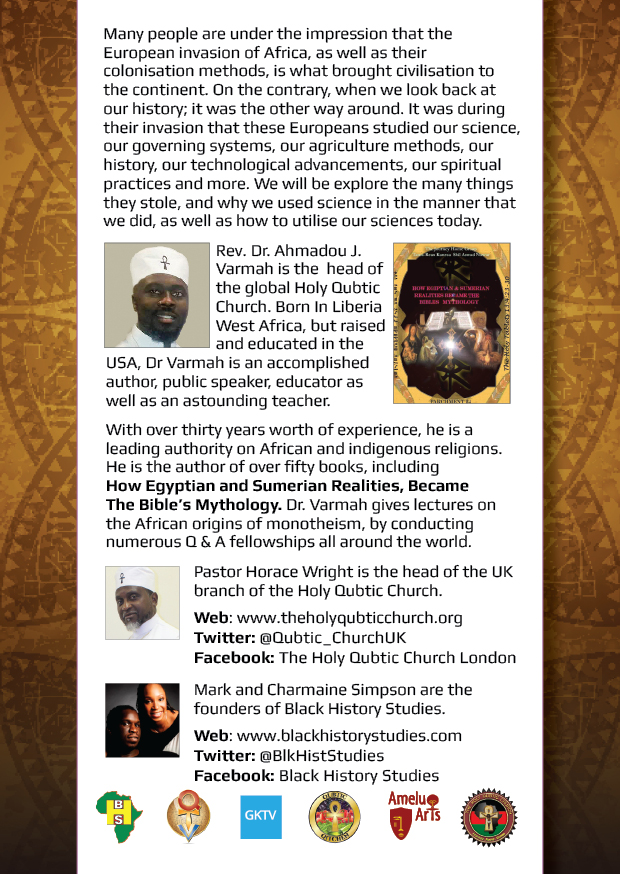 African Language ClassesBlack History StudiesCabdeo Handmade Cards and GiftsLOSA LTD (LEGACY OF SEVEN ANGELS LTD)LOVE IS JUST A VERB Moremi BooksNyla's NaturalsOoma and YumiPieces By KekeShalshani Mineral CosmeticsThe Holy Qubtic ChurchViola SparklesWordPowerBooks