AD3 brings together the African diaspora & policymakers to learn, share and enhance the prospects for investments into key African sectors.
About this event
The COVID19 pandemic severely tested the resilience of the socioeconomic structures and systems in Africa. On the one hand it revealed the virtual absence of vaccine production on the continent, and the absence of personal saving of most families who depend on daily and weekly earning to finance their hand-to-mouth circumstances. On the other hand, the pandemic highlighted some of the effective public health systems in some African countries. The resilience of diaspora remittances, philanthropy and finance, which continued to finance livelihoods, irrespective of the strained circumstances of the African migrants and diaspora.
With the outbreak of the Ukraine crisis, new challenges have emerged and strategic questions arise about the resilience of African countries in times of globalised crises. Many African countries, including Algeria, Egypt, Ethiopia, Libya, Morocco, Nigeria, South Africa, Sudan, and Tunisia rely heavily on importation of wheat and other foodstuffs from Ukraine and Russia. These countries make up almost half the population of Africa and any severe food shortages will create major socioeconomic and political crises. Previous sharp rises in food prices were one of the contributory factors in triggering the Arab Spring uprisings in Egypt.
The Ukraine crisis has also raised challenges for Africa in the field of development cooperation. At the recently concluded EU-AU Summit on 17-18 February 2022, the leaders announced an 'Africa-Europe Investment Package' of 150 billion Euros, to support the AU Agenda 2063 and implementation of the Agenda 2030 Sustainable Development Goals (SDGs) in Africa. The investment package, which is intended to favourably compete with China, aims to "help build more diversified, inclusive, sustainable and resilient economies"2. The EU's refocus on Ukraine and the eastern European neighbourhood is likely to threaten this ambitious package. Both post-Brexit UK and the US are likely to intensify the refocus to Ukraine.
How can Africa cope with external shocks in food and energy supplies, and what can the diaspora do to support African resilience in these and related areas?
To what extent can African diplomacy succeed in maintaining global development investments to Africa?
Can Africa pivot strategically and tactically to optimise input from the West and the East?
How can the diaspora diplomacy and influencing enhance global policy to the benefit of Africa?
Join our distinguished panel who will discuss the issues and questions raised above.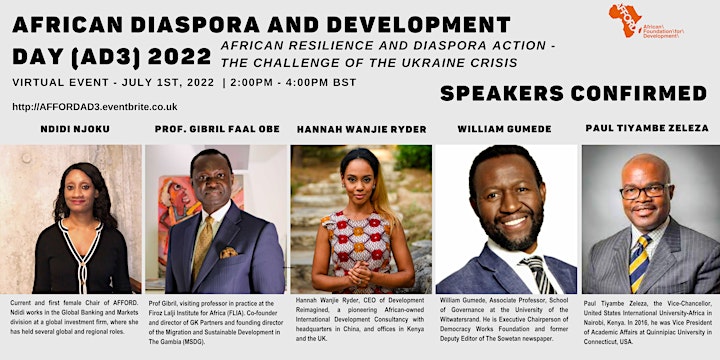 More informations about speakers :
Ndidi Njoku : Works in the Global Banking and Markets division at a global investment firm, where she has held several global and regional roles. Having held a number of high profiled positions, Ndidi began her career as a regulatory specialist at the UK utility regulator Ofgem, a DIFID consultant, she worked on Migration and Development issues, including the role of the Diaspora, and Branchless Banking as part of the Financial Sector Team; which included monitoring the impact of MPESA.
Between 2011-12 Ndidi was seconded to HM Treasury (HMT) to lead the MIFID II review of the commodities derivatives; negotiating the UK's position in Europe.
From 2007 to 2014 at the UK Financial Conduct Authority (FCA), Ndidi worked on the FCA's wholesale conduct agenda, leading the FCA's supervisory review of MIFID. Ndidi has held several other advisory positions and is the MD of Markets4Development (M4D), a philanthropic company which facilitates entrepreneurs, market development and trade to African countries.
Professor Gibril Faal : Co-founder and director of GK Partners and founding director of the Migration and Sustainable Development in The Gambia (MSDG). He is the first visiting professor in practice at the Firoz Lalji Institute for Africa (FLIA), London School of Economics (LSE) and is a council member of Carnegie African Diaspora Program (New York).
Gibril Faal served as: vice chair of Bond (UK), chairman of AFFORD-UK, founding director of ADEPT (Brussels), and magistrate in Her Majesty's Court and Tribunal Service. He has worked as a technical expert with the United Nations, World Bank, University of Oxford, governments of Germany, Switzerland, United Arab Emirates, and other institutions across the world. He served as GFMD civil society co-chair (2014) and grand rapporteur (2017), and overarching expert for the Global Compact for Migration. He has addressed the UN General Assembly several times.
Hannah Wanjie Ryder : A pioneering African-owned International Development Consultancy with headquarters in China, and offices in Kenya and the UK. A former diplomat and economist with close to 20 years of experience, she is Senior Associate at the Center for Strategic International Studies, a member of UAE's International Advisory Council on the New Economy, and was named one of Africa's 100 most influential leaders in 2021.
Prior to her role at DR, Ms Ryder led the United Nations Development Programme (UNDP)'s work with China to help it scale up and improve its cooperation with other developing countries, including in Africa. She has also played various advisory roles for the UN and OECD and co-authored the seminal Stern Review of the Economics of Climate Change in 2006. A sought-after thought-leader, commentator and speaker, regularly cited in and invited to write/talk on global media outlets such as Bloomberg, Project Syndicate, Quartz Africa, the Diplomat, the Guardian, CGTN, and TRT.
William Gumede : Executive Chairperson of Democracy Works Foundation and former Deputy Editor of The Sowetan newspaper. During the anti-apartheid struggle, Gumede held several leadership positions in South African student, civics and trade union movements. He was a political violence mediator and area coordinator for the National Peace Committee during the multiparty negotiations for a democratic South Africa and was seconded to South Africa's Truth and Reconciliation Commission.
William Gumede is Associate Professor & Convener, Political Economy, Graduate School of Public and Development Management (P&DM), University of the Witwatersrand, Johannesburg; Senior Associate & Program Director, Africa Asia Centre, School of Oriental and African Studies (SOAS), University of London.
He has authored several number 1 bestsellers. His more recent books include: Restless Nation: Making Sense of Troubled Times (Tafelberg); and South Africa in BRICS – Salvation or Ruination (Tafelberg).
Paul Tiyambe Zeleza : In 2016, he was Vice President of Academic Affairs at Quinnipiac University in Connecticut, USA. Previously he was Dean of the Bellarmine College of Liberal Arts and President's Professor of History and African American Studies at Loyola Marymount University. He served as head of the Department of African American Studies and the Liberal Arts and Sciences, Distinguished Professor at the University of Illinois at Chicago, taught at Pennsylvania State University, and was Director of the Center for African Studies and Professor of History and African Studies at the University of Illinois at Urbana-Champaign and Principal of Lady Eaton College at Trent University.
He was a fellow at Harvard University. His books include Barack Obama and African Diasporas: Dialogues and Dissensions (Ohio University Press, 2009) and In Search of African Diasporas: Testimonies and Encounters (Carolina Academic Press, 2012).
_______
Register to join.
For more information email - richard@afford-uk.org
_______
AD3, now in its 22nd year is recognised as a platform for influential voices in Africa such as former keynote speakers, Nobel Laurate, Professor Wangari Maathai and Dr James Ndahiro of the Rwanda Stock Exchange to inform and mobilise these audiences in the UK for significant action.