African Forum on Green Economy : Investing in Natural Capital
About this Event
Of all regions on the planet, Africa faces some of the most material natural capital risks, and yet, some of the most clear and compelling opportunities for green, sustainable growth.
Fast growing sectors such as agriculture, forestry, infrastructure and others face significant risks from climate change, biodiversity loss and resource scarcity. Businesses across the continent will need better information to understand these risks, and to respond in a sustainable way.
Investors also need to better understand their opportunities and risk profiles in emerging African markets, and policymakers need to identify and enact smart legislation that provides natural, social and economic benefits for maximum sustainable growth
How?
To provide the information necessary to inform this better decision making, we need:
An honest and practical conversation about how businesses and countries can invest in their natural capital for sustainable yet profitable growth
Robust and accessible data on how the state of natural capital affects the profitability and risk-exposure of operations and investments, using insights such as national natural capital accounts
Collaboration and shared learnings on how to initiate and scale green, economic investments that are practical and effective, with benefits for multiple stakeholders.
Strong, international agendas and networks that incentivize and embed greener economic decision-making.
Institutions across the continent will need the information and incentive to respond to these changes in a sustainable way. The African Forum on Natural Capital: Investing Green Economies will help all stakeholders anticipate and prepare for new opportunities and risks, and propose collaborative ways forward.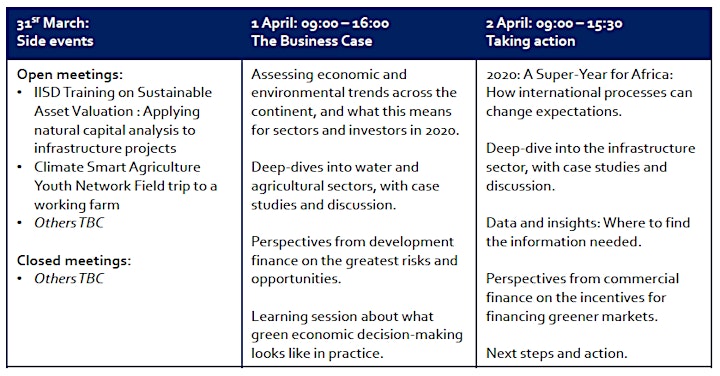 Registration to side-events will become available after registration for the main Forum.
What makes this Forum different?
This forum builds connections between people and concepts, with a focus on practicality.
By combining green economy and natural capital principles and networks, we can better inspire and innovate for meaningful outcomes. This is a shared opportunity to redefine sustainable economic growth where all business, financial institutions, governments and civil society organizations play a critical role.
The Forum invites all stakeholders to discuss how we can each play a role in greener, economic decision making.