Sales Have Ended
Ticket sales have ended
No need to print ticket(s) There is no refund, but tickets can be transferred to a third party
Sales Have Ended
Ticket sales have ended
No need to print ticket(s) There is no refund, but tickets can be transferred to a third party
Description
STOP PRESS: £5 late deal booking using promotional code in advertisement in Nov. 16 2017 issue of The Voice newspaper!
Interested in community African history programmes? Then you can't afford to miss this event, which we expect to be THE African History Month @ 30 event!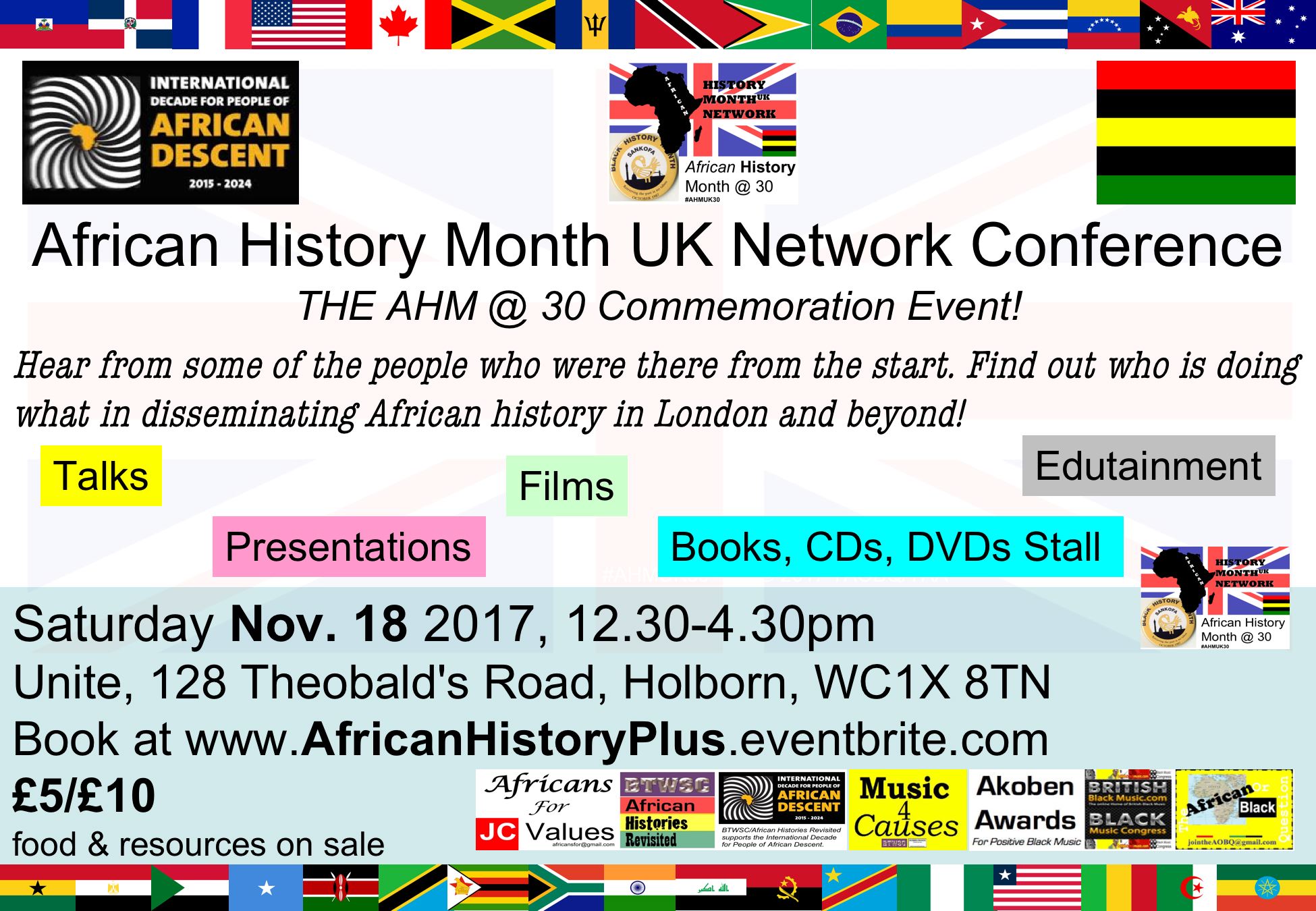 The event is for anyone interested in African history, especially:
+ history presenters, programmers, researchers, tutors
+ parents
+ teachers
+ youth workers & mentors
FIND OUT HOW BLACK HISTORY MONTH WAS INTRODUCED IN THE UK IN 1987, HEAR FROM SOME OF THOSE WHO WERE THERE FROM THE START, WHAT COMMUNITY HISTORIANS & GROUPS ARE DOING REGARDING DELIVERY OF AFRICAN HISTORY IN & OUT OF AFRICAN HISTORY MONTH IN LONDON AND BEYOND, HEAR HISTORY-FACING EDUTAINMENT. IF YOU ARE A COMMUNITY HISTORIAN OR GROUP, HAVE YOU BOOKED TO ATTEND, AND RAISE AWARENESS OF WHAT YOU DO OR PLAN DOING?
CONFERENCE PROGRAMME
12.30-1.00pm Networking, Refreshments* (*African Caribbean meal - chicken, fish, vegetarian £5), Book, DVD, CD stall browsing
1.00-1.45pm Music4Causes history-facing music; discussion: How can we use music and the arts to tell our history?
1.45-2.45pm Black History Month UK history on video; discussion: Are were being well-served by BHM events?
2.45-3pm Comfort break, Book, DVD, CD stall browsing; music
3.00-3.30pm Those who were there in 1987 - video contributions by Addai Sebo and Ansel Wong - officers at the GLC and LSPU Race Unit, Amon Saba Sakaana - Karnak House publishers
Golden Minutes - Elders and programme organisers & deliverers
3.30-4.20pm Discussion: From Black History Month To African History Month
4.20-4.30pm Wrap up, Going forward - terminology and the Global African quad-colur flag
4.30pm Close, strike down, music
talks + presentations + discussions + film + music
Books, DVDs and food on sale
Book a £5 display space for your literature, flyers etc up to A4 size
AHM @ 30, IDPAD (International Decade For People Of African Descent) 2015-24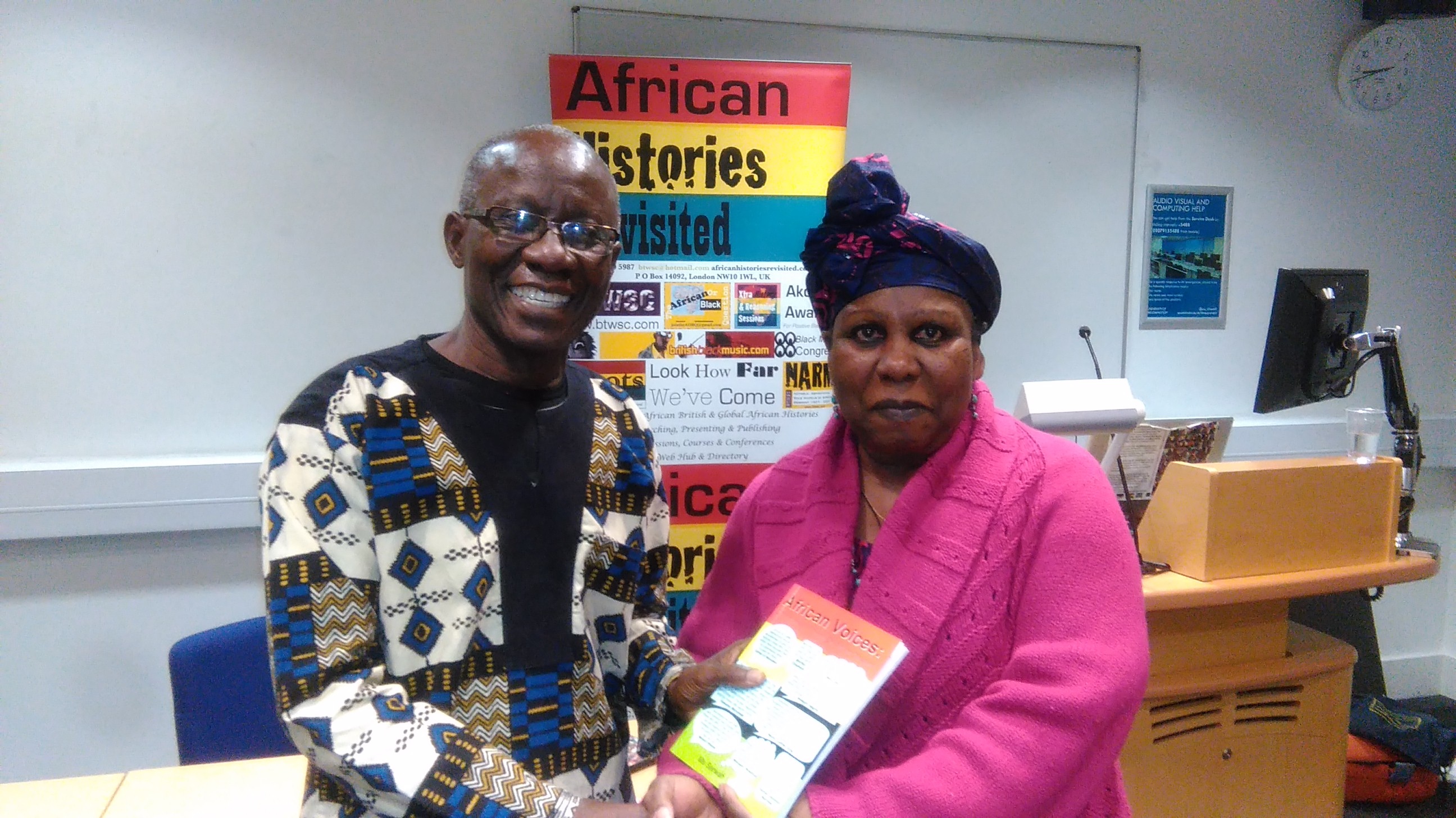 Ama Gueye presents 'African Voices: Quotations By People Of African Descent' to Addai Sebo


+ Find out how Black History Month was introduced in Britain, including contribution by some of those who were involved in the introduction 30 years ago
+ Hear about some of the programmes African history specialists will be delivering as part of African History Month @ 30
+ Improve your global African history knowledge base, and history's role in addressing UN's IDPAD (International Decade For People Of African Descent) initiative
+ Find out about the African Jubilee Year Declaration and its role in the introduction of Black History Month 30 yeas ago
+ Find out the hubs for discovering where African History events are happening in and out of the Month

Organised by BTWSC/African Histories Revisited/Akoben Awards in association with the various community history organisations listed above.
Also check out www.BBM.eventbrite.com for music related, www.HarrowBHM.eventbrite.com and www.AfricanHistoryPlus.eventbrite.com for history and community events.
Organiser of African History Month UK Network Conference
BTWSC is a pan-London voluntary organisation that uses the creative arts to develop potential, raise aspirations, and promote social inclusion. It works with youths, adults and inter-generational audiences. Its core areas of delivery cover music industry, event planning, and African history education and programmes. For more details: btwsc@hotmail.com.
Please note that because of non-attendance, we over-book all free events, so entry and sitting is on a first come, first served basis.
Please note that we photograph and/or film/video our events. Your attendance is taken as implied consent. NO Filming/Video recording events by attendees without prior permission from organisers.