Celebrating National Storytelling Week 2022 through the sharing of migration stories of people of African & Caribbean heritage.
About this event
National Storytelling Week in 2022 takes place from 29 January to 5 February. The Africa Centre (London) and the Library of Africa and The African Diaspora (Accra) are coming together to 'humanise' African and Caribbean migration by digging deeper beyond the usual statistics and politically charged narratives. Migration is essentially about the movement of human beings, whether voluntary or involuntary. However, the human dimension is all too readily overlooked. This is often because the push and pull factors are not fully understood so discourse ends up focussing on the numbers and their political significance, instead of lived lives.
We have witnessed how migrants sometimes get thrown into a dustbin category of 'the other' whose primary defining quality is that they are different from those labelling them. It is all too frequent a hop, skip, and jump from 'them' being different, to them being deficient, and finally to them being demonised as snakes, cockroaches, rats, or 'hordes' and 'swarms' who threaten to 'invade' and 'overrun' our homeland. This inevitably leads to hostile and unfair attitudes which negatively impact those on the receiving end.
The first part of this online discussion will focus on the stories of those with personal experiences of migration, be it from Africa to the west, within Africa, or from the diaspora to Africa. It is an opportunity to educate about how migration from Africa or the Caribbean to the west can be inspired by different reasons. We will also highlight how it is not everyone who gets a chance to live in the west that decides to stay permanently.
Recently, there have been several significant developments towards unifying the continent and its global diaspora. These are renewed efforts to fulfil the pan-Africanist vision of unity and cooperation. The second part of the conversation will unpack broader themes of migration such as the impact of mass migration on African and Caribbean countries. We will explore relevant policy positions of both African and western governments with regards to the global movement of people of African descent. We will also look at arguments for and against repatriation and how exposure to the so called 'developed' world might be leveraged to accelerate socio-economic development on the continent.
Throughout National Storytelling Week, we will be highlighting personal migration stories from our communities, expressed through various forms. If you have recently migrated from Africa or left many years ago, we would love to hear about where you moved from - to and why. What has your experience been as an African/Caribbean immigrant?
Whether you chose to leave, were forced to leave, or are thinking of leaving (or returning), we want to hear from you! Tell us your story using the hashtag, #MyMigrationStory on Twitter, Instagram, or Facebook.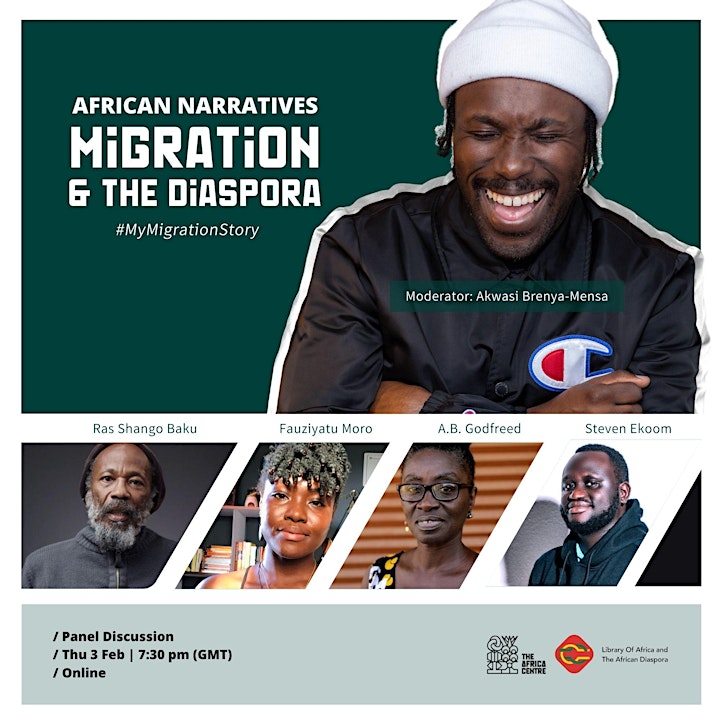 SPEAKERS
SANI SANI-MOHAMMED (INxSANIxTY) is a contemporary visual artist from Peckham Southeast London. He describes his work as art birthed from free flow creation. He uses a range of freely available materials to represent the world around him, allowing new methods of creating and consumption, while provoking thought but also pushing the audience to be more art sensitive and self-analytical. INxSANIxTY's art is also very much inspired by his west African (Nigerian) heritage, London culture, the human condition, and social commentary. He was born in the UK but briefly lived in Nigeria as a child before returning to the UK as a teenager.
Instagram @inxanixty
RAS SHANGO BAKU. Born in Belmont, Trinidad, Shango Baku is a playwright, director, journalist, and activist. Moved to the UK in the 60s and have lived here since. Ras Shango has represented the Rastafari movement at international gatherings and conferences: Ethiopia (4 times), Jamaica (3times), Barbados, Kenya (educational meeting), Ghana (residential Base since '92), S. Africa, Nigeria (FESTAC 77). Generation Windrush w/shops for schools annually with the Museum of London. In the early 1980s, Ras Shango created Baku productions and was responsible for producing and staging several plays in schools and theatres across Port of Spain, Trinidad. Upon his return to England, Baku founded Cultural Exchange Through Theatre in Education (Cettie) in 1987, a registered charity that provides theatre in education workshops in schools across the UK.
A.B. GODFREED. (A creative persona of Epifania Amoo-Adare) Writes poetry and narratives, as well as produces iCollective Art and experimental beat mixes, which are shared on A.B. Godfreed Prosetry & Pic(k)s and various social media platforms (Medium, Instagram, Pinterest, Twitter, Soundcloud, and Facebook). A.B. Godfreed engages in these eclectic endeavours as a way of creating "work that makes life sweet", while also highlighting diversity and yet epigenetically entangled oneness—in all its intelligence and beauty.
FAUZIYATU MORO. A Ph.D. Student of African History at the University of Wisconsin-Madison focusing on mobility and identity (re)formation in post-independent Ghana and the African Sahel. Her research interests include Women and Gender History, Migration, Urban studies, and Popular Culture. She was shortlisted for the Abena Korantemaa Oral History Prize in 2020 for her entry on migrant Sissala women living in Accra, Ghana, and in 2021 placed 2nd in the Accra Archive's Imagining Early Accra Competition with her non-fiction piece "Sugar Babies in the Accra Town Hall: Reflections on Urban Leisure and Space-making". Fauziyatu Moro is working on her first poetry collection on women's migration in Ghana titled Hybrid. In 2021 Moro presented selections from this series with other RML artists/writers at the International Association for the Study of Forced Migration Biannual Conference.
STEPHEN EKOOM. Ugandan agriculture and entertainment entrepreneur, development practitioner, and human rights activist. He briefly moved to the USA for employment in 2018. While there, the exposure and experience of working on a smart agribusiness plant inspired him to consider moving back to Uganda to capitalise on the bountiful agricultural resources. He was able to successfully establish himself and create employment opportunities for young people through The Farmers Guide Uganda Ltd. Since its inception, the company has trained over 1000 farmers on 'smart' farming technology and installed 40 solar dryers to improve post-harvest loss. Motivated by the desire for good governance in his home country, he has taken an active interest in social and political activism.
MODERATOR:
AKWASI BRENYA-MENSA. A humble polymath, Akwasi Brenya-Mensa has many strings to his bow. Self-identifying as Ghanaian-British, Akwasi has been working within food for over 10 years. He made his debut into the food world via a street food pop-up, leading him to high-profile festivals and contract catering pop-ups, which in turn led to the opening of an acclaimed, multi-functional arts space and restaurant in Sheffield. Akwasi then turned his hand to music management and traveled the world extensively, visiting 30 countries in two years, as an Artist Manager and DJ for a number of alternative artists (Flohio, Gaika, plus many more) making the most out of opportunities for cross-community collaboration and exchange with local producers and artists along the way.
Instagram @akwasibmensa
PERFORMANCE ARTIST
Nnenna Maxine Odumodu alias FMax, was born in Lagos, Nigeria - where she learned to play musical instruments and read sheet music at a young age. Her spoken word practice began as a child, as she loved watching performances and being mesmerised by the art form, she began writing and keeping records via journalling. In 2017, began to explore different ways her work could be presented to an audience, experimenting with melodies and synths and recording her voice. Self recorded and self released a debut project in the last quarter of 2020 entitled "Clemency" - touches on love, discrimination and culture.
Instagram @fmaxfmaxfmax