Location
Rich Mix
35-47 Bethnal Green Road
London
E1 6LA
United Kingdom
Refund policy
Contact the organiser to request a refund.
Eventbrite's fee is nonrefundable.
Join us for engaging talks & workshops to expand your knowledge of ancient spiritual practices, modalities and healing technologies
About this event
Friday 26th and Saturday 27th AUGUST at RichMix 35-47 Bethnal Green Rd, London E1 6LA
*** Buy an Earlybird Ticket today and Save £20!***
African Spiritual Practices is 2 days of activity exploring the African origins of spirituality; it's spread internationally with the movements of people out of Africa and the diverse healing rituals, modalities & technologies it has spawned. Whether you are an Ifa priestess, interested in metaphysics or simply exploring your own healing journey. Perhaps you're curious to know how create an altar to connect to your ancestors. We have something here to share and deepen your journey.
Come and discover a world of information, learning, tools, artifacts, practices, and community. Our market place has over a dozen artisans selling all that you need to enrich your spiritual practice. There is also Aunty Afua selling delicious home cooked Ghanaian vegan, vegetarian and meat dishes.
We will have Tarot card readers and other diviners at the event in THE BOADROOM & THE COMFORT, you can also book a 20minute consultation through a special link that is sent with every ticket bought.
SUPER EARLYBIRD WEEKEND PASS £25
£40 WEEKEND PASS Friday 26TH and Saturday 27TH AUGUST. We have 2 areas for talks and workshops THE STUDIO, THE MIIX MARKET PLACE
£25 FRIDAY DAY PASS 26th August pick 6 talks and workshops FROM THE ADDON menu:
£25 SATURDAY DAY PASS 27th August pick 6 talks and workshops FROM THE ADDON menu:
£25 online recording of 2 days of talks. This link will be delivered to your email on the 29th AUGUST 2022
Below are pictures and bios of our speakers and workshop facilitators
FULL TIMETABLE & BIOGRAPHIES OF SPEAKERS IS COMING SOON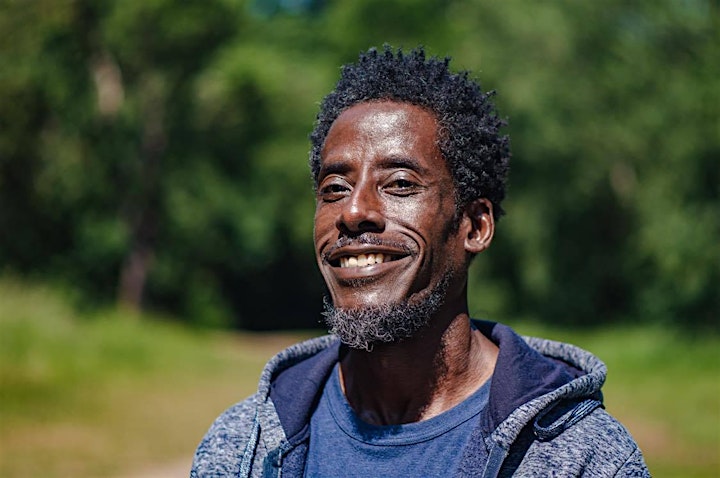 FULL DETAILS COMING SOON [SATURDAY]
Presentation by Darren Le Baron [Darren Springer]
Darren Springer is an educator, researcher and event organizer based in the UK. Known around the world for his Shroomshop Master classes, he is a keen mushroom cultivator and teacher and has been growing gourmet and medicinal mushrooms for the last ten years. By day he is an Organic Horticulturist and Food Enterprise tutor and has translated his home growing experience into a social enterprise.
Although not often recognized by researchers and scientists, fungi and plants have been used by indigenous Africans, and those in the diaspora for spiritual and community development for millennia. Several groups use these sacred plants in their rites of passage initiation ceremonies and daily ritual. Darren is a knowledgeable and dynamic speaker who is passionate about sharing his research and findings on ancient African plant medicines, the history, mythology and various applications.
Collectively his work aims to inform and empower individuals from diverse backgrounds to cope with social challenges and contribute to community development as well as self-improvement in an innovative, creative, culturally-aware style.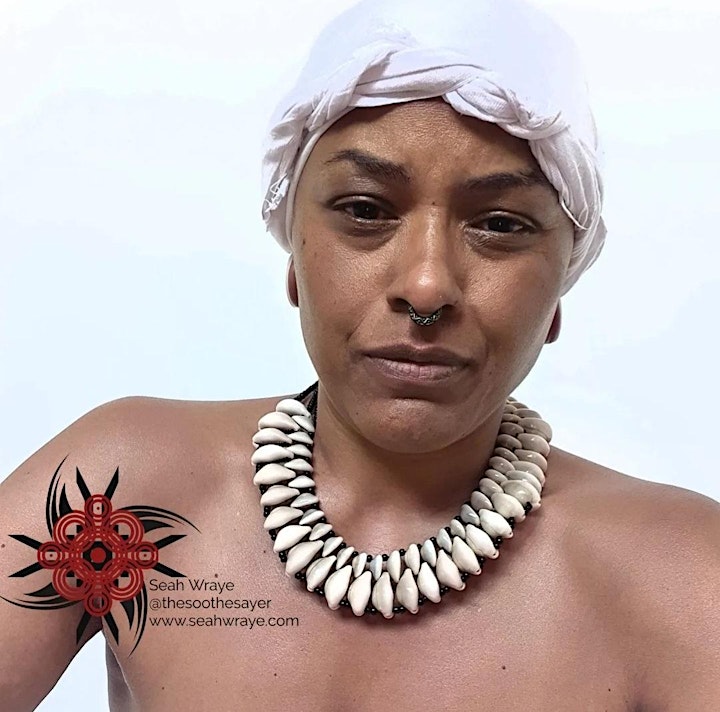 Ancestral Veneration & Shamanic Soul Sound Healing [SATURDAY - Bring yoga mat)
By Seah Wraye
Do you have unanswered questions or lack confidence when it comes to connecting with your ancestors?
Would you like to experience deep soul healing?
Then bring your yoga mat and prepare to relax and enjoy an insightful and immersive experiential workshop with the humble yet highly revered Shamanic practitioner, Seah Wraye.
A session with Seah is like sitting with a youthful, warm and knowlegdable granparent who is ready to lovingly answer all of your questions within a sacred and safe space (with the odd "bad word " thrown in for good measure). Once all questions have been answered, Seah then provides deep soul healing using sound. You won't be disappointed!
Seah in her own words, "As a Practitioner I divine healing in various forms on behalf of individuals within my local and global community who come to me seeking help with personal issues/challenges/maladies regarding their physical, emotional, relationship, personal life, home and environmental health. I also support the dying - those about to transition- and those who have transitioned from the physical yet require healing and support in order to move on from our Earthly Realms"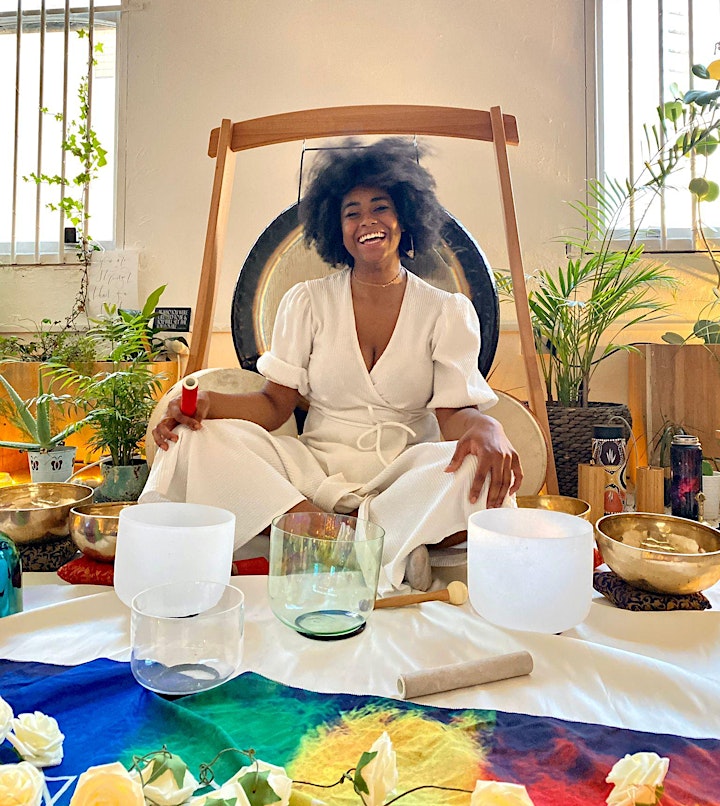 SOUND & ENERGY ACTIVATION [FRIDAY]
By Tia Sunlight
Allow Tia Sunlight to support you to radiate from your soul's essence; The Inner Sun.
Tia Sunlight foundher of Take Your Soul & Elope: is a Multidimensional Soul Activator, Energy Worker, Doula, Medicine Woman & Ancestral Healer & Poet.
She supports people in purifying their heart & energy through powerful Sound Vibration Activation, Soul Guidance Channeling, Light Language EnergySystem Upgrades, Ceremonies and Light Immersive Energy Healing which activates the soul remembrance of self-healing, wisdom, inner power, gratitude and love.
Through transmuting her adverse childhood experiences & trauma she has healed her own Anxiety & Depression. Her healing is her medicine and now supports others to bring their nervous system back into a state of balance through Quantum Healing, Inner Child Retrieval & Healing, working with the elements and her multidimensional gifts.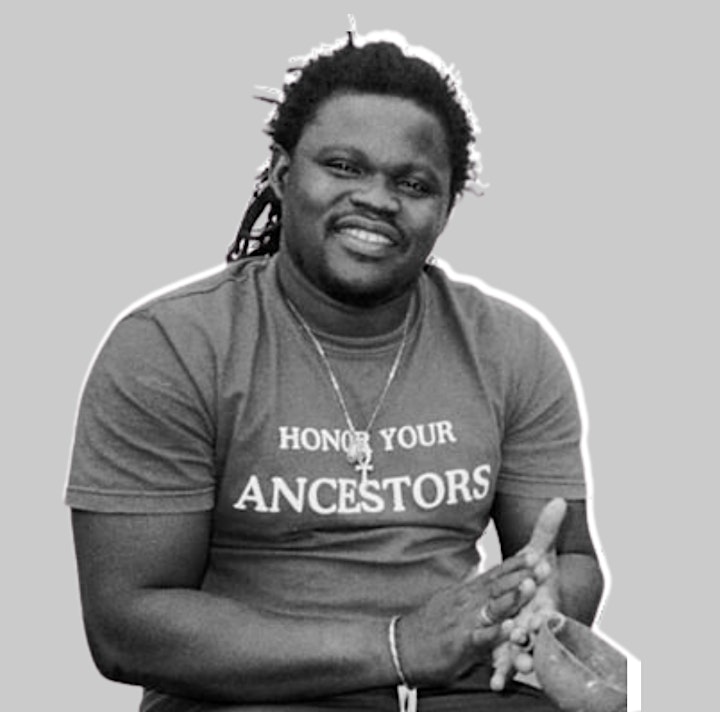 Kemetic Wisdom: Resuscitating Collapsed Consciousness [FRIDAY]
By Naba Iritah Shenmira
Naba Iritah Shenmira is a Priest and Healer from the Dogon bloodline of the Groumanche region of Meritah (Africa); and Son of the High Priest Master Neb Naba Lamoussa Morodenibig, founder of the Earth Center and M'TAM School of Kemetic Philosophy and Spirituality.
NABA comes from a well known bloodline of Astronomers and spiritual professionals. The legacy of the Naba bloodline is what led Arab culture to call their priests Anaba or Anebi and many ethnic groups in West Africa to address their Kings as 'Naaba' or 'Moro Naaba' The original Naba bloodline cannot be Kings: they are the priests and keepers of the shrines.
Naba Iritah was initiated in the Ouagadougou M'TAM Schools by Master Neb Naba himself. Neb Naba simultaneously sent Naba Iritah to different wisdom keepers in the region for certain assignments that would add to his initiation.
Today Naba Iritah continues his father's work and legacy of their forefathers, carrying the mission into the United Kingdom and Quebec, Canada. He leads The Earth Center organization by keeping a sound footing in the Dogon temple culture of Kemet.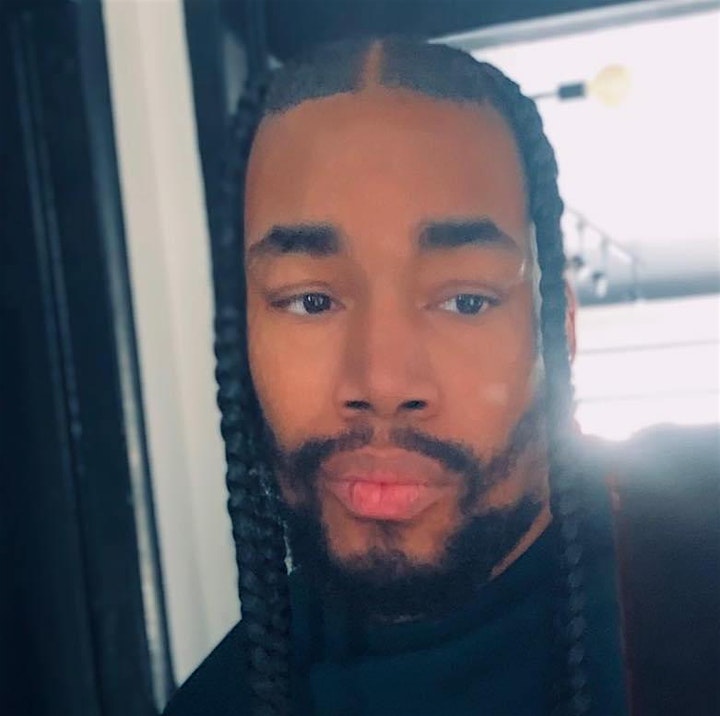 HAVE THE NUMBERS BEEN FOLLOWING YOU? WHAT YOU NEED TO KNOW [FRIDAY]
A presentation by Baba Siete Saudades, Nganga Bukhosi Bhekizulu
Are you seeing 11s everywhere? Every time you look at the time is it 12:12.or 21:12? What are angel numbers? what are you supposed to do with all this? What does it all mean exactly?
Join Baba Siete on a journey into the meaning of numbers and what they mean for you.
Baba Siete Saudades was born and raised in New York City. An inheritor of potent spiritual gifts and prophetic abilities common to his family lineage, he made the decision to answer his spiritual calling in adolescence. Baba Siete always maintained a sustained interest in the spiritual and spent his early years studying global religions and anthropology. History always an academic speciality of his, and he excelled in studies of history and culture.
He began his formal spiritual training Hoodoo tradition at the age of 14. He founded The Myriad in 2017 for the purpose of protecting, preserving, and expanding the tradition of Hoodoo.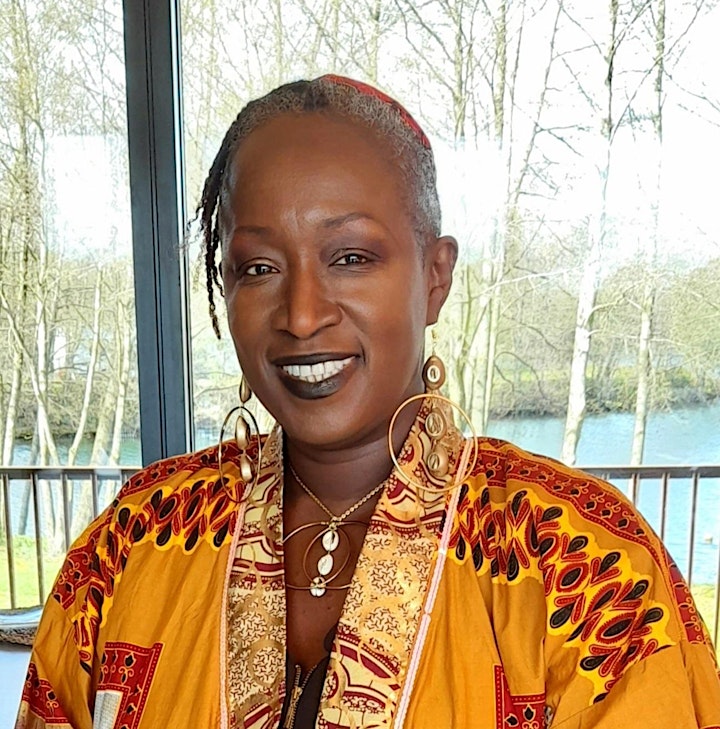 Psychedelic Medicinal Healing of The Inner Child for Better Parenting: Why Its important to Heal Oneself First [FRIDAY]
A Presentation by Akua Ofosuhene
Five years ago Akua Ofosuhene found out that her teenage son had been groomed into a Countylines drug dealing while at school. The shame and guilt brought on depression, high blood pressure and a cancer scare. Although the police, and youth services were 'doing their best', Akua realised that institutional out dated practises were not working. She had to find a different way. Akua learned about psychedelic medicines, alternative healing modalities and African spirituality. By putting these together she was able to treat her depression and eventually get her son out of the drug dealing ring.
Today Akua advises other parents dealing with the effects of grooming and gang activity, as welll as assiting them on intentions and integration whilst healing themselves first and working with psychedelic medicines.
She's a member of INSCAPE a psychotherapy led-psychedelic retreat organisation. Akua works full time as designer and importer natural and artisanal products from Ghana.
Akua is the producer of African Spiritual Practices, co-founder of Hub + Culture (an African and Caribbean cooperative life style shop and event space in Kentish Town) and a psychedelic fashion designer. She's also an advocate of individual therapeutic uses of psychedelics to combat depression, illness and white supremacy racism.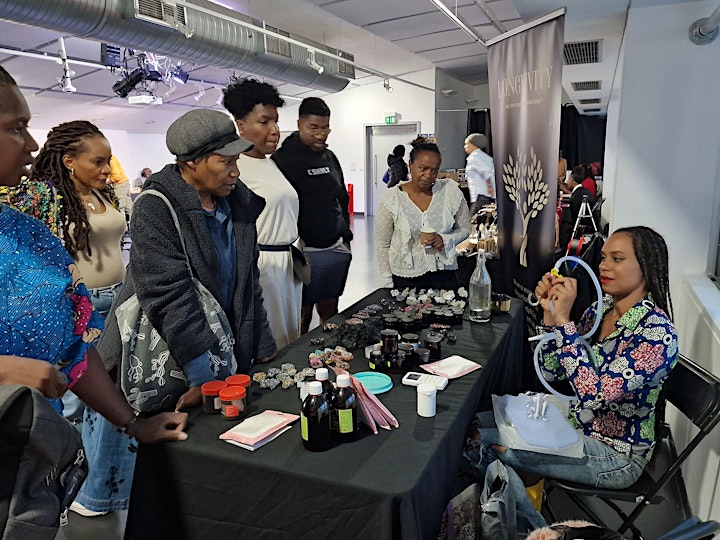 Gut Health & Clearing Parasites: A Practical Guide to Cleansing Internal Organs & Parasite Destruction [FRIDAY]
A presentation by Lorna - Holistic health practitioner
Lorna is a wholistic health researcher, and has always had an interest in healing herbs and supplements. When her father was diagnosed with cancer in 2009, Lorna's interests in natural holistic healing intensified. She researched various healing clinics and decided to go to a Budwig clinic in Spain and participate in a detoxification program. Some years later, Lorna was approached by the Health Fusion Clinic, to help start up their new holistic health centre, and to train as a colon hydro therapist. Since then, she has been the go-to person for who have been suddenly hit with a life-threatening health diagnosis. She has spent countless seeking out remedies and making strong contacts within the industry to help others. Lorna is an advocate for internal cleansing, colonics, enemas and parasitic extinction. She believes that parasites are the cause for many diseases and pushes hard to encourage others to cleanse from the inside out.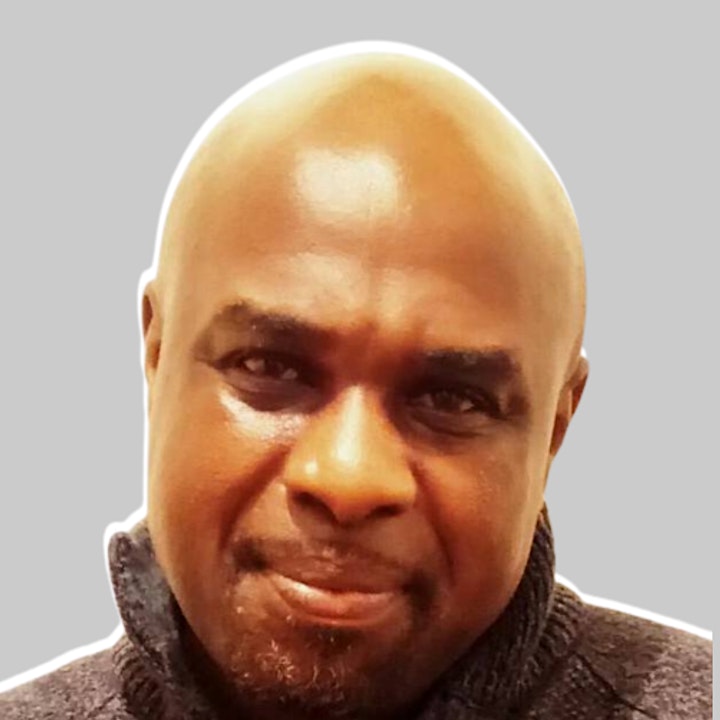 THE IMPORTANCE OF ANCESTRAL CONNECTION [SATURDAY]
By Edison Adbandje
Ancestral Essance offers Empowerment on your spiritual journey, using Ancestral introspection, psychic development, elemental meditation, ancient wisdom teachings, spiritual protection & hygiene and reclaiming the direction of your life on your way to consciousness enlightenment.Everyone is welcome, we speak to the part of you that only you can hear inside, we answer those questions that you have to events that no one else would
https://www.ancestralessence.com/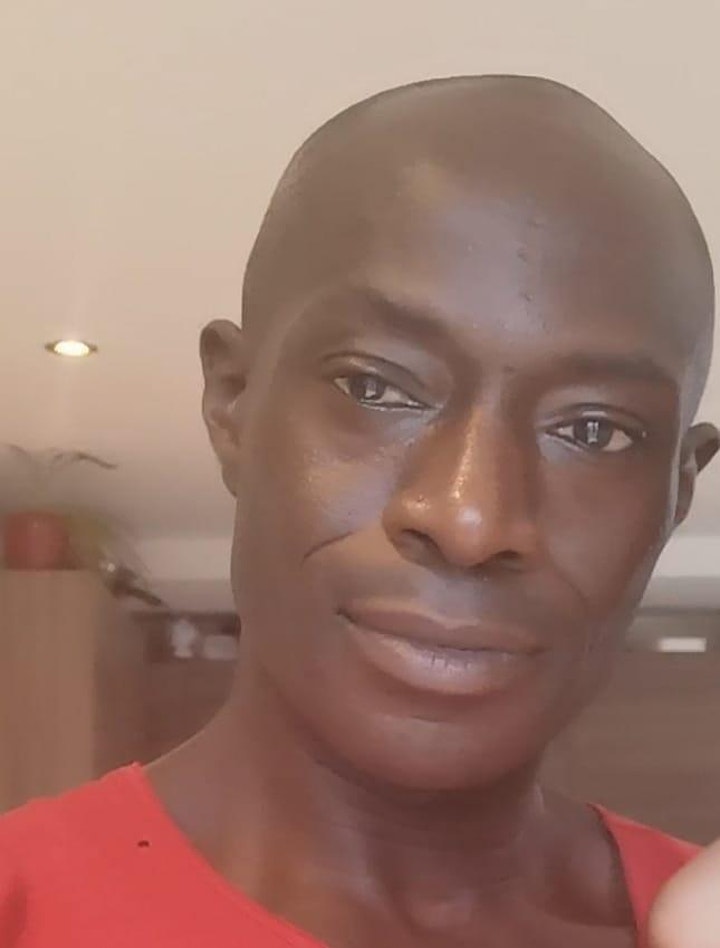 FULL DETAILS COMING SOON [SATURDAY]
YAW FOSU, Chakra Aligner comes from a long line of healers going back at least 500 years, his own abilities started around 4 years ago. He is the nephew of the late Mame Rose Boahen, healer and founder of Church of Grace International Ghana.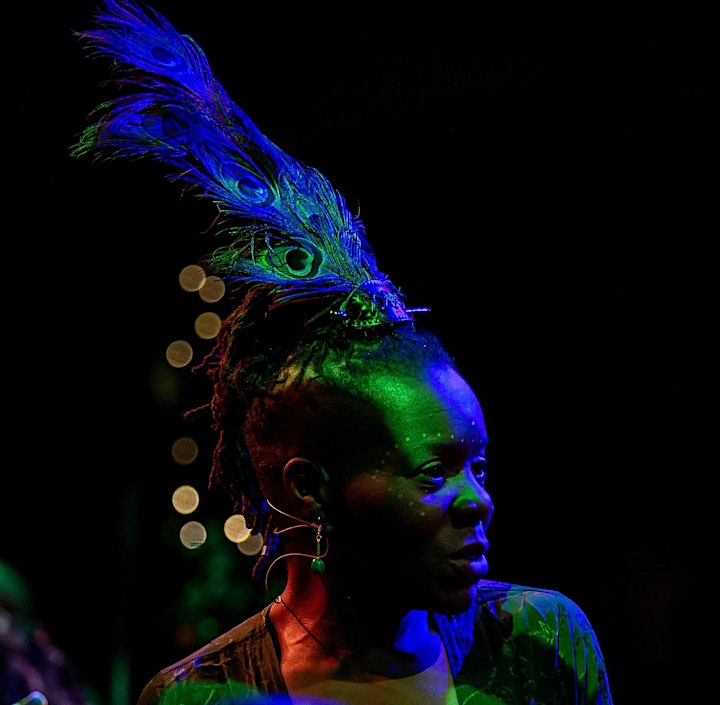 THE HEALING WISDOM OF ORAL TRADITIONS [FRIDAY]
A presentation by Griot Chinyere
Griot Chinyere as a storyteller for 30 years is the expression of tales and the bringer of ancestral messages. She comes from a family of mystics, healer, dibias, djelis, masquerades, chiefs, teachers and community leaders.
As the Artistic Director of Shanti-Chi, a storytelling company here to preserve promote and celebrate the oral traditions of storytelling, since 2009, she is the guardian of culture. The application of the oral traditions and ancient practices are foremost front of Shanti-Chi work. Chinyere says- the oral traditions and ancient practices give us the deep connection to our ancestral roots which enables us to be the designers, architects and builders of our successful future.
As a divine sovereign indigenous spirit in physical form, carrying ancient souls, she is the keeper of mysteries. Chinyere uses the movement of the oral traditions to offer a deep healing practice.
As the founder of Nne Agwu storytelling family village, she holds sacred community space. Bringing melanin-rich families together to experience the love of a community and village as we reconnect with nature. The sacred spaces Griot Chinyere holds enables the spirit of the village to express itself with a divine connection.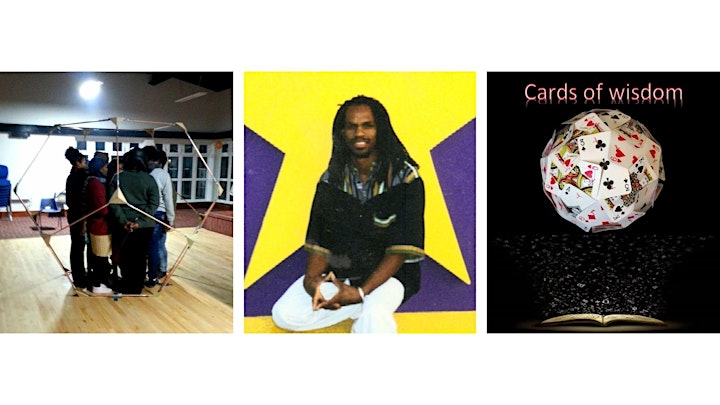 FULL DETAILS COMING SOON
Cardology Cards of wisdom. A pack of 52 cards with loads of knowledge hidden away for our time. Whats your birth cards? How can a pack of card from way back in history knows so much about our life in these modern time? Cards of wisdom by Galactic Clyde will go deep into the wisdom and knowledge of the playing cards. We have many cards that can help us to overstand the circumstances of our life however a few of the most important cards are our birth cards, our planetary ruling cards our prosperity cards and our life lessons cards. Which card are you displacing this year and what does this mean?
Sacred geometry astrology and health covers the shape, colours, and wisdom of the foods we eat or the foods we should be eating for long life, health and spiritual maturity. Learn how the planets down load their powers in plants foods for our health. They say as above so below however there are a lot of artificial satellite above our heads and artificial foods on out plates. We should learn from the ancient wisdom of how to eat to live and how to live for our survival as apposed to living our life in a big medical disrepair. There is more then enough good food for our survival and longevity so lets explore these in a sacred geometry, astrology and healthier life form. Don't forget you are what you eat, so eat at the well springs of divine abundance for radiant health.
Galactic Clyde is a veteran grassroots metaphysical and occult researcher, astrologer, teacher in the science and magik and African traditional healing and cardology. He is also an artist