Watch & Learn AFRO FEAR KNOT Barbering tips, techniques, styling, shaping & shaving for stylist, make-up & TV & Film /session specialists.
About this event
This exclusive seminar is the first held at the private studio of, Grand Master Barber MK. (DOOR OPEN 3PM) Multi award winning barber & consultant/ writer for City & Guilds in Barbering. His 25yrs + in European & Afro hair; in the salon/ college tutoring/TV / Film / catwalk & stage work. Ensures you get the ultimate learning experience combined with his live audience experience, your sure to have a fab time in the charismatic charm & excellent perfection of MK.
The event will cover one - two models covering
1/ Hairline Shaping methodic approach
2/ Cutting (clipper fading) & Styling - when, where, why
3/ Types of tools used when & Why
4/ Techniques for quick cut.
5/ Making afro hair look good without cutting at all.
6/ Products used to achieve the results of styling.
7/ Product application amounts, method & Technique.
8/ Theory have your pen & pads (NO FILMING)
9/ Questions & Answers welcomed all day.
10/ Full breakdown & recap of the cut with Q&A
BONUS:-
A*- Intro into design work through beard design & how they Relate.
B* - Intro to temp colour for Density Style & fashion.
C* -Pictures with model & Grand Master Barber MK
D* -CPD certificate of attendance .
E* - SNACKS & DRINKS WILL BE SERVED - COMP SPARKLING WINE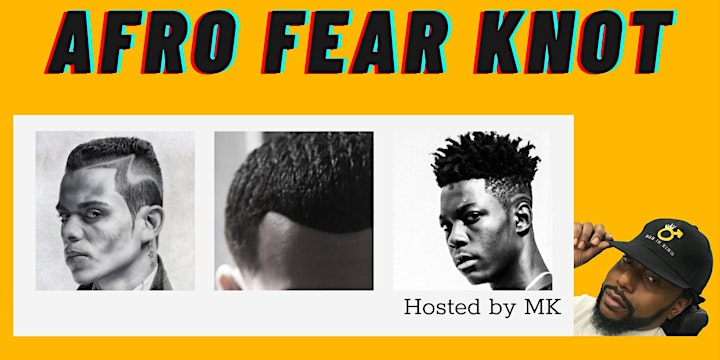 Organiser of AFRO FEAR KNOT
This exclusive event is held in the private studio of Grand Master Barber MK. The Original base where his 25yrs journey began is now ready for your intimate experience up close and personal barbering learning. A stone throw away from Tottenham Hotspur football club there are many travel links to the studio. Direct trains from London Kings Cross & London Victoria, our closest stations are Tottenham Hale, White Hart Lane & Northumberland Park. Come down the night before there are hotels very close by Premier Inn by Meridian Water train station and Travel Lodge at Tottenham Hale tube & train station.