AFROShow Catwalk and Exhibition event

Saturday, 6 May 2017 at 17:00

-

Sunday, 7 May 2017 at 17:30 (BST)
Event Details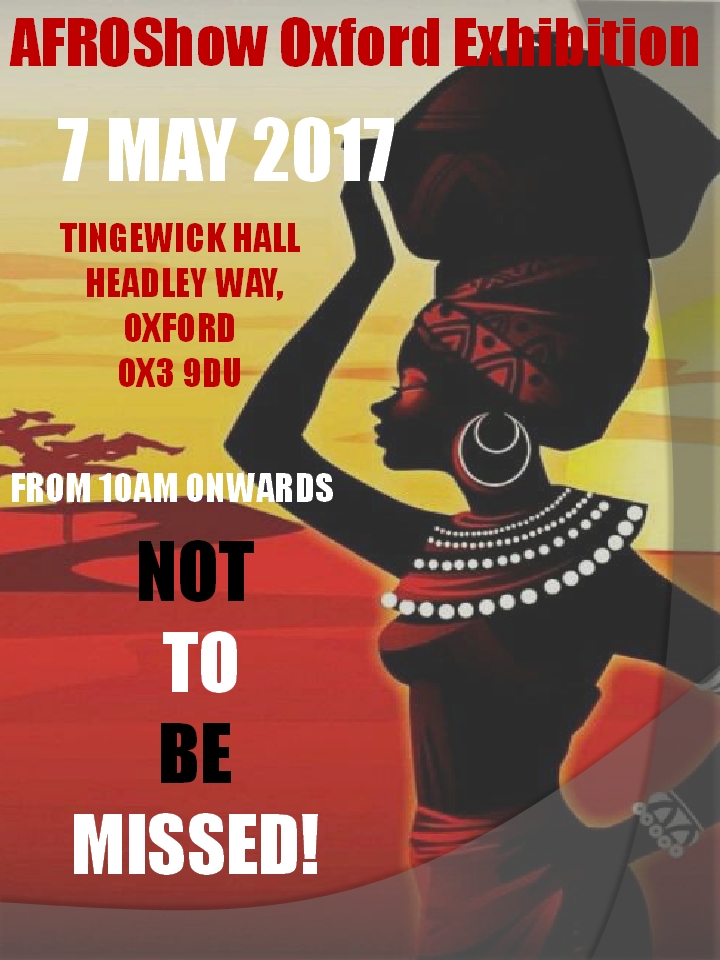 The fashion showcase returns for a second year with the mission of creating a global platform to promote African fashion on the runway, while highlighting Oxford's diversity and its status as an international marketplace.
The two-day celebration includes a series of events (fashion showcase, entertainment and competition) and presentations to promote emerging fashion designers, models, buyers, experts and professionals from oxford and around the world.
The grand AFROShow event ("The Runway" Show 2017) will take place on Saturday, the 6th of May 2017, beginning with the red carpet at 5:00 PM (VIP's, Designers and Guest of Honour), followed by the official showcase at 6:30 PM. This year's collections of designs will consist of diverse works, selected from designer collections that continue to push the envelope in defining the true aesthetic value of African fashion. The evening will also feature a live band and performances from various artists. The show will close with an After party with DJ Moses at Osler House from 9 PM To Midnight (limited places).
On Sunday, the 7th of May 2017, the AFROShow Exhibition will introduce designers and caterer to the Oxford community promoting their products and services, along with a series of workshops dedicated to popular topics such as hair, make-up, beauty, fashion, and culture. Doors open at 10:30 AM. The daytime fashion affair will be a fusion of the hottest summer fashion on the runway, blended with live music, food and shopping for African themed styles. Celebrations continue with Food Festival on the same day 11:30 AM until 5:30 PM in the lounge, celebrating a taste of African Caribbean flavours from Nigeria, Congo, French Caribbean, and the West indies.
All tickets or ticket confirmations will need to be presented at entry, on each day.
An Early Bird Standard ticket:
Guaranteed seat on catwalk Saturday 6th May (no allocated seating)

Entry to exhibition on Sunday 7th May

1 Entry to After Party (18 + only – ID required at the door)
VIP ticket:
Front row catwalk seating on Saturday 6th May (allocated seating)

Entry to exhibition on Sunday 7th May

Complimentary drink (a glass of wine or soft drink)

Fast track entry

1 Entry to After Party (18 + only - ID required at the door)
A Standard ticket:
Guaranteed seat on catwalk on Saturday 6th May (no allocated seating)

Entry to exhibition on Sunday 7th May

1 Entry to After Party (18 + only - ID required at the door)
 Must be under 18... 10+ Youth ticket:
Guaranteed seating on catwalk on Saturday 6th May (no allocated seating)

Entry to exhibition on Sunday 7th May

NO ENTRY TO AFTER PARTY
Kids ticket -10 yrs of (one per Adult with a standard ticket) - Must be accompanied by an Adult:
Entry to the exhibition on Sunday the 7th of May
Guaranteed seating on catwalk on Saturday the 6th of May
Food Festival:
 FREE ENTRY FOR ALL
Tell your friends, colleagues and family about this rare opportunity to acquire exclusive African Fashion pieces.
Event Sponsors include: ASyanne, MessyJam Oxford, Barton Community Association, Eyo Photography (London), DesignByZing (London), Oxford City College FIZZI Music, SolFunk, and Gigi Art Studio, DJ Platinum, Kitoko makeup, Cherrie Elle Cosmetics, Natural I Am (N.I.A), Charlene's Hairipy, Tutulicious Cocktails
When & Where

Tingewick Hall
Headley Way
Oxford
OX3 9DU Oxfordshire
United Kingdom


Saturday, 6 May 2017 at 17:00

-

Sunday, 7 May 2017 at 17:30 (BST)
Add to my calendar
Organiser
Select the AFROShow Fashion and exhibition Packages and Let's Celebrate African Fashion Culture and Diversity.
RUNWAY & EXHIBITION
The AFROShow's purpose is to celebrate African fashion and its cultural roots but also enable the local community to connect with culture through design. The project will support sharing of fashion knowledge and initiatives as well as celebrate the rich diversity that is such much a significant part of Oxford's unique character.
After two very successful years, AFROShow has truly made name for it and is known to be a great cultural event in Oxford, with its different fashion runways, exhibition and workshops.  AFROShow continues to grow in strength and popularity.  The platform was created in 2016 by Laure Sylvie Loutala Mpolo (Founder and CEO) to help small businesses to reach a bigger audience, generate media attention, network and sell their products to our community and its guests. Slowly gaining national and international designer's attention, AFROShow 2018 promises to be the best yet. A not to be missed!!
AFROShow  (Oxford, United Kingdom) is an exciting and dedicated Fashion Platform creating fully choreographed Runway Fashion shows, Event Management, Corporate Events and Exhibition. Combination of Image Branding and marketing fashion through the use of Runway Fashion shows.
AFROShow offer full internal event specialist services around event planning and logistics, creative development and design, production and technical services. We are driven by our vision to create unique mind-blowing events.
We believe in the power of creativity to change the way people think and feel about fashion shows. We work closely with our clients to create a Runway Show that targets your customers to generate brand awareness.
Every step is taken to tailor and capture the Brand Identity of our clients, full concept and strategy, Look, Style and Image building of your Brand. From an established designer to start up stylist, from casual to haute couture, turning it to a catwalk celebration fashion. AFROShow can work within any budget, from massive launch to smaller exhibition. That is what makes us unique.
AFROShow combines the following :
Staging and Design,
Lighting, Sound,
Special effects,
Props and Backdrops,
Multi-media production and publicity.
We offer a range of event staging and audiovisual services to tailor ideas and create solutions specifically to meet each client's need. From STYLING (stage sets, props and accessories), DESIGN (set design, multimedia and screen content) through to TECHNICAL ( audio, vision, lighting) and DIGITAL SERVICES (Webcasting and Video Production services.
Our experience in delivering events means we have the technical expertise and creative know-how to really understand what it takes to deliver memorable events.
STAGING
We have a unique service that combines technical, styling, and design services with the latest in digital and social event media. Staging can be designed to fit any space, area or room. We often work with a stage and runway design, in a T shape, which makes the show larger and more appealing from an audience point of view. Simple long Runways are also very popular for a sleek look. Depending on the venue and concept for your Show.
The concept and branding of your RUNWAY show are carefully thought out, planned and executed to combine the stage, lights, models and music to harmonise together with your brand name. With fresh ideas, imagination and vision, we make your Runway unique to appeal to your customers and target market.
The Styling, Fashion Coordination, Accessories, Hair & Makeup comes together to accentuate each garment and outfit.
PUBLICITY
At AFROShow, we pride ourselves on the contacts we have generated from the beginning, to have your runway aired on YouTube Channel, Social Media, Fashion Blog. The AFROShow can also arrange marketing support, including Printing. 
LIGHTING
From creating the production timeline to operating and calling the show on the day. From projectors and screens through to rigging, The  Runway Productions know how to convey your message in the most compelling way possible.
We ensure a more consistent outcome and the best use of your budget. We know how to create the best impact at your event and truly bring "the vision " to life.