After-work Halloween Treasure Hunt at the British Museum for two
Description
Trick or Treat at the British Museum - The Halloween Treasure Hunt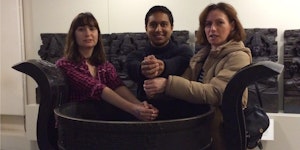 This spooky treasure hunt begins with a halloween story.....
Your task is to read the story and fill in the blanks. Then you have to set off to explore The British Museum to find the objects mentioned in the story. The trick is unravelling the crypt - ic clues and hunting the answers to questions about museum exhibits. The winning treat (prize) goes to the team to score the most points.
To stand a ghost of a chance of winning a prize, bring your team of 2 to 4 players to explore The British Museum. All players get to enjoy an after hunt drink.
[NB This event is not organised by the British Museum - tickets must be validated with Treasure Hunts in London staff ]
•Teams of 2 to 4 players
•Includes after-hunt treat
•Prizes awarded to winners
Come and discover history on your doorstep
FAQ
• How difficult is the hunt?
The clues are challenging and aimed at an adult audience.
•Do I have to bring my printed ticket to the event?
If your payment has been actioned and confirmed on Eventbrite, you should be on our list of attendees and will not need to print your ticket. (Abondoned /unconfirmed orders on Eventbrite will exclude you from the guest list and you will need to reorder.) Printed tickets or tickets on phones are acceptable.
•What is the refund policy?
Treasure hunts in London offer ticketed, live events. Once a booking is confirmed, refunds, cancellations and reschedules are not possible. In addition, latecomers will not get a refund or reschedule: much like a theatre show, the game continues with or without you