Description
Join us for an afternoon tea inspired by the Musicals. We've teamed up with Leigh from Heritage Pantry again to play all your favourite songs from the musicals with a musical afternoon tea based on Oliver Twist and Mary Poppins. Youll be served by our very own Mr Bumble, there may well be an appearance from Oliver himself and a rousing rendition of Oomph pah pah. Washed down with lashings of tea and a glass of fizz or two.
The Savouries
Cheese "Oliver" Twists – a classic afternoon tea treat
Fagin's Nimble Finger Sandwiches – delicate finger sandwiches filled with egg mayo and ham, cream cheese and cucumber.
"You've got to "pitta" pocket or two" – filled pitta pockets, Tuna mayo and Mozzarella, Tomato & Basil – we think even Fagin would be tempted!
"Tuppence" Pasties – Chicken, Mushroom & Bacon, all seasoned and wrapped up in shortcrust pastry. Small enough to cost "Tuppence a bag", inspired by Mary Poppins.
The Sweets
Eliza Doolittle's Flowery Treats – mini Rose and Violet flavoured cakes, perfectly delicate treats for all the "Fair Ladies" (and gents, of course).
Supercalifragi-Custards – our very special Medieval Corporation Custard, just renamed in honour of Mary Poppins, and because, well, it is pretty supercali-you know where we're going with this!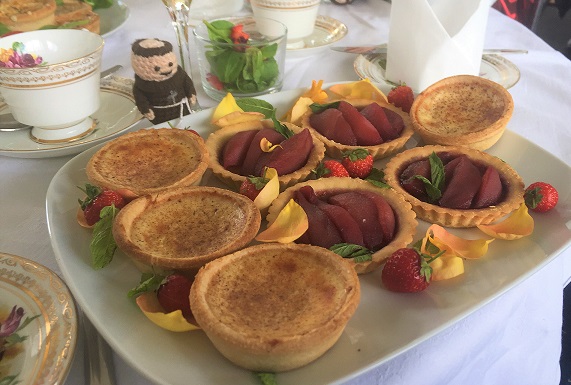 Oompah Pah mini Cakes – yes, they're back, in honour of Nancy, our fabulous Victorian Tipsy Cakes, topped with creamy fresh custard and almonds.
"Spoonful of Sugar" Drizzle mini cakes – a treat that Mary Poppins would surely approve of, because after all, a spoonful of sugar helps the medicine go down, and in the most delightful way. These little lemon and orange drizzle cakes are surely a tasty addition to your afternoon tea.
We have tables for 2, 4, 6 or 8's but these events do fill up quickly so book today to guarantee a place. Ideal for afternoon teas with your mum, girlfriends or birthday occasions.