'Afternoon tea': Law, domestic work and challenging neoliberal governance
Description
SOAS School of Law invites you to 'Afternoon tea' - a seminar with Visiting Centenary Fellow, Professor Adelle Blackett.
Adelle Blackett is Professor of Law and Canada Research Chair (Tier 1) in Transnational Labour Law and Development at the Faculty of Law, McGill University. She holds a B.A. in History from Queen's University, civil law and common law degrees from McGill, and an LL.M. and a doctorate in law from Columbia University. She teaches and researches in the areas of labour and employment law, trade law, law and development and critical race theory. She served for seven years (2009-2016) on Quebec Human Rights and Youth Rights Commission.
A former official of the International Labour Office in Geneva, she has been an ILO expert on international standard setting on decent work for domestic workers (2008-2011) leading to the adoption of ILO Convention No. 189 and Recommendation No. 201; and in a labour law reform process in Haiti (2011-2014). She currently directs the Labour Law and Development Research Laboratory (LLDRL) at McGill.
She has received numerous research grants and awards, including the Social Science and Humanities Research Council's Bora Laskin National Fellowship in Human Rights Research in 2010. In 2012, she was awarded a Queen Elizabeth II Diamond Jubilee Medal. In 2014, the Barreau du Québec presented her with its Christine Tourigny Award of Merit in recognition of her social commitment and her contributions to the advancement of women, and in 2015 the Canadian Association of Black Lawyers awarded her its Pathfinder Award for her significant contributions to the legal community and the community at large.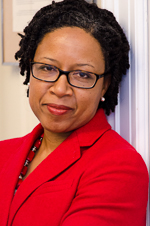 Question & Answer session on Law, domestic work, and
challenging neoliberal governance
In this Q&A session, Professor Blackett will bring together her theoretical scholarship on domestic work and the gendered nature of informal work, with an examination of the process of translating such scholarly work into legal norms - using the example of the ILO (International Labour Organisation) convention on Domestic Workers to examine how scholars can make interventions into policy.

Chair: Professor Diamond Ashiagbor, SOAS University of London
This event is co-hosted by the journal Feminist Legal Studies: http://link.springer.com/journal/10691