Afternoon Tea Party Fundraiser for African Skills Centres
Event Information
Location
NN1 3RS
Leicester Street Community Room
Leicester Street
Northampton, England NN1 3RS
Description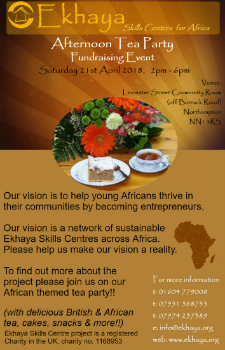 Come and join us for an afternoon tea party to raise funds for our Ekhaya Skills centre project.
Our vision is to help young Africans thrive in their communities by becoming entrepreneurs.
We will be visiting Ghana in May 2018 and Uganda in October 2018 to run a one-week basic business skills programme designed to provide entrepreneurial skills for use in the informal economy.
If anyone would like to join us on the trip or is interested in finding out more about the project please join us on Saturday 21st April at Leicester Street Community Room, NN1 3RS from 2pm - 6pm where we will selling a variety of teas as well as some British and African tea, cakes and other snacks.
Date and Time
Location
NN1 3RS
Leicester Street Community Room
Leicester Street
Northampton, England NN1 3RS