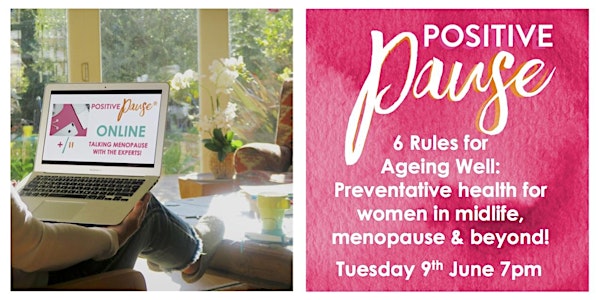 Ageing Well: How to Live Longer, Healthier & Happier in Midlife & Menopause
Refund policy
Contact the organiser to request a refund.
Eventbrite's fee is nonrefundable.
Are you looking for practical advice to age well and live a longer, healthier, happier life?
About this event
You can change the way you age, find out how. Get the low down on simple strategies which add up to radically reclaiming your health, now and in the future.
About this Event
Do you want powerful age well strategies that fit into every day – without them taking all day? Are you looking to reduce your risk of the chronic diseases of ageing, like dementia, diabetes and cancer? And would you like more energy, to be a healthy weight, get restful sleep, have better immunity and mental clarity right now?
If you're searching online for tips on healthy longevity through the menopause and beyond, then look no further. PositivePause has gone digital - bringing our popular women's health events into your home!
So, put your feet up, grab a cuppa and join our vibrant, positive and friendly online event to hear health coach and author Susan Saunders talk about how you what we can do to take control of the ageing process and take the chance to ask your questions.
What will you learn this week?
The importance of mindset and your sense of purpose as you age.
How small changes make a huge difference to how you age at a cellular level.
The key to powering up daily routines to increase your chance of ageing well.
Why you need to focus on healthy longevity now, whatever your age or fitness level.
Discover
How to up-level your daily walk to deliver so much more than exercise
Why your home can help you age well
The one simple changes to make to your eating habits to increase your chance of ageing well – and it doesn't involve dieting!
Immunity and protection
Making menopause a positive experience:
This event is part of our programme of weekly online events offering the most up to date information to help you optimise your health, debunk myths and clear up the confusion surrounding menopause & midlife health.
Each week an expert health specialist speaker explores specific aspects of women's health and wellbeing. Our interactive sessions will allow all virtual attendees the opportunity to put their own questions to Susan Saunders.
An additional bonus!
We'll be giving all virtual attendees exclusive access to a Private Facebook Group.If you're unable to tune-in on time, you can catch up at your own convenience, watch the recorded session as many times as you wish, for up to seven days. Plus, post additional questions that can be forwarded to Susan.
Get your questions answered!
Just imagine, all this in the comfort and privacy of your own home.
Receive a FREE sample from our event Sponsor Sylk Natural:
Our event is generously sponsored by Sylk who are offering each attendee a free bottle of their plant-based lubricant RRP £9.99.
Who's speaking?
Susan Saunders is one half of the Age well Project and co-author of best-seller, The Age-Well Project. As a health coach specialising in ageing well, she teaches one-to-one clients and workshop groups how to have vibrant good health in the years ahead.
Time and time again she's seen people have the 'a-ha' moment when they think, 'I can do that' or 'I can fit that into my life'. She'd like you to have those moments too, and understand how you can make the changes needed to give yourself the best chance to age well.
Her new book, 'The Age-Well Plan: The Six-Week Programme to Kickstart a Longer, Healthier, Happier Life', published by Piatkus is due out in September.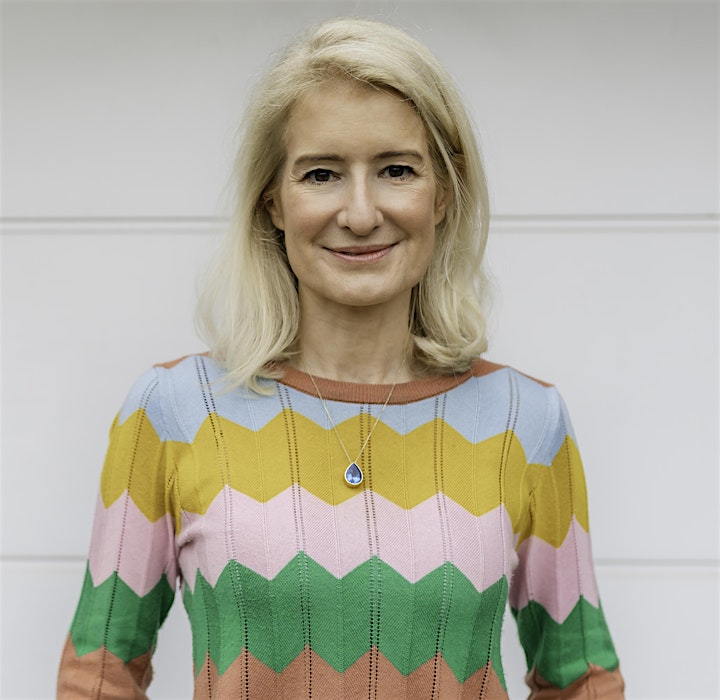 Tickets: £7. We have a number of free tickets for NHS staff, please email: events@positivepause.co.uk, for further information.
Timing: 7.00-8.00pm. Please log in at least 10 minutes before the start of the programme to ensure you have good sound and vision and to sort out any technical issues. We'll ask you to mute your video and audio to help with bandwidth - we won't be able to see you but we will be able to take your questions.
Venue: Online via Zoom. On the day of the event we'll send you an email link to Zoom and an invitation to the event's Facebook Private Group.
Other PositivePause Online Sessions!