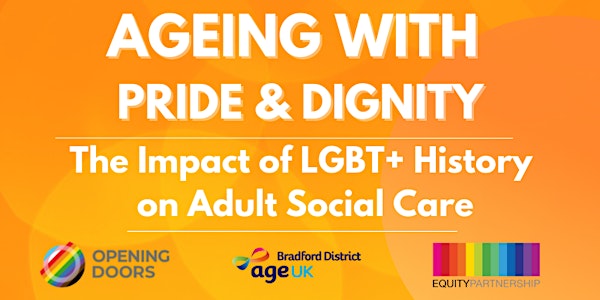 Ageing with Pride & Dignity: Impact of LGBT+ History on Adult Social Care
Find out at first hand how the experiences of LGBT+ older people impact on their care and support needs today in Bradford District.
About this event
Exploring the experiences of people from the LGBT+ community the conference will explore the barriers, challenges and opportunities to providing good quality/person centred approaches to older LGBT+ people today and what good quality provision looks like from an LGBT+ perspective.
An opportunity to explore how the housing, adult and social care sector can maximise the quality of service provided to this community and will hear from Age UK Bradford District, the Equity Partnership, a charity set up and delivered by LGBTQ+ people in Bradford District and the national charity for older LGBT+ people, Opening Doors, with input from older LGBTQ+ people and guest speakers including Vic Rayner, CEO of the National Care Forum.
There is a live stream of the conference at the Equity Centre (1 Longlands Street, Bradford BD1 2TP). Please contact the Equity Partnership if you plan to attend on 01274 727759 or admin@equitypartnership.org.uk