Agendashift online: Learning the language of outcomes (Americas) 16-1800BST
Event Information
Refund Policy
Refunds up to 7 days before event
Eventbrite's fee is nonrefundable.
About this Event

Welcome to Agendashift Online: Learning the language of outcomes – in two 2-hour sessions our shortest hands-on introduction to Agendashift, the wholehearted engagement model and open framework for participatory change.
Engagement models have just three jobs to do:
Give structure to the work of change agents – people like you, wanting to see some strategic kind of change come to life
Help staff to engage in the process
Keep the organisation engaged as it changes
Sadly, disengagement is the more likely result when conventional approaches to change are applied in complex environments – your organisation, for example. No wonder that so many change initiatives fail!
Resolutely outcome-oriented, strategic in perspective
Agendashift offers a highly practical alternative to those embarrassingly linear models of solution-driven change: outcome orientation. With us, it's outcomes all the way down: everything from the most aspirational of goals to the impact of a small experiment is an outcome. Crucially, outcomes precede solutions: authentic agreement on outcomes is the powerful enabler, options generated on a just-in-time basis, prioritised to advance a strategy that develops through participation.
In this transformation strategy workshop (we offer other flavours in our longer workshops), the strategy in question involves some kind of Lean-Agile transformation. Its goals and priorities will be for you as participants to identify and organise.
We're in the business of building wholehearted organisations
Not only our stated mission and long-term vision, it can be your experience right away:
People engaging on the issues that matter – powerful tools uncovering the obstacles, imbalances, inefficiencies, and contradictions that get in the way
Diversity in participation and richness in response
Outcomes inviting leadership – and vice versa – meaning created through new conversations and new kinds of conversations, both the enabler and the evidence of fundamental change
Agendashift online: Learning the language of outcomes
This event is an opportunity to experience Agendashift's Discovery and Exploration activities in the form of a highly immersive online workshop. It is for coaches, consultants, and managers wishing to develop their coaching and leadership skills in the areas of enquiry, facilitation, and change leadership.
The two sessions of this workshop – 2 hours each on consecutive days – will give you plenty of opportunity to practice the language of outcomes – conversations that explore needs and identify key outcomes – essential whenever and wherever you wish to encourage collaboration, self-organisation, and innovation. You will get practical hands-on experience with some exciting open source tools, including our kickoff exercise Celebration-5W and our signature coaching game, the Clean Language-inspired 15-minute FOTO. Additionally, the Agendashift delivery assessment is set as prework for all participants a week or so prior to the workshop.
This highly interactive session will be conducted over Zoom and Google Docs. Participants will need to connect from a computer and over a suitable network – any corporate firewalls etc allowing access to those tools.
All participants will receive a certificate of participation and qualify for a £50 discount on the Agendashift partner programme. Existing partners receive the discount on their next renewal.
Your facilitator will be Agendashift founder Mike Burrows. Mike is the author of the Lean-Agile classic Kanban from the Inside (2014) and Agendashift: Outcome-oriented change and continuous transformation (2018); his third book Right to Left: the digital leader's guide to Lean and Agile was published in 2019 and as an audiobook in 2020. Outside of Agendashift, he is known for Kanban's values model, the Featureban and Changeban games, and as a strong advocate for participatory and outcome-oriented approaches to change, transformation, and strategy. Prior to his consulting career, Mike was global development manager and Executive Director at a top tier investment bank, CTO for an energy risk management startup, and interim delivery manager for two of the UK government's digital exemplars.
More: About Agendashift | Our mission: Wholehearted | Become an Agendashift partner | Resources
Workshop Overview
Session 1, Tuesday, 8th September, 07:00-09:00BST (UKT): Discovery
Describing where we'd like to get to – exploring organisational context, objectives, obstacles, and outcomes using these Core exercises: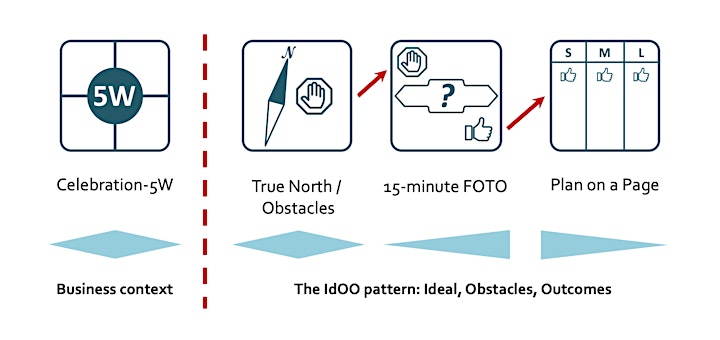 Session 2, Wednesday 9th September, 07:00-09:00BST: Exploration
Prospecting for opportunities – using the Agendashift Delivery assessment and practicing skills acquired in Discovery: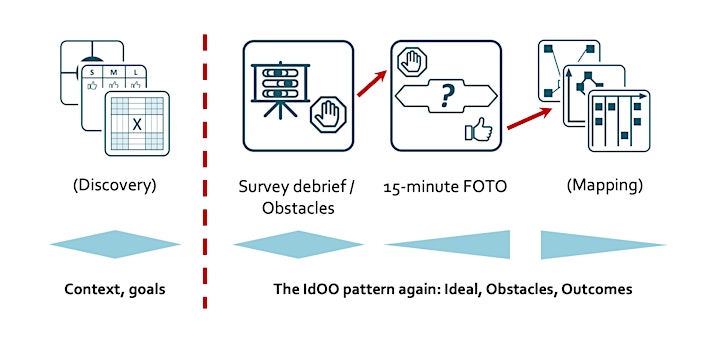 Agendashift™ is copyright © 2015-2020 Positive Incline Ltd. All rights reserved. This workshop description by Mike Burrows of Positive Incline Ltd is licensed under the Creative Commons Attribution-ShareAlike 4.0 International License. To view a copy of this license, visit https://creativecommons.org/licenses/by-sa/4.0/.
Date and Time
Location
Refund Policy
Refunds up to 7 days before event
Eventbrite's fee is nonrefundable.