Agile Coach Certification Course in Dublin! 3-day event to learn from the Coaches at The Agile Company and obtain your ICP-ACC Certificate
About this event
Develop your Professional Agile Coaching skills in a deeply experiential ICAgile Course
Our Dublin Agile Coach Certification course includes:
3 full days of learning, practicing and experimenting with Agile Coaching techniques in a unique venue located in the heart of Dublin's Digital Docklands!
The ICAgile Certified Professional - Agile Coaching (ICP-ACC) certificate and a personal profile on ICAgile.com.
Lunch, coffee and tea !
Self study components before the course starts to help you come prepared to your class
The Agile Coach' Notebook and other training material
An Agile Coach's tool box to get you started
An extended follow-up program including 2 private coaching sessions to assure you are on your way to becoming an Amazing Agile Coach
An Invitation to take part in our Agile Coaching Community (Live coaching Labs, Online Meet-ups, webinars, free online course material etc)
When?
MAY 2020: 5/5/2020 - 7/5/2020
About the Agile Course Certification Course
The 3- day Agile Coach Certification Course in Dublin, Ireland (ICP-ACC certification) is a highly interactive 3-day program that focuses on the mindset, roles and responsibilities of an agile coach. The course is filled with activities, discussions and exercises to help you acquire essential coaching skills such as self-awareness, coaching stances, mentoring, facilitation, active listening, powerful questioning and coaching in the moment.
During the 3 training days we will practice individual coaching, team coaching and mentoring conversations as soon as you arrive in the class room! The Agile course includes topics that cover the differentiation between mentoring, facilitation, consultation, teaching and coaching. You will acquire the skills necessary to create a healthy work environment that fosters collaboration and you'll learn how to deal with conflict in an Agile team. You will actively practice and experiment with the concepts of team development and dynamics, change management, alliance building and coaching contracts.
Some of the topics we will discuss and practice:
What is Agile Coaching and the Coaching Competency Framework
Key Coaching Competencies such as Listening Skills, Powerful questions and Action and Accountability
How to set up a Coaching Agreement & Contract
The Arc of the Coaching conversation
Mentoring vs Coaching
Coaching Agile Teams, coaching for Change, and coaching teams to deal with conflict
Team dynamics and organisational impediments
High Performance Coaching
Develop Training Programs that stick
Coaching Labs and peer coaching exercises.
Certification
This course is accredited by the International Consortium for Agile (ICAgile) as it covers all the Learning Objectives in the Agile Coaching track.
After successful completion of this course, your trainer will send you your ICAgile Certified Professional-Agile Coaching (ICP-ACC) certificate.
This continuing education certification is a key step toward achieving the ICAgile Expert-Agile Coaching (ICE-AC), the industry's first competency-based certification.
About the location: Dogpatch Labs
Dogpatch Labs is a startup hub, located in the heart of Dublin's Digital Docklands
They provide a platform for entrepreneurship and innovation, and made it their mission is to accelerate the development of Ireland's startup ecosystem.The Agile Company feels it has found a perfect match in values and spirit, and we are certain this event is in its right place here at Dogpatch Labs.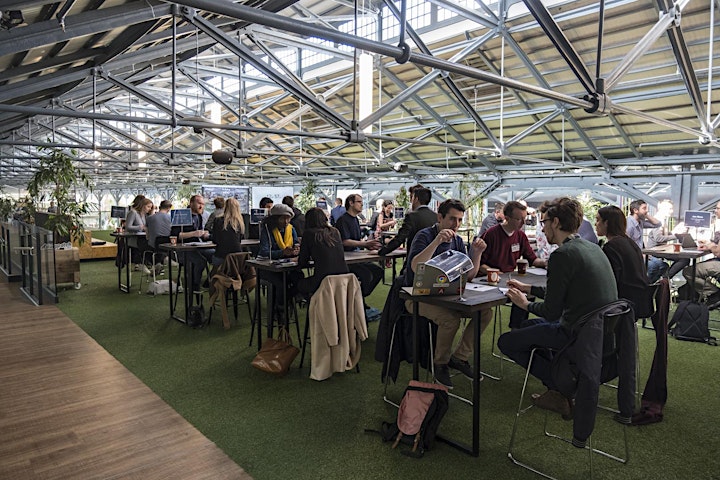 Why Choose The Agile Company's Courses?
Together with ICAgile, we created and continue to develop this Agile Coach Certification class. As a member organization of ICAgile we work hard to improve the materials and ensure the highest quality;
Our courses go beyond theory and practice
We build our courses using modern adult learning methods such as "Training from the Back of the Room" and "Liberating Structures." This basically means that we get up and learn through discovery and exercises such as peer practice, peer coaching, peer teaching and lots of other ways to make sure this course will do more than just help you get certified: It will help you become an Awesome Agile Coach!
Our courses are highly immersive, which means that you will not see many PowerPoint presentations (Actually... you will see none!). You are put to work immediately and start learning by doing and experimenting with the tools explained and modeled by your peers and your Agile Coach trainer.
During the 3 days Agile Coach Certification Course, you will work closely with the other participants and you will complete the training with an additional wealth of experience.
A lot of attention is given to learning from your peers and above all, to the skills required to become an efficient Certified Agile Coach. Throughout the Agile Coach certification program you will coach your peers and will be coached in return, building on skills acquired in the modules.

About Your Agile Coach and Trainer Natascha Speets
An experienced trainer and passionate agilist, she will guide you through your journey to becoming a proficient and professional Agile Coach. With the agile mindset, its values, principles and practices as primary tools, Natascha works with organizations, teams and individuals to support them in their complex journey towards an Agile culture that adapts to change with virtuosity and knows how to deliver greater value to its clients.
Natascha is also a professional coach, accredited by the International Coaching Federation and ICAgile Certified Agile Coach & Facilitator.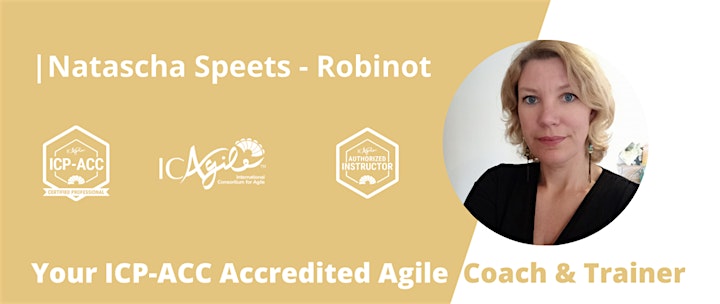 About the ICAgile Member Organization: The Agile Company
The Agile Company is on its way to becoming a reference training company in Europe. It was born out of a desire to accompany companies around the world in their transition to Agility. This translates into crafting highly interactive and ICAgile and Scrum.org accredited training programs, quality coaching programs and advice that goes beyond the simple transmission of an Agile method. Feel free to contact us and ask away. We love discussing our passion for Agile Coaching and helping you get on your way to become an Amazing Agile Coach!

Can VAT be reverse-charged?
The Agile Company does not charge VAT, but Eventbrite does. If you want to avoid paying VAT, contact us ( contact@theagilecompany.org) or book a free ticket after which we will send you your 0% tax invoice and online payment link.
Cancellations & Refunds
A full refund will be issued if you cancel your registration at least 30 calendar days before the event start date. After this period, refunds are not possible, however we will do our best to accommodate you in any way, simply contact us and we will find a solution.
Replacing delegates: this can be done at no extra cost
We reserve the right to postpone or cancel this course if there are insufficient registrations. If this is the case, you will be notified at least 10 working days before the course start date. In this case, you will be offered an alternative date or a full refund. We will not be responsible for any other costs incurred.
Coronavirus Update
The Agile Company is continuously monitoring the Novel Coronavirus situation to ensure the safety of our event participants. We are following all recommended guidelines from the Centers for Disease Control and Prevention (CDC) and the World Health Organization (WHO).
The Dublin Agile Coach Certification Course is taking place May 5 – May 7 2, 2020 in Dublin, as planned. The safety and health of our attendees is our top priority, and to that end, we will institute numerous safety measures and guidelines in accordance with recommendations from the WHO and the CDC to ensure everyone's health and well being as detailed below.
Safety Measures
Pre-Event:
We will keep up-to-date information on our event websites pertaining to the status of the event, and precautions for attendees onsite
We will send email communications to registered event participants with any pertinent updates leading up to the event
Onsite:
We will provide plentiful sanitation stations onsite at the event with alcohol-based hand sanitizer, wipes, tissues
We Ask Attendees To:
Adopt a no-handshake policy at the event
Wash hands frequently
Cough or sneeze into elbows only
Stay home if they are sick or experiencing any cold/flu-like symptoms for their own safety and the safety of others
Seek medical care right away and alert our staff at registration should they begin to experience cold or flu-like symptoms (fever, cough, trouble breathing) onsite. We will have local medical care contact information available for all attendees and can assist any attendee with transportation to a local clinic.
Note that the WHO is currently advising against the application of any restrictions on international traffic. Based on the information currently available on the outbreak, the CDC is recommending standard safety practices that should be instituted during any flu season.
We will continue to regularly check the latest official information leading up to the event and encourage our event participants to do the same.
If we need to cancel the event due to the Corona outbreak, you will be offered a full refund
Organiser of Agile Coach Certification Course Dublin - 3 day event