Agile Data Warehouse Design with Lawrence Corr

Monday, 3 December 2012 at 09:00

-

Wednesday, 5 December 2012 at 16:30
Event Details
Duration 3 days
This course provides in depth coverage of agile dimensional modeling techniques for designing high-performance Business Intelligence / Data Warehouse (BI/DW) systems and improving communication between BI/DW development teams and business stakeholders.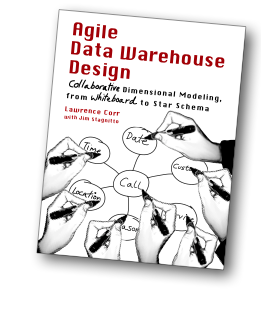 Dimensional modeling is taught using BEAM✲: the powerful, yet simple method for modelstorming directly with BI stakeholders described in the book Agile Data Warehouse Design. Throughout the course, agile BI requirement analysis, dimensional modeling and star schema design topics are reinforced by modelstorming exercises, team games, quizzes and real-world examples drawn from the instructor's consulting experience.
Audience
The course is aimed at IT professionals who want to design and build better data warehouses and BI solutions faster. Business analysts, data modelers/architects, DBA's and application developers new to BI/DW, will all benefit from the solid grounding in dimensional modeling it provides. Experienced dimensional modelers and BI/DW practitioners will find the course consolidates their industry knowledge and updates it with the latest agile modeling techniques and design patterns.
You will learn how to:
 ✲  Rapidly model BI data requirements directly with business stakeholders
 ✲  Translate common cross-industry analytical needs into efficient, flexible dimensional models
 ✲  Plan, design and incrementally develop dimensional data warehouses with agility
About the Instructor
Lawrence Corr is the co-author of 'Agile Data Warehouse Design: Collaborative Dimensional Modeling, from Whiteboard to Star Schema'. He is a leading data warehouse design specialist and highly experienced educator who has worked in Europe, USA, the Middle East and South Africa developing and reviewing data warehouses for healthcare, telecommunications, engineering, broadcasting, financial services and retail clients.
Content
 
Agile Dimensional Modeling Fundamentals
 ✲  BI/DW design requirements, challenges and opportunities: the need for agile techniques
 ✲  Modeling for measurement: the case for dimensional modeling, star schemas, facts and dimensions
 ✲  Modeling with BI stakeholders: the case for agile dimensional modeling
 ✲  Balancing 'just enough design up front' (JEDUF) and 'just in time' (JIT) modeling
Dimensional Modelstorming (dimensional modeling + brainstorming)
 ✲  Using Business Event Analysis and Modeling (BEAM✲): an agile dimensional modeling method 
 ✲  Using the 7Ws (who, what, when, where, how many, why and how) to discover BI data requirements
 ✲  Telling data stories and using data themes: modeling by example 
 ✲  Drawing organisation charts to model the hierarchical relationships within dimensions
 ✲  Telling change stories to capture history requirements and slowly changing dimensions rules
 ✲  Sketching timelines: modeling events sequences and end-to-end business processes
 ✲  Storyboarding the data warehouse design: planning and estimating BI development
Star Schema Design 
 ✲  Test-driven design: using data profiling to validate requirements models
 ✲  Data warehouse reuse: defining conformed dimensions and facts, multi-role dimensions
 ✲  Designing high performance star schemas using surrogate keys
 ✲  Refactoring star schemas: responding to change
Dimensional Design Patterns using the 7Ws:
Who and What: Customer, employee, product and service dimensions
 ✲  Handling large populations with rapidly changing dimensional attributes
 ✲  Customer relationships and organisation structures: resolving recursive relationships and reporting on variable-depth hierarchies
 ✲  Supporting current and historical reporting perspectives: hybrid slowly changing dimensions
 ✲  Mixed business models: supporting business to business (B2B), business to consumer (B2C) and heterogeneous products services: dealing with diverse dimensional attributes and ragged hierarchies
 ✲  Decomposing products and services: component, bill of materials, and product bundling analysis
When and Where: Date, time and location dimensions
 ✲  Flexible date handling, ad-hoc ranges and year-to-date analysis
 ✲  Understanding journeys and trajectories: modeling events with multiple geographies
 ✲  Multinational BI: national languages reporting, multiple currencies, time zones and local calendars
How Many: Facts, measures and KPIs
 ✲  Fact types: transactional, periodic snapshots, accumulating snapshots
 ✲  Fact additivity: additive, semi-additive and non-additive measures 
 ✲  Fact performance and usability: indexing, partitioning, aggregation and consolidation
Why and How: Cause (promotions, weather, reasons) and effect (event descriptions) dimensions
 ✲  Multi-valued dimensions, bridge tables, weighting factors, impact and 'correctly weighted' analysis
 ✲  Modeling sequential behaviour, causation and outcome
 ✲  Supporting combination analysis with pivoted dimensions
 ✲  Combining and separating dimensions: avoiding unnecessary model complexity
Material
Attendees receive a course workbook, BEAM✲ agile dimensional modeling reference card and a copy of Agile Data Warehouse Design (DecisionOne Press, 2011) by Lawrence Corr and Jim Stagnitto
When & Where

Leeds Corn Exchange
Call Lane
LS1 7BR Leeds
United Kingdom


Monday, 3 December 2012 at 09:00

-

Wednesday, 5 December 2012 at 16:30
Add to my calendar
Organiser
DecisionOne is a data and information design consultancy. We help organisations design and develop agile business intelligence solutions using collaborative modeling techniques. We've run hundreds of highly regarded data warehousing and dimensional modeling courses worldwide over the last 18 years. All our courses are designed and taught by Lawrence Corr.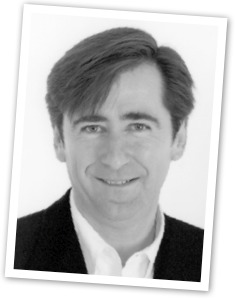 Lawrence Corr is a leading data warehouse design expert and former Kimball University instructor with over 20 years experience in business intelligence. Lawrence has worked on DW/BI projects in Europe, USA, Middle East and Africa developing and reviewing data warehouses within healthcare, telecoms, broadcasting, higher education, financial services and retail. He is the author of Agile Data Warehouse Design: Collaborative Dimensional Modeling, from Whiteboard to Star Schema, an Amazon #1 bestseller in data warehousing and database design. He has taught thousands of BI professionals worldwide.
Bookings or Questions? If you have any questions about our courses or would like to book by phone please call on + 44 (0)7971 964794 or visit us at: decisionone.co.uk