Description

Agile Master in Public Services
£795 + VAT
Delivering and managing change in the public sector is difficult. Public services are fraught with complexity and often provide support to some of the most vulnerable people in society. Planning change projects in a linear way using traditional project management approaches (such as PRINCE2) often holds organisations back from learning and refining their changes throughout the process. The project managers overseeing traditional change projects often find themselves being hostages of fortune to an out of date project plan that needs constant maintenance to 'look' as though it is on track.
So how can public services deliver change in an environment that is constantly evolving?
Agile is an alternative to the traditional waterfall project management approach (the one where you invent a master plan and try and present the finished product to stakeholders a year later). Agile has been used for over a decade in the information technology sector and is arguably the standard approach for some of the world's most innovative tech organisations (think Sportify and Netflix).
We believed that Agile was perhaps even more suited to transforming public services than it is for the IT world because it thrives in a world of complexity. We have tried, tested, and improved the approach (we think) on real projects in public services. We've developed this course because we genuinely believe that taking an Agile approach to delivery in the public sector leads to much better results, more social value, and crucially improved outcomes for citizens.
The course
The Agile Master for Public Services is an immersive training programme, held over two days, which blends theory and practical exercises to develop a thorough working knowledge of Agile and how it can be used to deliver complex change projects within the public sector.
At this point, we'd usually set out what people learn on each day of the programme, but we run the training itself as an Agile project. Delegates take on the different roles within an Agile project and they choose what to work through and when (just like an Agile team – this will make sense when you do the training). Our experience is that this really helps to embed learning.
Here's a bird's eye view of some of the things we cover: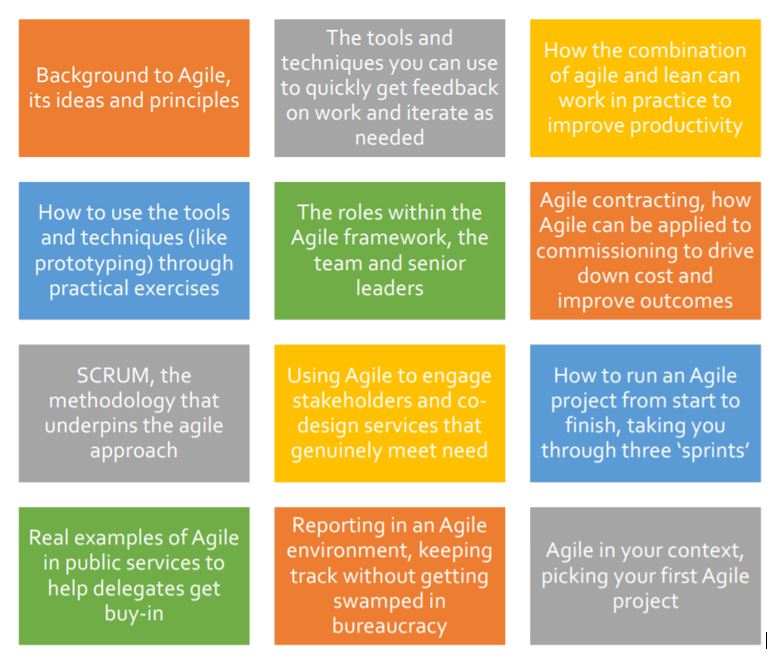 What people say about the Agile Master in Public Services
"Agile has helped us deliver fantastic quality projects at real pace. We have multiple simultaneous projects running at the same time, as well as a need to achieve our usual day to day business with energy and speed, and Agile helps us deliver both. More importantly, it creates a real excitement and energy that inspires teams to want to get involved in delivering change".
Louise Duffield, Head of Business Support & Acting Head of Customer Services, Waltham Forest
"The team are feeling extremely energised after the Agile Master in Public Services training, delivered by Basis. We are now in the process of identifying some projects that we'd like to run using the new Agile approach so that we can embed it within overall programme delivery. The reaction to Agile has been so positive that we have launched "The Agile Factory" which is a weekly forum where all training cohorts can come together and discuss their experiences of bringing Agile to life in Haringey".
Andrew Rostom, Head of Corporate Programmes and PMO, Haringey
Is the course accredited?
Absolutely. The course is accredited by the Public Service Transformation Academy (PSTA). Participants are required to take a short test following the course in order to qualify for the accreditation.
For any questions e-mail comms@basis.co.uk
Faculty leads
Dennis Vergne
Dennis has extensive experience of designing and delivering complex transformational change programmes across a broad range of sectors. He holds an MSc in organisational change (From Oxford with distinction) and belongs to an international network of reflective change practitioners – www.thechangeleaders.com. Dennis is recognised internationally as an organisational change expert who has a passion for not only understanding (and writing) cutting-edge theory and research, but also for putting it into practice to deliver better outcomes for citizens.
Although originally from Holland, since 2004, most of Dennis's work has been within the British public sector. His experience also includes strategy and change work for a rather diverse range of clients including the Belgian Government, Norsk Hydro, Motorola, Novartis and Lloyds TSB. His very first (proper job) was as a Youth Worker at The Hague Council.
Dennis is a certified and practicing Agile ScrumMaster, and Agile Coach and the Chief Executive of Basis.
Matt Barnaby
Matt loves what he does. He uses Design Thinking, Agile and Adaptive Leadership to help improve Public Services, often where it has the greatest impact - on the front line. His genuine belief is that if he helps to improve the services that support some of the most vulnerable people in society, someone, somewhere has a shot at a better life.
Matt has over 20 years' experience in working in Public Services; much of that time spent in Children's Services, Education and Youth Work. The rest of his time has been spent delivering transformational change projects in the public, financial services, rail and retail sectors. He's been around the block!
His energy, passion, and expert facilitation techniques allow him to bring about change in the challenging of circumstances.
Matt is also a certified and practicing Agile ScrumMaster, and Agile Coach and a Director of Basis.