LSBU's Institute of Health & Social Care are proud to present our Allied Health Professions (AHP) Practice Learning Showcase
About this event
This profession specific series of events are taking place virtually during April, May and June. Each showcase is designed to inform the public, potential students as well as current and prospective practice learning providers about the recent innovations in practice learning at LSBU. Alongside this, we will be revealing our AHP practice learning strategy and future collaboration ambitions. We will also be sharing our AHP practice learning anti-racism journey and co-produced strategy.
Each event will be profession specific, and you can check out our schedule below. This a great opportunity to find out more & listen to information provided by our heads of division, course directors and practice learning leads from across the spectrum of AHP courses at LSBU. There will also be an opportunity to ask questions.
This specific event is about practice learning innovations in our Operating Department Practice (ODP) programmes. We will be sharing specific information about ODP practice learning established in the programme as well as sharing information on our up coming apprenticeship programme. The ODP programme is keen to collaborate with providers on further innovations to enrich the experience of our students.
Programme
3pm - Zoom functionality & virtual housekeeping - Neil Hudson-Basing, Corporate Events Manager, LSBU
3.05pm - Welcome and scene setting - Gail Edwards, Head of Division for Radiography & ODP, LSBU
3.10pm - Overview of practice learning in Operating Department Practice - Rebecca Sherwood, Course Director for ODP, LSBU
3.15pm - AHP practice learning strategy at LSBU
Tomas Ince, AHP Practice Learning Lead, LSBU
Chloe Keith-Jopp, AHP Clinical Fellow, London, Health Education England
3.30pm – ODP practice learning including place based opportunities
Joanne Fielding, ODP lecturer & placement lead, LSBU
Thomas McGurran
3.45pm - Our LSBU AHP practice learning anti-racism strategy: A journey of collaboration - Tomas Ince, AHP Practice Learning Lead, LSBU
4pm - LSBU ODP Apprenticeships – Our future plans - Aneesa Admani, Associate Professor & AHS Apprenticeship Lead, LSBU
4.15pm - Audience Q&A with the programme team
4.50pm - Closing remarks & summary - Tomas Ince, AHP Practice Learning Lead, LSBU
5pm - Close
This event will be delivered via Zoom and you will receive the joining instructions the day before the event takes place.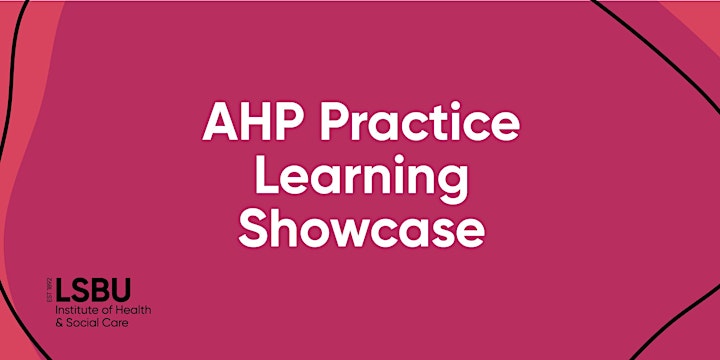 Schedule of events
Occupational Therapy (20 April, 3-4.30pm)
Diagnostic Radiography (27 April, 11am – 12.30pm)
Physiotherapy (4th May, 3pm - 5pm)
Operating Department Practice (8th June, 3pm - 5pm)
Therapeutic Radiography (Date/time TBC)
Sports rehabilitation and Chiropractic (Date/time TBC)
You can find out more information and register for the other events in the showcase here.