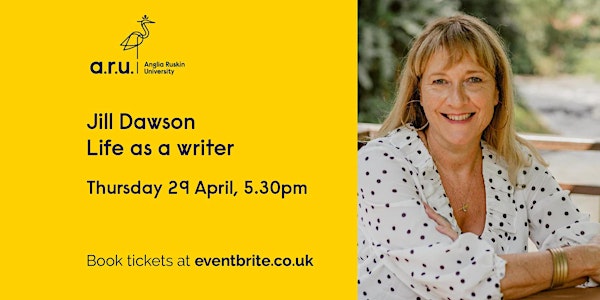 AHSS Presents: Jill Dawson 'Life as a Writer'
Welcome to ARU Ignite: a series of talks to educate, entertain and inspire hosted by the Faculty of Arts, Humanities and Social Sciences.
About this event
How easy is it to publish and make your living as a writer? Is it best to keep the day job?  How do you find an agent? What about teaching Creative Writing, what's the best route to that?  Jill Dawson will talk frankly about her own journey, from early writings for The Women's Press and Virago, to performing on the poetry circuit, to the point she is at now:  writing novels set in the Cambridgshire Fens where she lives and helping other new writers to publish.  This will be a candid, highly personal and informal talk and Jill is happy to answer your questions about the writing life - yours or hers! 
This event is internal, for ARU staff and students only.
Bio 
Jill Dawson is the author of eleven novels, most recently The Language of Birds, about the nanny murdered in the Lord Lucan case. She has been a freelance writer since her twenties and won awards for poetry, short stories and scripts, and been nominated for the Costa, Impac and Orange Prize. She runs the Gold Dust mentoring scheme for new writers who hope to publish:ww.gold-dust.org.uk 
GDPR
We are committed to protecting your personal information when you use our services and want to be clear about the data we collect and process. We have created this Corporate Privacy Notice to reflect the high standards established with the new EU General Data Protection Regulation (GDPR) which covers how we collect, use, disclose, transfer and store your data. It is intended to be read by applicants, staff, students, alumni, as well as visitors that use our services.
Read more: https://aru.ac.uk/privacy-and-cookies