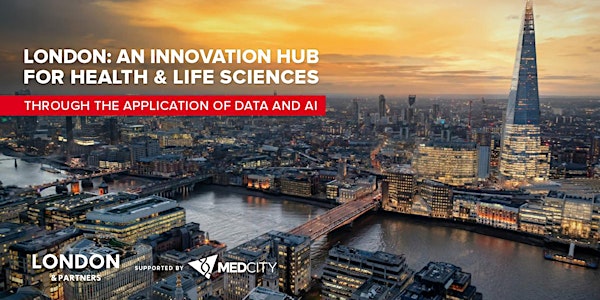 AI & Data in Health: Public Funding & Regulations in London & the UK (PM)
Find out about R&D Tax Credit, Grant Funding and Regulatory aspects of the AI & Data for Health ecosystem in London
About this event
Who should attend this event: Companies using AI & Data in Health and Life Sciences who are scaling in London or considering expanding to London
Why attend:
- Connect with the organisers London & Partners, who help companies set up in London together with MedCity the Life Sciences cluster organisation - Get a snapshot overview on UKCA mark, replacing the CE mark in the UK from 2023- Learn about what you need to consider when accessing data in the UK - Learn about the benefits of incorporating your legal entity in the UK to benefit from R&D tax credits and public funding grants
Event description:
COVID-19 has accelerated data-driven innovation across the globe, with Artificial Intelligence and Data Science at the forefront of addressing human disease and health.
London offers an end-to-end innovation and commercialisation test-bed ecosystem benefiting from access to clinical, academic and industries that all can work together to accelerate technology. London & Partners and MedCity have joined forces to map out the opportunities for businesses in London.
In our third event we are going to showcase what opportunities there are for public grants and tax credits when you expand your business to London, as well as the benefits of the new UKCA mark and regulatory aspects for your products and services in this market.
Agenda: UK time
16:30-16:35 pm Welcome by Sura Hussein, Senior Investment Manager, London & Partners
16:35-16:45 pm Regulatory Aspects of expanding to London by Dr Tasmina Goraya, Taylor Wessing Law Firm
16:45- 16:55 pm Benefits of UK R&D Tax Credits by Stephen Braham, RSM Accountancy
16:55 - 17.05 pm Accessing Innovation Grant funding by Ariel Bramble, GrantTree
17:05 - 17:15 pm GDPR considerations for accessing and sharing data by Vinod Bange, Taylor Wessing Law Firm
17:15 -17: 25 pm Q&A
17:30 pm Wrap up
Meet the speakers:
Dr Tasmina Goraya is a partner at the Patent's team Taylor Wessing Law Firm and core member of the UK and International Life Sciences group. https://www.taylorwessing.com/en/people/united-kingdom/cambridge/tasmina-goraya
Stephen Braham is a partner in London at RSM Accountancy and heads up the financial reporting team. He has vast experience working with international companies setting up in London. https://www.rsmuk.com/our-people/stephen-braham
Ariel Bramble is a senior associate on the grant funding team at GrantTree and the lead for their trusted partnership network. Ariel has experience working with companies looking to scale innovative development through government funding. https://granttree.co.uk/people/ariel-bramble/
Vinod Bange is a partner and the Head of our UK Data Protection and Privacy team at Taylor Wessing Law Firm. Vinod helps companies develop data protection solutions for third-party collaborations, and very frequently acts as regulatory liaison for UK, EU and global projects. https://www.taylorwessing.com/en/people/united-kingdom/london/vinod-bange
Sura Hussein and Koen Vandecaveye from London & Partners are helping international companies to navigate their landing in London. https://business.london/invest?ref=nav
ZOOM Link will be send out to attendees on eventbrite prior to the event
Please note due to limited numbers in the event we are only able to accept applications from companies. Service providers and consultants unfortunately cannot be accepted. Thanks for your understanding.