Event Information
Refund Policy
Contact the organiser to request a refund.
Eventbrite's fee is nonrefundable.
MKAI January Technical Forum | AI and Environmental Sustainability | Part 1: Earth Observations
About this Event
Series Rationale: The race to protect the earth gets more critical every year. The world is set to see its warmest five years on record – in a trend which is likely to continue – and is not on track to meet agreed targets to keep global temperature increase well below 2 °C or at 1.5 °C above pre-industrial levels. Atmospheric CO2 concentrations showed no signs of peaking and have continued to increase to new records. The Emissions Gap Report 2019 showed that the cuts in global emissions required per year from 2020 to 2030 are close to 3% for a 2 °C target and more than 7% per year on average for the 1.5 °C goal of the Paris Agreement. Organizations and governments are waking up, taking action, but the pace is just not matching up. We need to piggyback on exponential technologies if we are to ride out this wave successfully.
Series Objectives: Through this series of three MKAI Technical Forums, we will learn more about the massive opportunities on the horizon to shape markets and consumer behaviours with environmental data and artificial intelligence.
Agenda (all times in GMT):
4:30pm: 🎙️Welcome and Announcements by host Richard Foster-Fletcher and sponsors Aiimi and Data Reply

4:40pm
Speaker: Gilberto Câmara
Title: Secretariat Director, Group on Earth Observations
Presentation: Technical Keynote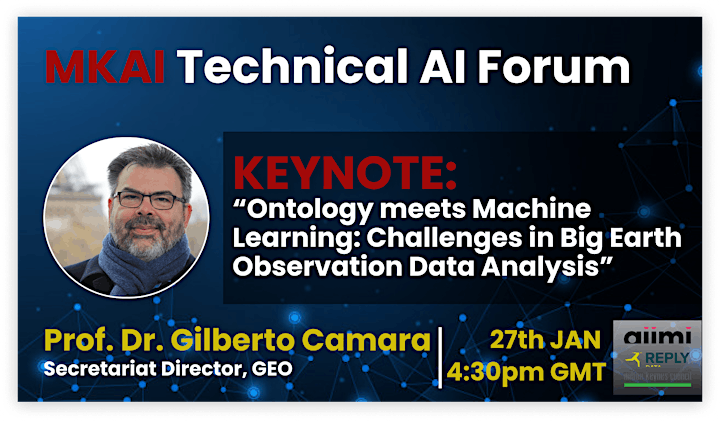 Prof. Dr. Gilberto Camara joined GEO as Secretariat Director in July 2018. He is well-known in the GEO community as a leading researcher in Geoinformatics, Geographical Information Science, and Land Use Change, and he has been recognised internationally for promoting free access and open source software for Earth observation data.
Under his guidance, as Director for Earth observation (2001-2005) and Director General (2006-2012), Brazil's National Institute for Space Research (INPE) made significant advances in land change monitoring using remote sensing, which contributed to Brazil achieving 80% decrease in deforestation in the Amazon rainforest, supporting Brazil's commitment made at the UNFCCC COP15. This achievement was hailed as "the biggest environmental success story in a decade" by the scientific journal Nature. In support of Brazil's pledge to the 2015 Paris Agreement, Gilberto lead a team that projected Brazil's future emissions from land use and agriculture.
Gilberto has advised 25 PhD dissertations and 31 Master thesis and published more than 250 scholarly papers that have been cited more than 10000 times (Google Scholar, June 2018). He was a member of the Scientific Steering Committee of Global Land Project from 2006 to 2011. From June 2013 to May 2015, he was the Brazil Chair at the University of Münster (Germany). From December 2016 to June 2018, he served as be one of the two co-chairs of the Belmont Forum, an international group of funding agencies for global change research.
As recognition for his work, he was inducted as a Doctor honoris causa from the University of Münster (Germany) and as a Chevalier (Knight) of the Ordre National du Mérite of France. He received the Global Citizen Award of the Global Spatial Data Infrastructure Association. He is also a Fellow of the Faculty of Geoinformation Science and Earth Observation (ITC) of the University of Twente (Netherlands) and a Senior Member of the Association for Computing Machinery (ACM). He is a member of the Scientific Advisory Board of Creative Commons and received the William T. Pecora award from NASA and USGS for "leadership to the broad and open access to remote sensing data".

5:20pm
Speaker: Grega Milcinski
Title: General Manager at Sinergise
Presentation: So much data, yet so little use (so far)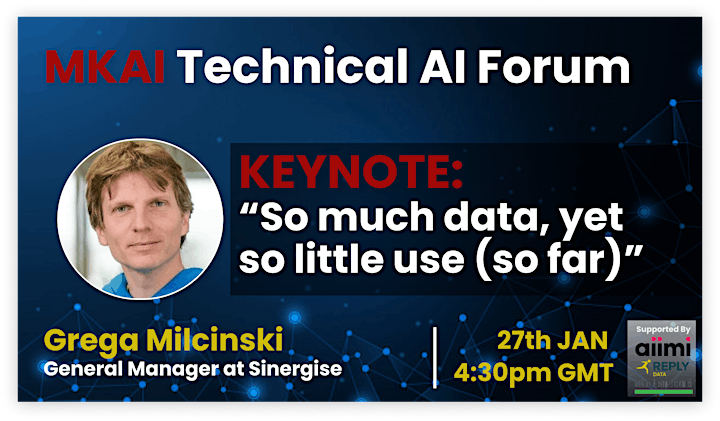 Grega Milcinski was born in 1980 in Slovenia, he studied Physics and co-founded Cosylab inc. at age 21, a company developing control systems for particle accelerators and large experiments in physics. In 2008 Grega moved to become CEO and co-founder of Sinergise, specialising in software for advanced geospatial applications, helping Europe to efficiently manage and control agriculture policy and introducing land administration systems to developing countries in Africa. With his colleagues they have recognised the potential of open Copernicus earth observation data early but soon hit a wall trying to use existing technologies to work with these large datasets. Deciding to do something about it, Sentinel Hub was born.
A Copernicus Masters award winning service for processing and distribution of satellite data is exploiting AWS Public Datasets to provide seamless access to the data to more than 10.000 registered users, mostly web developers creating applications on top of remote sensing data. After working with governmental clients in Balkan, Western Europe, Asia and Africa, Grega is now engulfed in building a global Internet business, which is nowadays processing two million requests every day.

5:50pm
Speaker: Catherine Nakalembe (Ph.D.)
Title: Assistant Research Professor at University of Maryland
Presentation: Harnessing EO with Machine Learning for Food Security in Africa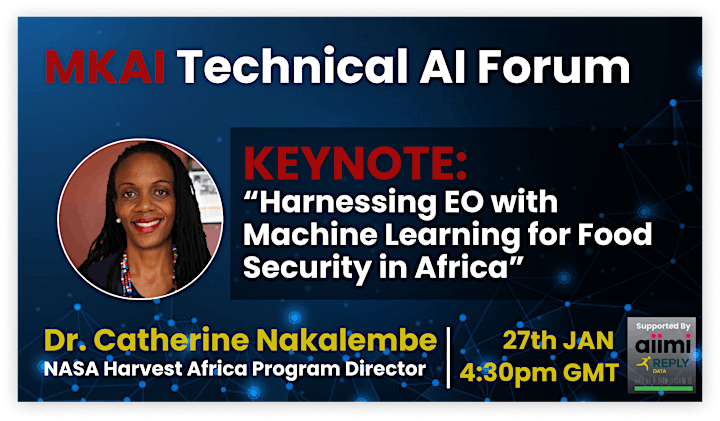 Catherine Nakalembe received her Ph.D in Geographical Science at the University of Maryland under the supervision of Chris Justice. Her doctoral research aimed to highlight the consequences of drought on land use and on the lives of North Eastern Ugandans. It also, was the first step in forming the basis of the remote sensing element of the Disaster Risk Financing Project which has supported over 75,000 households in the region since initial scaleup in 2017 and saving the Uganda government resources that would otherwise go towards emergency assistance.
She is the Africa Program Director in the NASA Harvest Program and is known for her work using remote sensing and machine learning technology supporting the development of agriculture and food security across Africa. She pioneered the remote sensing by unmanned aerial vehicles in surveying refugee settlements and landslide mapping in Uganda. She has conducted research in remote sensing of drought, agriculture, and leading the integration of earth observations in agricultural monitoring of small holder agriculture in multiple countries.
6:20pm: Open Q&A and Wrap Up
6:30pm Close
MKAI's Forums are made possible by our partners
We are a tech company that specialises in data and information. We believe that companies who win at data will become their market leaders, so we built a software platform to make sure our clients are first across the line.
Put it like this: you know the way your company has a ton of data in clouds, lakes, networks, computers and devices? We've found a way to organise it and link it all together. The result is improved productivity, compliance and privacy. Which is fine. But things get really interesting when our data scientists plug their AI solutions into the platform to drive amazing insight and incredible automation. That's when you get real competitive advantage. That's when you start to win.
Our software platform is called InsightMaker, because that's what it delivers. Simple. Usable. Insight.
It's used by utility companies, government departments, banks, car manufacturers, and law firms – that's the level we work at. And we haven't come across an organisation yet that InsightMaker hasn't been able to help.
Clients like our attitude – it's a refreshing alternative to the big consultancies and system integrators. We're faster and more flexible because we're totally independent - so decisions are quick and solutions are developed at hyper-speed. To find out more visit www.aiimi.com
Part of the well-known Reply group, Data Reply UK offers a broad range of advanced analytics and AI-powered data service to enable Digital Leaders and Chief Officers achieve meaningful outcomes through the effective use of data.
They support companies in designing and implementing human-centered data products to turn embryonic ideas into enterprise solutions with Big Data Engineering, Data Science and Intelligent Process Automation.
You can find out more and get in touch at www.reply.com/data-reply
Milton Keynes Council:
MK has over 1,000 people with direct sector skills and is home to over 6,000 software engineers and 4,000 data engineers. The city has the world's largest fleet of autonomous delivery robots and will be home to a new undergraduate university, which will be a global leader in training people to take on jobs in the science, technology, engineering and mathematics (STEM) economy.
The MKAI community is an eclectic group that engages in open conversation about important themes in AI, such as; ethics, responsibility, fairness, sustainability, breakthroughs, impact on society and people, inclusivity. Our strength comes from the fact that we come from different walks of life, with different expertise inside and outside of AI, giving us the diversity we think global AI needs to succeed. We don't focus on being 'right'. Instead we learn, listen, explore…always with kindness. AI needs all of us, and all of us need AI.
Date and Time
Location
Refund Policy
Contact the organiser to request a refund.
Eventbrite's fee is nonrefundable.