Event Information
Refund policy
Contact the organiser to request a refund.
Eventbrite's fee is nonrefundable.
MKAI March Technical Forum | AI and Environmental Sustainability | Part 3: AI For Smarter Energy Management
About this event
Series Rationale: The race to protect the earth gets more critical every year. The world is set to see its warmest five years on record – in a trend which is likely to continue – and is not on track to meet agreed targets to keep global temperature increase well below 2 °C or at 1.5 °C above pre-industrial levels. Atmospheric CO2 concentrations showed no signs of peaking and have continued to increase to new records. The Emissions Gap Report 2019 showed that the cuts in global emissions required per year from 2020 to 2030 are close to 3% for a 2 °C target and more than 7% per year on average for the 1.5 °C goal of the Paris Agreement. Organizations and governments are waking up, taking action, but the pace is just not matching up. We need to piggyback on exponential technologies if we are to ride out this wave successfully.
Series Objectives: Through this series of three MKAI Technical Forums, we will learn more about the massive opportunities on the horizon to shape markets, protect habitats and influence consumer behaviours using environmental data and artificial intelligence.
March Forum Objectives: At the MKAI technical forum in March, we seek to discover the Artificial Intelligence (AI) research and projects that are producing practical solutions for the Smart Grid. A new generation of energy networks will be able to make efficient use of renewable energy sources, support real-time and efficient demand response, as well as the large-scale deployment of electric vehicles (EVs). We will learn more about the AI techniques and methodologies that will increase the efficiency and effectiveness of the way we manage and allocate energy
Agenda (all times in GMT):
4:30pm: 🎙️Welcome and Announcements by host Richard Foster-Fletcher and sponsors Aiimi and Data Reply

4:40pm
Speaker: Dr. Ritula Thakur
Title: Associate Professor at NITTTR Chandigarh, Ministry of HRD, Govt. of India
Technical Keynote: Big Data Analytics for Smart Grid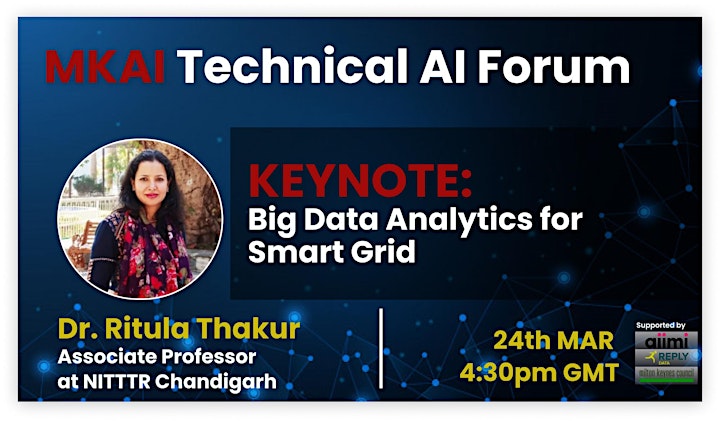 Dr. Ritula Thakur received B.E degree in Electrical engineering with Honours, M.E. degree in Power systems with distinction and Ph.D from Panjab University, Chandigarh. 
Currently, she is working as Associate Professor at the National Institute of Technical Teachers Training and Research, Chandigarh, India. Dr. Thakur has also worked as Visiting Scholar in Richard Russel Research Laboratory, Athens, USA.
Her research interests are in the areas of AI in Power Systems, Micro Grid and Smart Grid, Embedded systems and Microcontrollers, Electrical Engineering and Information Technology in Agriculture, Quality Analysis and Detection Technology in Food Materials Sensors and Instrumentation, Power Systems, Power Quality, PLC and SCADA. She has successfully coordinated three ARPIT courses on SWAYAM portal in the field of Smart Grid.
5:10pm
Speakers:
1) Sergio Zambrano Perilla, PhD Researcher at Universiteit Gent
2) Gargya Gokhale, PhD Student at IDLab UGent
3) Giancarlo Marzano, Project Development Specialist at SMA Sunbelt Energy GmbH
4) Rosana de Oliveira Gomes, Lead Machine Learning Engineer & Project Manager at Omdena
Title: Panel Discussion on AI For Smarter Energy Management
Sergio Zambrano Perilla is a PhD Researcher in artificial intelligence applied to smart grids. Experience in electric power systems, sustainability and reinforcement learning. Interested in projects related to smart grids, machine learning, energy efficiency, electric vehicles, and renewable energy technologies.
Gargya Gokhale is a PhD student at IDLab UGent-imec and part of the AI for Smart Grids research group. His research work is focused on the application of Reinforcement learning for demand response in smart grids.
Giancarlo Marzano is an ambitious electrical engineer, with a focus on Signal Processing and Energy Management. Curious and always open to new challenges, he wants to contribute to the big transition that Europe is facing towards a smarter, digital and more sustainable society. Giancarlo envisions a more dynamic electricity market, where end consumers play a key role via enabling services such as demand-side management and decentralized production.
6:25pm: Wrap Up
6:30pm Close
MKAI's Forums are made possible by our partners
We are a tech company that specialises in data and information. We believe that companies who win at data will become their market leaders, so we built a software platform to make sure our clients are first across the line.
Put it like this: you know the way your company has a ton of data in clouds, lakes, networks, computers and devices? We've found a way to organise it and link it all together. The result is improved productivity, compliance and privacy. Which is fine. But things get really interesting when our data scientists plug their AI solutions into the platform to drive amazing insight and incredible automation. That's when you get real competitive advantage. That's when you start to win.
Our software platform is called InsightMaker, because that's what it delivers. Simple. Usable. Insight.
It's used by utility companies, government departments, banks, car manufacturers, and law firms – that's the level we work at. And we haven't come across an organisation yet that InsightMaker hasn't been able to help.
Clients like our attitude – it's a refreshing alternative to the big consultancies and system integrators. We're faster and more flexible because we're totally independent - so decisions are quick and solutions are developed at hyper-speed. To find out more visit www.aiimi.com
Part of the well-known Reply group, Data Reply UK offers a broad range of advanced analytics and AI-powered data service to enable Digital Leaders and Chief Officers achieve meaningful outcomes through the effective use of data.
They support companies in designing and implementing human-centered data products to turn embryonic ideas into enterprise solutions with Big Data Engineering, Data Science and Intelligent Process Automation.
You can find out more and get in touch at www.reply.com/data-reply
Milton Keynes Council:
MK has over 1,000 people with direct sector skills and is home to over 6,000 software engineers and 4,000 data engineers. The city has the world's largest fleet of autonomous delivery robots and will be home to a new undergraduate university, which will be a global leader in training people to take on jobs in the science, technology, engineering and mathematics (STEM) economy.
The MKAI community is an eclectic group that engages in open conversation about important themes in AI, such as; ethics, responsibility, fairness, sustainability, breakthroughs, impact on society and people, inclusivity. Our strength comes from the fact that we come from different walks of life, with different expertise inside and outside of AI, giving us the diversity we think global AI needs to succeed. We don't focus on being 'right'. Instead we learn, listen, explore…always with kindness. AI needs all of us, and all of us need AI.
Date and time
Location
Refund policy
Contact the organiser to request a refund.
Eventbrite's fee is nonrefundable.
Organiser of AI For Smarter Energy Management | MKAI Technical
MKAI is a responsible AI community that engages in open-minded conversation and crowdsourced projects regarding important artificial intelligence themes including; ethics, inclusivity, privacy and sustainability.
We attract people from different walks of life, with different experiences. Our diversity is our strength.
We don't focus on being 'right'. Instead, we seek to learn, listen and explore. Compassion and kindness are the glue that bonds us together.
AI needs all of us, and all of us need AI.