Description
Join us for a Champagne Breakfast at The Fable restaurant in Clerkenwell for a round-up of e3's cutting edge Experience series, as well as a discussion on 2016's trends and what's coming up in 2017.
2016 has been a change of pace for senior marketers, from millennial customer behaviour to seismic social change around the world. Engaging and consumer-led experiences have been the goal for every brand in an increasingly digitally noisy world.
This is a personal, invitation-only event intended to foster conversation and share cutting-edge insights from our ground-breaking 2016 thought leadership series which covered:
Artificial Intelligence Trends

Enhanced Cyber Security

Engaging Content Experience
Founder of London Strategy Unit Matt Boffey will round up the trends of 2016 as well as peering into 2017, making this an excellent opportunity for senior marketers to access their current and future digital strategy plans.
We will also be celebrating the launch e3's Artificial Intelligence white paper, which will be exclusively available to all attendees of the event.

---
About Us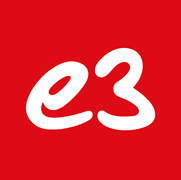 e3 is one of the UK's most awarded independent digital agencies. We are Sitecore Gold Partners and IBM Watson specialists, Microsoft Certified developers, ISO 27001 certified and one of the first UK agencies to be Cyber Essentials Plus data security certified. We blend this technical expertise with innovative growth strategies to help brands keep pace with their consumers and ahead of the competition. Founded in 1997, we are famous for our work for brands including The Royal Navy, National Trust, Kia, BP and Orange.
---
Our Sponsors

Sitecore is the global leader in customer experience software that enables context marketing. The Sitecore® Experience Platform™ manages content, supplies contextual intelligence, and automates communications at scale so marketers can deliver personalized experiences that delight audiences, build loyalty, and drive revenue.
---
Spaces are limited. Register now to avoid disappointment. This is a senior brand-only invitation event.
Suppliers and agencies need not apply. If you have any questions about the event or e3 please email emily@e3.co.uk.
---