AICTP Conference on Integrative Practice
Description
AICTP is proud to host the world's 1st conference on Integrative practice - from relevance and theory to practice and building your business
There is a meeting point where coaching, counselling, psychotherapy and other approaches meet, complement and enhance one another for solid results and lasting effectiveness. The AICTP (Association for Integrative Coach-Therapist Professionals) has emerged to support new and established integrative practitioners. Come explore the range and possibilities of integrative practice. Learn useful business building strategies. Be inspired by others. Connect with like-minded people and learn more about how you can join AICTP.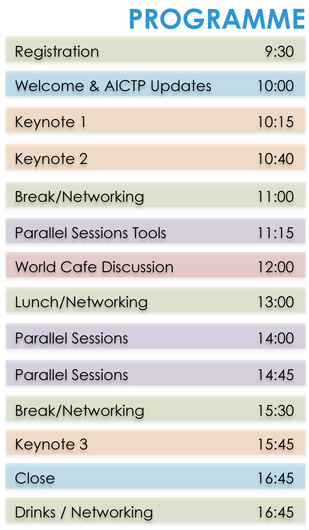 You can also download the full programme as a pdf.
All of us here at AICTP are looking forward to seeing you at the conference. If you have any questions, please don't hesitate to contact us. For further details on each session, please see below.
With our best wishes
The AICTP