Aidan McIntyre - Journey with The Gong

Tuesday, 29 April 2014 from 19:30 to 22:00 (BST)
Event Details
The Magic of a Gong Bath


Tues 29th April 2014
7.30pm-10pm

Journey to Your Heart with Gong Master
Aidan McIntyre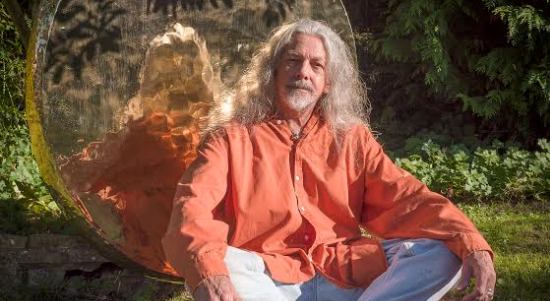 Relax and Take the Journey your Heart as Gong Master Aidan McIntyre and The Magic of The Gong take you to Meet with Your Heart's Desire.

Bathing us in waves of beautiful and timeless vibrations; The Gong Bath has been likened to a mini-vacation, in which we become both the bubble and the sea as we experience a sense of disappearing and reappearing, leading us to new beginnings and a fresh place of self-healing, self-revelation and child like wonderment
Powerful Vibrations
The powerful vibrations of the gong transport us to another level of well being; a place where healing naturally occurs and the stresses of every day life are gently washed away.
Enjoy feeling immersed in an unlimited, infinite sound space of ever-changing livings tones and organic melodies.harmonics blending and multiplying with astounding Beauty, grace and lightness. Allow the sounds and vibrations to deepen your feelings of connection to Spirit and Source. 
Begin Spring into being in a perfect blossoming state of joy and bliss with a NEW increased vitality and calmness.
 Balance your emotions and allow yourself to re-connect with your true feelings of self-empowerment and purpose.
Please bring a rug and/or cushion for maximum relaxation and enjoyment of the experience
Tickets
THE FIRTY THIRTY!
THE  FIRST 30 TICKETS FOR AIDAN'S GONG BATH ARE BEING OFFERED AT THESE GREAT PRICES!
Be One of the First 10 People to Book a Ticket for Aidan's Event for Just £10.00!
If these are sold out, you may still be lucky enough to be one of the Next 20 People to Book a Ticket for Just £15.00!
Don't Delay – BOOK TODAY! 
(Tickets on the door will be priced at £30.00)
When & Where

The Barn Church
Attwood Avenue
Kew
TW9 4HF


Tuesday, 29 April 2014 from 19:30 to 22:00 (BST)
Add to my calendar
Organiser
Naked Dragon Events
At Naked Dragon we just love creating Inspirational Events that bring diverse groups of fun and interesting people together in beautiful surroundings to enjoy uplifting and positive experiences that nurture our Mind, Body & Soul.
With a focus on Natural Health & Wellbeing, Naked Dragon hosts regular Inspirational Talks, Workshops, Healing Sound Experiences, Music Performances, Film Screenings, Special Events and Retreats - all in stunning locations.
We look forward to meeting you at one of our events very soon!
Aidan McIntyre - Journey with The Gong