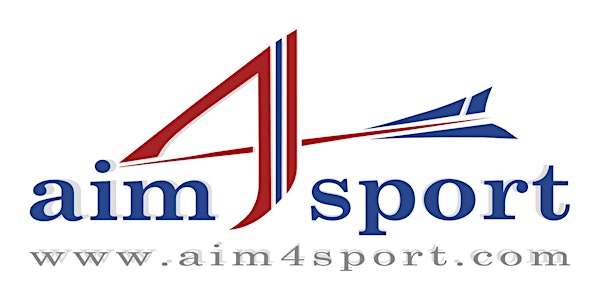 Aim4sport Outdoor Archery Lane Booking
Location
Aim 4 Sport Ltd
5 Phoenix Park
#Unit 3
Sandy
SG19 1PR
United Kingdom
This is a booking system that allows unlimited shooting members to use the archery range during lockdown
About this event
Revised info, please follow (Including the disposal of your targets)
It is running on a trial basis and will be reviewed
regularly. Hopefully, we plan to get you back shooting ASAP.
By booking an event you agree to and will abide by the following:-
• PLEASE DO NOT just turn up and hope for the best. Please use the system that has been set up.
• You are a member of a national governing body (AGB, NFSA, EFAA, ELA)
• You must have your up to date membership card to hand to allow you to shoot. (NO EXCEPTIONS)
• You will be required to sign in and sign out as you would shooting on our range.
• You are expected to bring with you, or purchase your own target face.
• The face will stay with you (Take it home even if shot out) Down to the archer to dispose of the shot out target.
• If it's not shot out, please make sure you reuse it and bring it with you.
• We will supply target pins.
• If you need a target face which you can bring from home. (Compulsory to shoot to protect the unnecessary touching of the boss. NO EXCEPTIONS) and pay for your use of range, there is no card payment system available. If not, you can purchase one from the signing in desk.
• Payment will be made ideally before you start shooting.
• You will be invoiced for a full 2-hour session (Per archer - £10 non Aim4sport Members, £8 aim4sport members) so use your time wisely. No "I only shot of an hour" is your choice)
• When you have finished shooting please bring all the target pins, from your boss, back to sign in desk and drop them into the bucket so we can disinfect them for the next days use.
• If you wish to join/re-join the unlimited shooting scheme, please call 07501 506347 for more information.
• If you are an aim4sport club member and not a member of the unlimited shooting scheme you can shoot on a Sunday FOC on club day (Members only)
• Up to 4 members of the same household per boss.
• Targets are set at 30m, 50m, 70m. NOT to be moved.
• Shooting times from various times please check the sit for available times to shoot.
• Book one of three 2-hour shooting sessions per household
• Maximum 2-hour session per day per household.
• You will need to be back up and ready to leave the range for a 2-hour session. Please do not shoot until the 2 hours are up then packed away. If you do this, please bring your kit and bag back to the car-park and pack away.
• If challenged, unlimited shooting members must produce their signed card, which would have been issued when joining.
• Anyone not showing the card please call 07501 506347 and an aim4sport staff member will attend.
• All people attending the aim4sport archery indoor range are responsible for supplying and PPE equipment they wish to use.
• If you forget any PPE it is available from reception £1. No excuses
• PPE equipment will be worn during the collection of arrows and is at the archers discretion during shooting of their end.
If you have any questions on the above, first, read the FAQ's before you send us an email. If your question is not there please email info@aim4sport.com . If the question has already been asked I will send you back to have a look for it below.