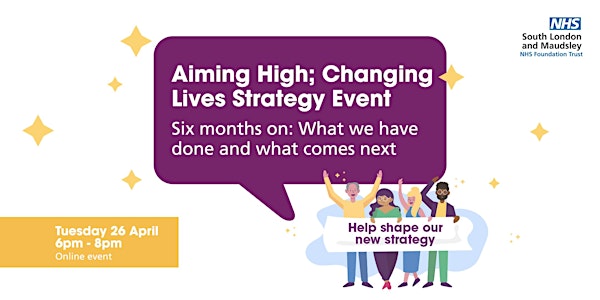 Aiming High; Changing Lives - Strategy Six months on event
Join this first six-monthly public event to hear progress on our Trust's strategy
About this event
Aiming High; Changing Lives - Strategy Event
Six months on: What we have done and what comes next
Following over 1,700 interactions with staff, service users, carers, partners, families and community organisations - we launched our new Trust strategy 'Aiming High; Changing Lives, 2021-2026'.
We made a commitment to hold regular six-monthly events led by the Chair and Chief Executive, this is to continue talking and acting on how we are making progress to achieve our five Strategic Ambitions:
Building a culture of trust together
Outstanding mental health care
A catalyst for change
Partner in prevention
Towards an effective and sustainable organisation
At this first event we will:
Share progress on the strategy since its launch in September 2021
Continue to co-produce the qualitative (personal experience) measures for the Trust Strategy, to monitor its success
Share ways to get involved in reviewing and setting Trust priorities for 2023-2024
Have a question and answer session on the strategy with our panel
Date: Tuesday 26 April 2022
Time: 6pm - 8pm
Location: Online via Microsoft Teams.
When you register for this event, the event link will be emailed to you.
#HelpShapeOurStrategy #PartnershipEvents