Description
Update: Please note, the room has changed to B60, Keighton Auditorium, University Park (Not B30).
The design and development of a highly efficient large civil aircraft is one of the major engineering achievements of the modern digital age. This lecture is telling the story of the Airbus A350 XWB family design and development, from its challenging launch to where it is today, with operators around the globe flying passengers daily on long range routes in the highest level of comfort.
The lecture will be presented by Gordon McConnell, BSc (Hons), C Eng, FAeS, Consultant to aerospace companies with 40 years of background aviation industry.
The lecture will focus on the many new technical innovations which were introduced on A350XWB to define an aircraft architecture to meet very demanding market and performance requirements. To reduce development lead time, it was necessary to accelerate the readiness of the key technologies, increase the use of simulation and modelling techniques to support the design and to conduct a flight test programme in record time to achieve Type Certification.
The journey was clearly not only a technical one and changes in the ways of working were necessary to lay down stable programme requirements as a robust foundation for this aircraft family. The A350XWB introduced a new industrial strategy of a global extended enterprise to design and manufacture this outstanding aircraft.
Finally, the lecture will cover a brief status of the where the programme is today, how the aircraft is performing in service and what its future development may bring.
---------------------------------------------


In assosication with the RAeS and hosted by the IAT.
This lecture is free to attend and is open to the public. Refreshements will be available before the lecture from 17:00.
The Keighton Auditorium is marked as number 56 on this map.
For further information please contact Catherine Mitchell at Catherine.Mitchell@nottingham.ac.uk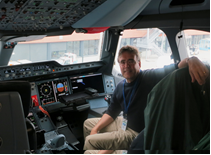 Gordon McConnell,
BSc (Hons), C Eng, FAeS, Consultant to aerospace companies with 40 years of background aviation industry
Bio
On graduating from Paisley College of Technology in Scotland with an Honours Degree in Mechanical Engineering, Gordon first joined Scottish Aviation Ltd at Prestwick in 1975 as a Stress Engineer and following the creation of British Aerospace, progressed through various roles in the Engineering Department to become, in 1988, Chief Engineer responsible for the Jetstream 41 development programme. In 1994, he was appointed Technical Director, British Aerospace Jetstream Aircraft, in charge of engineering for all the Jetstream turboprop family.
In 1996 Gordon was appointed as Technical Director, British Aerospace Regional Aircraft and led the integration of the Prestwick and Woodford engineering teams to manage the Avro RJ and Jetstream aircraft programmes.
In 1997 he joined Airbus in Toulouse as Chief Engineer, Twin Aisle Aircraft. He was responsible for directing the engineering development and continuing support of the A300, A310, A330 and A340 aircraft programmes. During this period, he managed the overall engineering development of the A340-500/600 ultra-long range aircraft programme, which culminated in a successful entry to service in 2002.
Following his role in Toulouse, Gordon returned to the UK in January 2004 to become Senior Vice President, Engineering at Airbus Filton leading the Engineering Integration Centre for wings, landing gears and fuel systems.
In January 2007, he returned to Toulouse to lead the Engineering of the new Airbus A350XWB long-range aircraft family as SVP and Chief Engineer. This long-range aircraft gained its Type Certification in October 2014 after a 15 month flight test programme. The aircraft successfully entered service with Qatar Airways in December 2014. The aircraft incorporates the latest carbon fibre composite technologies, an advanced engine and state of the art systems which all enable significantly improved passenger comfort and amenities. The highly efficient aerodynamics and engine guarantee the highest performance and lowest fuel burn and environment impact.
Gordon was awarded an Honorary Doctorate by University of West of Scotland in 2008. He received the Royal Aeronautical Society's Gold Medal in 2014 for work of an outstanding nature in Aerospace and the Council of European Aerospace Societies Gold Award for 2016 for an outstanding technical contribution to European Aerospace. He was also a recipient of the Institute of Engineering Designers Alex Moulton Award in 2016.
He retired from Airbus in December 2014 after working 40 years in the aviation industry and is now engaged in consultancy services to aerospace companies.