Akala, hip hop artist, author and social entrepreneur, will be sharing his experience on writing his SUNDAY TIMES bestseller Natives.
About this event
A Message from the Widening Access & Student Success team:
Thank you for booking a place for the Akala is Coming to Herts event scheduled for the 19th March.
Following the advice received from the Director of Public Health from Hertfordshire County Council, the University of Hertfordshire decided to postpone major events such as this one.
We apologise for having to do this and want to reassure you that this decision has not been taken lightly and has been made with your safety as the main priority.
You will be happy to know that Akala has confirmed that he will come to Herts in the near future. We will, of course, give you priority in securing your place as soon as a date is determined.
If you have any questions regarding the event, please email hertssuccess@herts.ac.uk.
Akala is a BAFTA and MOBO award-winning hip-hop artist, writer and social entrepreneur, as well as the co-founder of The Hip-Hop Shakespeare Company. With an extensive global touring history, Akala has appeared at numerous festivals both in the UK and internationally, and has led innovative projects in the arts, education and music across South East Asia, Africa, India, Australia and New Zealand. Akala has also appeared on Channel 4, ITV, MTV, Sky Arts and the BBC promoting his music and poetry, and speaking on wide-ranging subjects from music, race, youth engagement, British/African-Caribbean culture and the arts, with numerous online lectures and performances that have millions of views on YouTube. More recently known for his compelling lectures and journalism – he has written for the Guardian, Huffington Post and the Independent and spoken for the Oxford Union and TEDx.
NATIVES his recently published memoir is already a Sunday Times bestseller.
Having been awarded an honorary Doctorate by Oxford Brookes University, Akala has gained a reputation as one of the most dynamic and articulate talents in the UK.
Don't forget to bring your book to get it signed by Akala.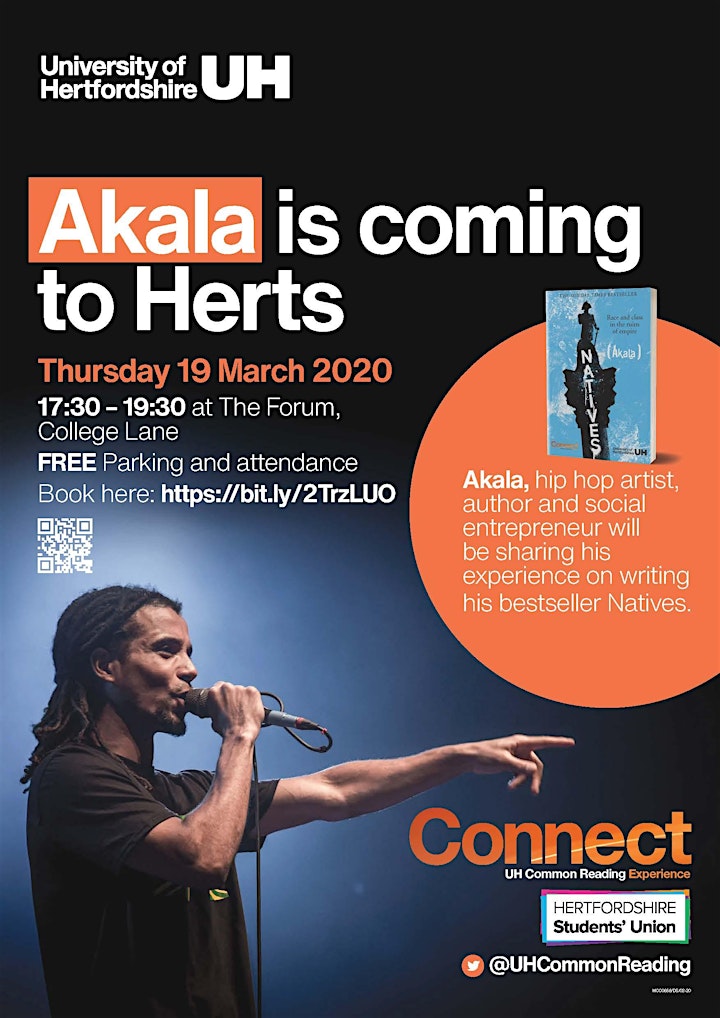 Organiser of Akala is coming to Herts - This event has been postponed