A bi-monthly online Storytelling Club, hosted by internationally renowned, award winning storyteller, Jan Blake.
About this event
The Akua Storytelling Poject is an online, enrichment space for storytellers & storylovers, in which we host many member activities.
The Akua Storytelling Club is one such event . Whether you're itching to tell, or you just want to listen, come with a 15 minute story or come with a song, come with a heart full of love and your ears open wide. Come with your rough diamonds, not your perfect pearls.
We're not looking for perfection, we're looking for the joy of the craft.
This event is open to the public, so I hope that you can join us.
NB: Folktakes only
If you have any queries, please send us an email at theakuastorytellingproject@gmail.com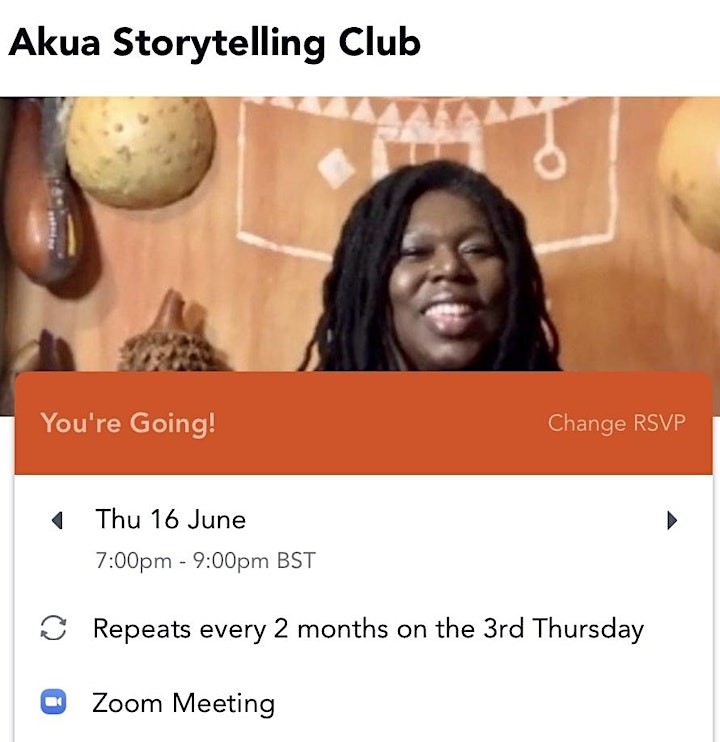 Subscribe to The Akua Storytelling Project Mighty Network here
What is The Akua Storytelling Project?
It is an affordable, online forum, a virtual community where you can engage with another way of being in the world, whilst immersing yourself in the story wisdom of Africa & other cultures, which have all too often been dismissed as having nothing to offer the dominant Western cultures.
It is an invitation to use the wisdom of these stories to dig deeper into your own cultural heritage in search of the treasure which was always lain beneath your feet.
It is an opportunity for storytellers, particularly young people of colour, to be exposed to & train with one of the most respected storytellers within the African/Caribbean diaspora.
It is a community of those who delight in the enigma of stories.
I founded The Akua Storytelling Project community as a space for dialogue, for storytellers to train & develop, to amplify storytelling as a performing art and for the exploration of storytelling as a tool for transformational change.
Jan Blake is a storyteller of African Caribbean origin. Born & raised in Manchester UK and specialising in stories from Africa, the Caribbean & Arabia. She believes that the folktales & myths which she tells, particularly those from the African Continent, invite us all to engage with another way of being in the world, to immerse ourselves in cultures which have all too often been dismissed as having little to offer to the dominant culture. "I want to take these stories, dive deep into their wisdom, and offer them as a healing balm."