Description
Are you curious about the latest trends in data collection and analysis? Would you like to know more about where the development aid sector is heading? It's clear that data is playing an increasingly important role in programme design, implementation and evaluation within development, but what does that mean in practice, and how can we make sure we turn good data into good decisions?
The Akvo Track Day on 23 June will give you an opportunity to explore innovative use of data for development through informative plenary sessions, hands-on break-out activities and lively debate. It's a chance to share some of the stories that inspire us, and exchange experiences of working with data. We'll also bring you up to date on the latest innovations at Akvo.

*This event requires registration.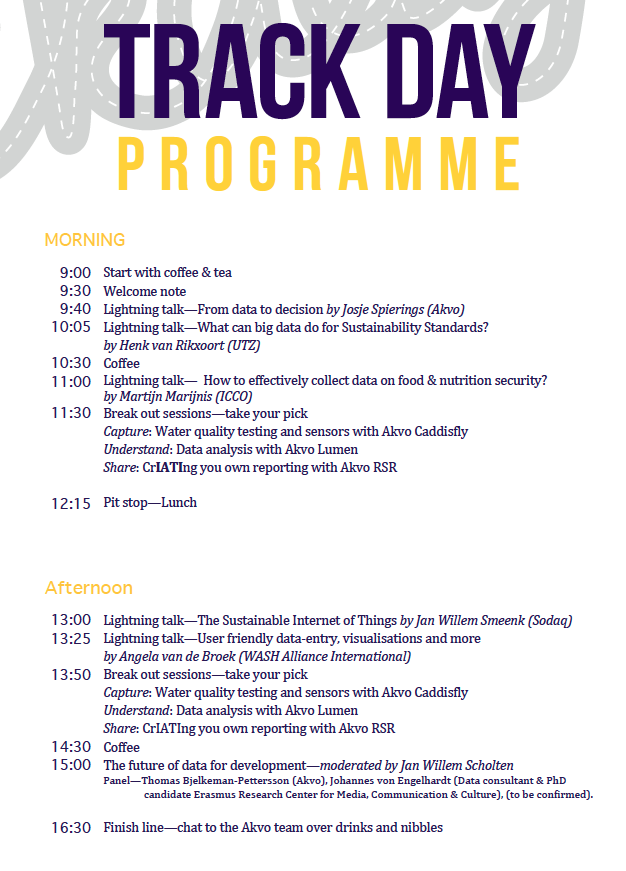 Organiser of Akvo Track Day 2016
Akvo is a not-for-profit foundation that creates open source, internet and mobile software and sensors. We work with people improving infrastructure and services, for disadvantaged populations.
We focus on making international development and country governance more effective, transparent and collaborative.
Around the world, we help our partners act to improve the management of water, sanitation, agriculture, health, energy, education and the environment.