Description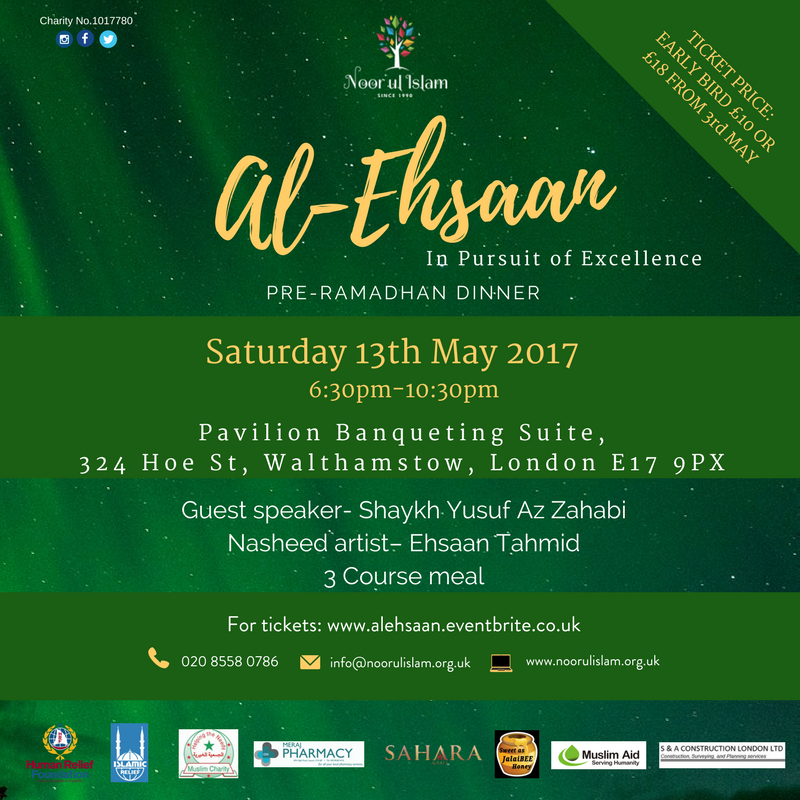 "Al Ehsaan – In pursuit of excellence"
Noor Ul Islam presents a special Pre Ramadhan Dinner with guest speakers, nasheeds and inspirational talks. Spiritually prepare yourself for Ramadhan and make this a life changing month
This Pre Ramadhan Dinner is in aid of the Noor Ul Islam redevelopment project, which has been inspired by the Prophet's Mosque (Peace Be Upon Him).
Join us for this beautiful event to prepare your soul for the blessed month of Ramadhan whilst enjoying a delicious three course meal".
Noor Ul Islam Redevelopment Project estimated cost is £8 million and will provide a four storey centre for the community with state-of-the-art facilities. Alhamdulillah we have reached the half way point of our project and need to complete the final half as soon as possible.
---
Join us in heart touching and an inspirational evening to spiritually prepare yourself for the coming Ramadhan.
Ticket price includes three course meal.
Admission by prepaid bookings only. All visitors including children require a ticket. (except children under 24 months who are only seated with an adult and not requiring seat)
Parking facilities available on nearby roads.
For more information or If you have any special requirements please contact event organiser at info@noorulislam.org.uk or 020 8558 0786.
We look forward to welcoming you.