Anglo Latin American Foundation (ALAF) Summer Party 2021
About this event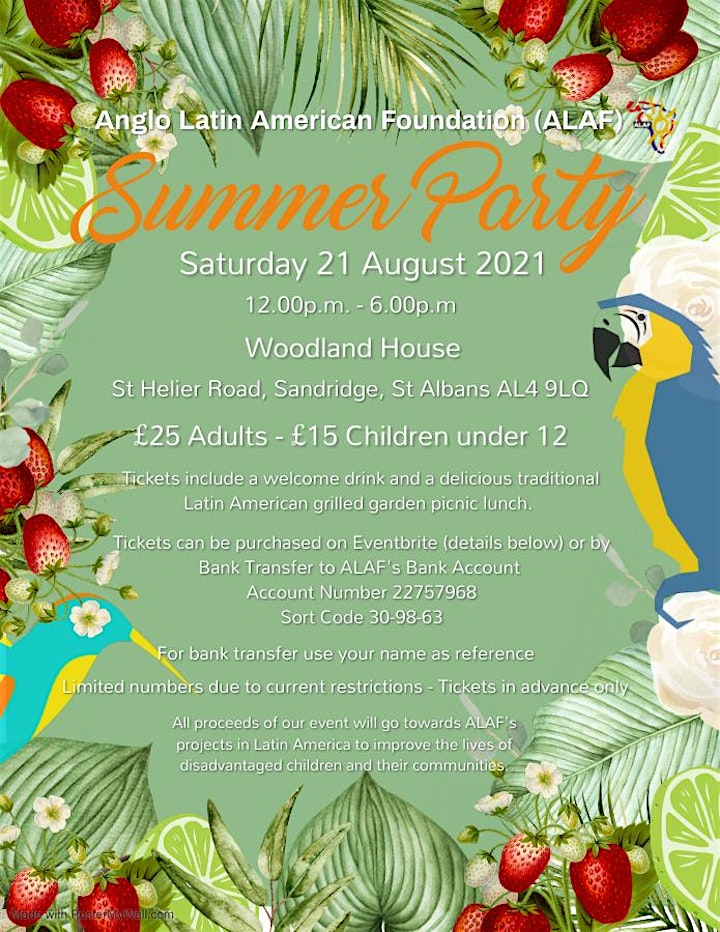 The Anglo Latin American Foundation (ALAF) is delighted to invite you all to our ALAF Summer Party 2021 an open air afternoon of rejoice, friendship, generosity, delicious Latin American food, music and entertainment.
Our Summer Party 2021 will take place on Saturday 21st August from 12.00p.m. to 6.00p.m. in the beautiful grounds of Woodland House, St Helier Road, Sandridge, St Albans, AL4 9LQ.
Ticket Price £25 Adult and £15 Children under 12 y/o.
Eventbrite fees are added to ticket prices. ALAF is grateful for your support in heliping us to maintain our fundraising event administrative cost as low as possible.
Ticket includes a welcome drink and a delicious traditional Latin American grilled garden picnic lunch. Please bring your picnic set and blankets.
Tickets can be purchased via Eventbrite (details below) or by bank transfer to ALAF's Bank Account:
Account Number: 22757968
Sort Code: 30-98-63
For bank transfers please use your name as reference.
Limited numbers due to current COVID-19 restrictions. Tickets in advance only.
All proceeds of our event will go towards ALAF's projects in Latin America to improve the lives of disadvantaged children and their communities.
Organiser of ALAF Summer Party 2021
ALAF serves as the umbrella for the Anglo/Latin American bilateral societies in the UK. All the bilateral societies are members of ALAF and support events which raise funds for disadvantaged children in Latin America. By acting collectively, ALAF can help the societies, in collaboration with their Embassies, improve their contribution to how they support charitable projects in the region. We believe that working together through ALAF the bilateral societies can fulfill their roles in helping deserving children in Latin America.