Description
Alan Turing and the Enigma Machine
Dr James Grime, Millennium Mathematics Project, University of Cambridge
Wednesday 23 July 2014, 6.00pm
Centre for Mathematical Sciences, University of Cambridge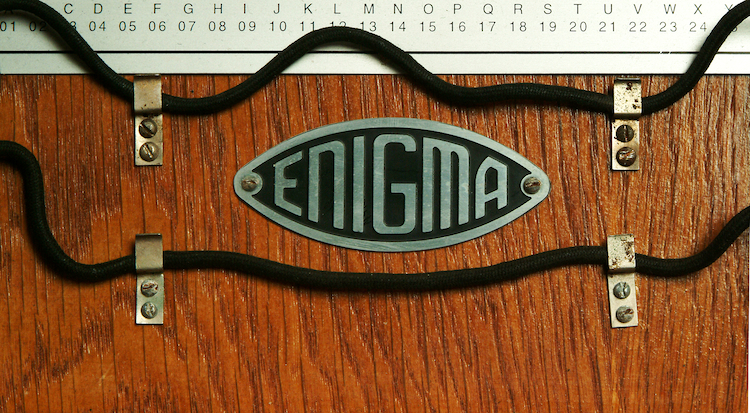 One of the great 20th century mathematicians, Alan Turing was a pioneer of computer science who is best remembered as one of the leading code breakers at Bletchley Park during World War II. Turing's brilliant mathematical insights and innovative thinking helped to break Enigma, the purportedly unbreakable code used by the German military. Join Dr James Grime as he tells the gripping story of both Alan Turing and the Enigma, leading up to this epic battle of man against machine - including a full demonstration of an original WWII Enigma Machine!
For more information please see the event page on the Millennium Mathematics Project's website.
The event is free but admission is by ticket only.
About the speaker:
Dr James Grime is a mathematician and public speaker who works for the Millennium Mathematics Project at the University of Cambridge. For the past six years he has toured the UK, and the world, giving talks about the history and mathematics of codes and code breaking as part of our Enigma Project. He is also well-known as a presenter of mathematical videos on YouTube.
Organiser of Alan Turing and the Enigma Machine
The Millennium Mathematics Project (MMP) is a maths education and outreach initiative for ages 3 to 19 and the general public. The MMP is a collaboration between the Faculties of Mathematics and Education at the University of Cambridge, and is active nationally and internationally. Our focus is on increasing mathematical understanding, confidence and enjoyment, enriching everyone's experience of mathematics, and promoting creative and imaginative approaches to maths.
The project consists of a family of complementary programmes, including the very successful NRICH website, Plus online mathematics magazine, face-to-face work with schools and occasional public events. For more information please see our website.