Description
Alchemy in Daoism and

Haṭha

Yoga - discussion with Professor Louis Komjathy (University of San Diego) and Dr James Mallinson (SOAS)
Chaired by Suzanne Newcombe (Open University and Inform, KCL). Followed by a drinks reception.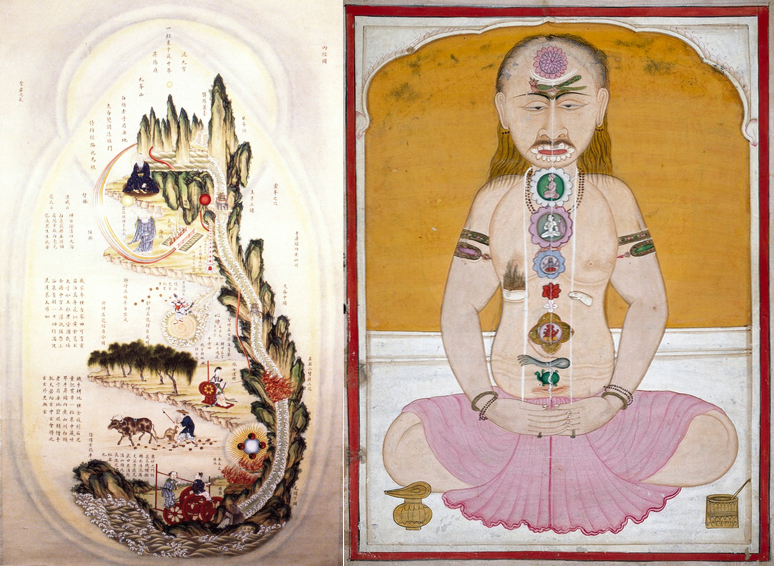 The perfection of the human, seen as either a means towards ultimate liberation from suffering or immortality, has a central place in both the Indian and Chinese esoteric traditions. To these ends, both Haṭha and Daoist traditions have 'internal' practices relating to the manipulation of energy inside the body as well as more 'external' practices which can involve the ingestion of substances. Both of these Indian and Chinese traditions have also developed a variety of physical exercises aimed at strengthening the physical body.
By bringing two leading scholars in their respective fields together in dialogue, it is hoped that the discussion will further elucidate both similarities and distinctions between the Indian and Chinese traditions. Each scholar will make a short presentation on the internal and external practices of alchemy in their respective tradition(s), before an extended question and answer session and informal reception.
This event is part of our Yoga Studies Week, for the full listings for this event see our event page at www.soas.ac.uk/yoga-studies/events or go straight to centreofyogastudies.eventbrite.com to book.
Speakers
Louis Komjathy, Associate Professor of Chinese Religions and Comparative Religious Studies in the Department of Theology and Religious Studies at the University of San Diego, USA. He is a leading teacher-scholar of Daoism (Taoism) and Contemplative Studies, with particular interests in contemplative practice, embodiment, and mystical experience. This has included extensive fieldwork on contemporary mainland Chinese Daoist monasticism and so-called "American Daoism" from a participant-observation perspective.
James Mallinson, Senior Lecturer in Sanskrit and Classical and Indian Studies at SOAS, University of London. He is a leading philologist expertise on Sanskrit texts on yoga, which he complements with ethnographic data drawn from extensive fieldwork with Indian ascetics as well as a long-term initiatory association with a Rāmānandī Indian ascetic saṃpradāya in which he was given the title of mahant 2013. He is the Principle Investigator on the The Haṭha Yoga Project (HYP).
The event will be chaired by Suzanne Newcombe, Lecturer in Religious Studies at the Open University and Research Fellow at Inform, based in the department of Theology and Religious Studies at King's College London. Her current research focuses on the ERC-funded project AYURYOG: Entangled Histories of Yoga, Ayurveda and Alchemy in South Asia which is examining the histories of yoga, ayurveda and rasaśāstra (Indian alchemy and iatrochemistry) from the tenth century to the present, focussing on the disciplines' health, rejuvenation and longevity practices.
With support from the European Union's Horizon 2020 research and innovation programme under grant agreements No. 639363 (AYURYOG: Entangled Histories of Yoga, Ayurveda and Alchemy in South Asia) and No. 616393 (The Haṭha Yoga Project (HYP).

Organiser of 'Alchemy' in Daoism and Haṭha Yoga: A Discussion
SOAS is leading the way in the new field of yoga studies, which is growing rapidly around the globe. We host the Hatha Yoga Project, a research initiative funded by the European Research Council, which will chart the history of physical yoga practices, and we are one of only four universities in the world to offer an MA in Yoga and Meditation. The Centre of Yoga Studies is a hub for scholars, students and all those interested in yoga and hosts lecture series, seminars and workshops in order to share our work, learn from that of others and develop new collaborations.
Sign up to our Facebook page to stay up to date with news and events.  We also have a YouTube channel with event recordings.