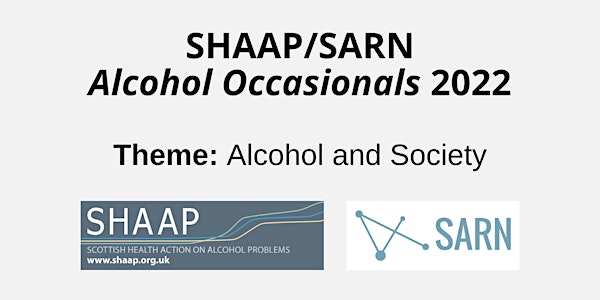 Alcohol Occasionals - Self-harm and alcohol use
Sales Have Ended
Registrations are closed
Sorry, we have reached capacity for this event.
Sales Have Ended
Registrations are closed
Sorry, we have reached capacity for this event.
Dr Amy Chandler and Annie Taylor present: "Navigating the complexity of harm and care: a qualitative study of self-harm and alcohol use"
About this event
Scottish Health Action on Alcohol Problems (SHAAP) and the Scottish Alcohol Research Network (SARN) invite you to join us online on Monday 23 May from 12.30-14.00 BST (UK time) for our third SHAAP/SARN Alcohol Occasionals event of 2022.
Dr Amy Chandler and Annie Taylor will present "Navigating the complexity of harm and care: a qualitative study of self-harm and alcohol use" and we will then open to Q+A and wider discussion.
Dr Amy Chandler is a Senior Lecturer at the University of Edinburgh, where she leads sociological and inter-disciplinary research on suicide, self-harm and substance use. She specialises in qualitative methodologies, with a focus on understanding the relationships between personal accounts and experiences, and wider social, cultural and political contexts. Her Twitter handle is @DrAmyChandler.
Annie Taylor is a PhD researcher at Edinburgh Napier University, focusing on the social contexts of alcohol and pregnancy. Annie has worked in policy, practice, and research spanning health, social care, and education for over a decade. She has been involved in various research studies across the public, academic and third sectors, with a focus on children and families. Annie's research interests include gender, maternity, health inequalities, and alcohol and drug use. Her Twitter handle is @AnnieTaylor21.
The webinar will be hosted online using Zoom, and registrants will receive a link to join.
Alcohol Occasionals are free to attend and open to all, and our audience is diverse, including academics/researchers, healthcare professionals, policy-makers and members of the public.
Register for free now!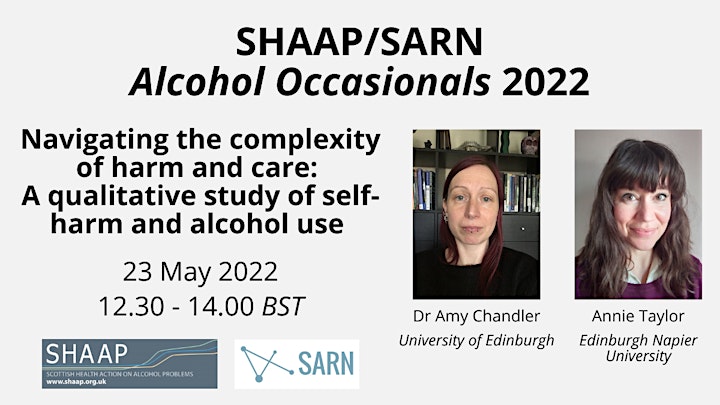 Background: Alcohol use is widely understood to affect self-harm and suicide. While a significant body of literature identifies statistical relationships between self-harm and alcohol, there has been a lack of qualitative research exploring these relationships.
Methods: Eleven people who had experience of self-harm and alcohol use were recruited through community-based mental health organisations across England and Wales. Loosely structured interviews of around an hour took place virtually, inviting participants to 'tell their stories' about self-harm, alcohol use, the relationship between the two practices, and their experiences with services in relation to these.
Results: Participants described a wide range of drinking and self-harm practices, and service experiences. Accounts suggested that drinking and self-harm were deeply connected in multiple complex ways. Alcohol for some was necessary for and exacerbated self-harm; others framed alcohol use as self-harm; while some accounts indicated alcohol and self-harm were practiced in mutually exclusive ways – one helping avoid the other. Participants' experiences with a range of services indicated many were unable to acknowledge or respond to their needs. Several participants reported hiding either alcohol use or self-harm from services, on the understanding that support may be revoked, or negative consequences would arise should they be seen as someone who both self-harmed and used alcohol. In other cases, services appeared to ignore the presence of alcohol or self-harm, focusing only on one.
Conclusion: Findings underlined that a more flexible approach to service provision, enabling acknowledgment of the complex connections between drinking and self-harm, and the social aspects of both, is required. Involving people with 'lived experience' of both alcohol use and self-harm in the design of services, as well as the generation of a broader base of qualitative studies exploring these experiences among diverse groups, are both necessary to drive forward service improvement.
Project funding: Alcohol Change Cymru