Sales Have Ended
Ticket sales have ended
Ticket sales have now ended. Please contact us at info@alextlc.org for further details
Sales Have Ended
Ticket sales have ended
Ticket sales have now ended. Please contact us at info@alextlc.org for further details
The Alex TLC Community Weekend. Bringing together those affected by genetic leukodystrophy for a weekend of talk, support & fun!
About this event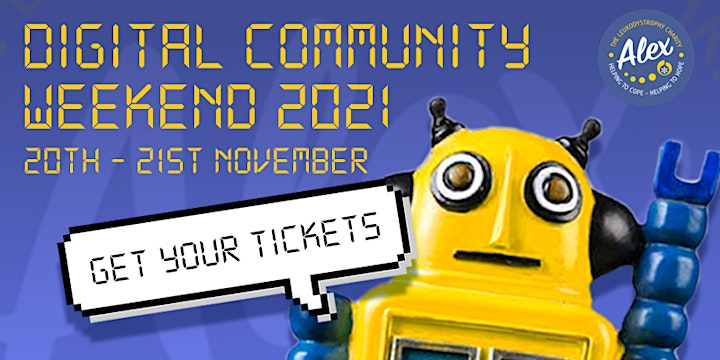 Our Alex TLC Community Weekend on the 20th & 21st November, is designed to bring together sufferers of leukodystrophy and their families, alongside doctors, researchers and scientists from around the world to meet, learn and support one another over a weekend of talks and activities.
As the only UK event of its kind for those affected with a leukodystrophy, our vision is to build stronger support networks, awareness and education through this vital community event.
The conversations with medical professionals and informal chats between sufferers and their families provide practical and emotional support during the event and allow us to better understand the needs of our community. The topics covered and questions asked will feed into our communications and supporter services well into the future, creating more of the specialised support groups and programs that this community desperately needs.
Get your limited early bird discount tickets now!
We are committed to bringing you the best event possible at the lowest possible expense to the charity and our beneficiaries. For 2021 we will be charging a small fee to cover our costs. To make the event as accessible as possible, we are also offering discounted early bird tickets for a limited time.
You only need 1 ticket per household!
We rely on fundraising and donations! The charity couldn't provide the services we do without the funds raised or goods donated through our shops. If you would like to support our work, please follow this link to donate via our Justgiving page here. No matter how big or small, everything helps!
If you have any questions about the event, please contact us at: info@alextlc.org.
For more information about Alex TLC and the work we do, please visit our website.
For details on our privacy policy please see our website here.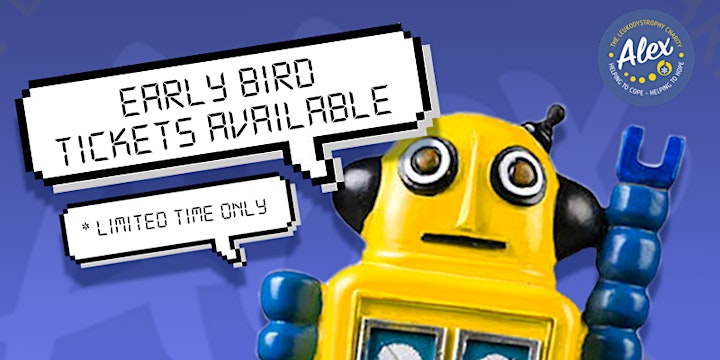 What to expect
We're still working with Doctors and our partners to finalise details and are excited to confirm the following session with you;
Saturday - Science Day
Welcome and Alex TLC Update – Alex TLC
NHS England Inherited White Matter Disorders Patient Registry – Dr John Livingstone
Leriglitazone research update (Adrenoleukodystrophy and Adrenomyeloneuropathy) – Minoryx Therapeutics
ABX-002 research update (Adrenomyeloneuropathy) – Autobahn Therapeutics
PXL770 and PXL065 for adrenomyeloneuropathy – AMN Research Update – Poxel
Meet & chat over lunch
ION373 research update (Alexander's Disease) – Dr Amy Waldman
Natural History Study & Patient Reported Outcome Measures (Adrenomyeloneuropathy) – SwanBio
Gene therapy update (GM1 gangliosidosis, Krabbe & Metachromatic Leukodystrophy) – PassageBio
New Born Screening for Adrenoleukodystrophy Round Table Summary – Prof Colin Steward
Professional and Patient Q&A Panel
Mindfulness Session – Dr Pujit Gandhi
Alex TLC Children's Book Workshop – Simon Chadwick
Sunday - Condition Management Day
Welcome, Alex TLC Update and Children's Craft Session – Alex TLC
Alex TLC Condition Management & Support Services – Karen Harrison & Suzanne Gosney
Expectations of patient care and impact of new NHS England Inherited White Matter Disorder Service – Dr Rahul Singh
Long term impacts of Bone Marrow Transplant – Claire Turner & Dr Rachel Cox
Support for Severely Symptomatic Patients (adults) – Dr David Lynch & Professor Jeremy Chattaway
Accessible Physical Wellbeing Activity – The Disability Foundation
Support for Severely Symptomatic Patients (children) – Dr Alasdair Parker
Meet & chat over lunch
Genetic counselling and informing wider family – Jon Wells
Bone Marrow Transplants and Gene Therapies. – Orchard: Katie Snell
Managing Continence Symptoms – Dr Sarah Wright
Transition to adult services – Cambridge Rare Disease Network
Artbase: Childrens Art Activity
Managing Mental Health
Professional and Patient Q&A Panel
Ways to get involved with our work – Alex TLC
Raffle Draw
Britain's Got Talent – Steve Royle
You can check out latest agenda with session times on our website here: https://www.alextlc.org/digital-community-weekend-2021/
We will share the final agenda and zoom links with all ticket holders the day before the event.
Please check your junk folder or contact info@alextlc.org with any questions.
Something holding you back?
We want to make the event as acessible to as many of you as possible so please let us know if there is any reason stopping you from joining, email us: info@alextlc.org.
Got any questions?!
Have a read through our frequently asked questions on the website. Cant see what you;re looking for? Email us at: info@alextlc.org.
Date and time
Location
Refund policy