Description
It might be assumed that our modern Christmas owes much to the Victorians. In fact many of our favourite Christmas traditions date back much further. Carol-singing, present-giving, mulled wine and mince pies were all just as popular in Tudor times, and even Father Christmas and roast turkey dinners have their origins in this period. The Tudor Christmas was a time of feasting, revelry and merrymaking, a twelve-day-long festival, ending a period of fasting, over which the Lord of Misrule held sway, and convention was thrown to the winds. Christmas was so beloved by English people that its traditions survived remarkably unchanged in this age of tumultuous religious upheaval.
This festive season, join Alison Weir, one of Britain's top-selling historians, and Siobhan Clarke of Historic Royal Palaces, as they tell us more about the traditions that have their foundations in Tudor times.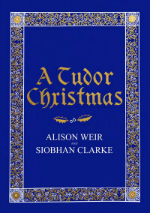 Alison is the author of 18 non-fiction titles and nine historical novels. She is an Honorary Life Patron of Historic Royal Palaces. She has done over 800 events at numerous historical sites, museums, art galleries, festivals, bookstores, libraries, charities and schools in the UK, Ireland, the USA and Canada.
Siobhan is based at Hampton Court Palace, where she trained as a Costumed Interpreter before becoming an HRP Guide Lecturer. As well as specialising in 16th century dress, she delivers tours and lectures on Hampton Court, The Tower of London and the Banqueting House, Whitehall Palace.
Tickets for the event are priced at £6 in advance (£8 on the door) and can be purchased through this page, by calling 01223 463200 or in person at Heffers bookshop. Please note that tickets are transferable but non-refundable.
If you are unable to attend but would like to request a signed copy of A Tudor Christmas, please send an email via the 'contact' button on this page.
Like this? See a full list of our forthcoming events by clicking here.