About this Event
For Frieze East End Gallery Afternoon, please join us for a gallery talk by Alison Wright, Professor in Italian Art c. 1300–1550 at University College London, who will respond to Andrea Büttner's exhibition 'The Heart of Relations'. The exhibition presents a major new site-specific installation in reference to Giotto's star-filled blue fresco adorning the vault of the Scrovegni Chapel in Padua, Italy. Büttner's installation transforms the gallery's arched ceiling into a vibrant sky populated by life-size potatoes. The exhibition also features a selection of new paintings and sculptural works.
This event is free and all are welcome. Please reserve your space by registering on Eventbrite.
Frieze East End Gallery Afternoon: Sunday, 29th September, 14:00–18:00
Andrea Büttner: The Heart of Relations runs until 14 December 2019.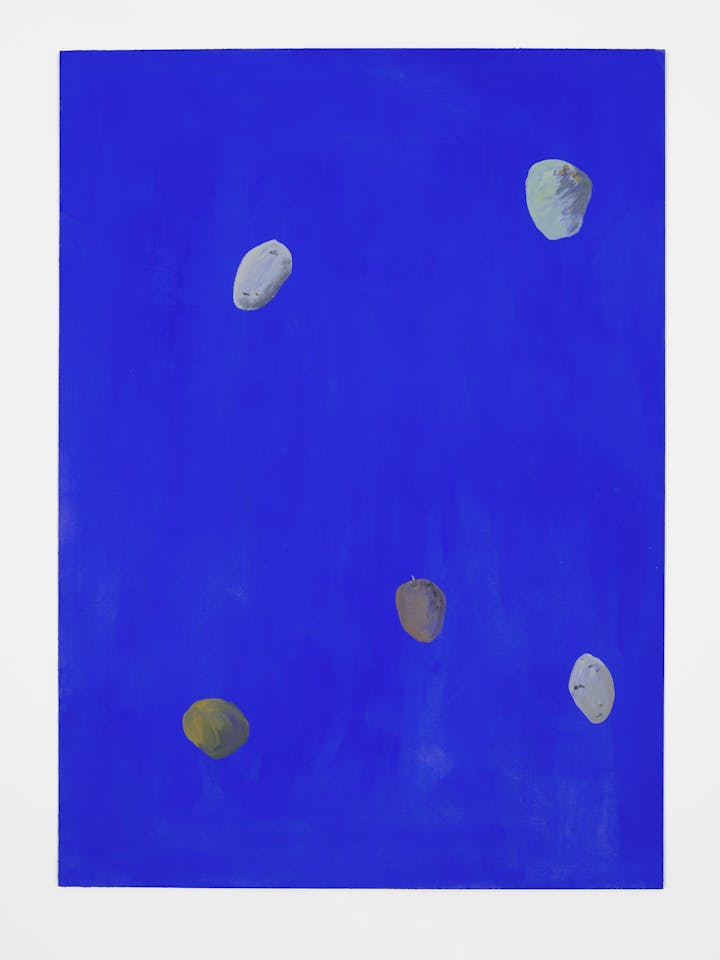 Biographies
Andrea Büttner (b. 1972, Stuttgart) lives and works in London and Berlin. Her practice connects art history with social or ethical issues, exploring broad-ranging topics such as poverty, work, community, belief, botany, Catholicism, and philosophy. Her work is based on thorough research into specific areas or situations, and is articulated through diverse formats including printmaking, sculpture, painting, weaving, photography, and video. Büttner was shortlisted for the Turner Prize in 2017 and is a winner of the 2009 Max Mara Art Prize for Women. Recent solo exhibitions include Shepherds and Kings, Bergen Kunstall, Norway (2018); Hammer Projects: Andrea Büttner, Hammer Museum, Los Angeles, USA (2017); Beggars and iPhones, Kunsthalle Wien, Austria (2015); Andrea Büttner, Walker Art Center, Minneapolis, USA (2015), BP Spotlight: Andrea Büttner, Tate Britain, London, UK (2014); and Andrea Büttner, Museum Ludwig, Cologne, Germany (2014). Selected group shows include On Vulnerability and Doubt, Australian Centre for Contemporary Art, Melbourne, Australia (2019); 33rd Bienal de São Paulo (2018); Turner Prize exhibition, Ferens Art Gallery, Hull, UK (2017); Broken White, Van Abbe Museum, Eindhoven, Netherlands (2016); British Art Show 8, UK touring exhibition (2016); and Documenta 13 (2012). Her work is in the permanent collections of many institutions, including MMK Museum für Moderne Kunst, Frankfurt; Museum Ludwig, Cologne; Museum of Modern Art, New York; Tate, London; and Walker Art Center, Minneapolis.
Alison Wright is Professor in Italian Art in the Department of History of Art at UCL. Before joining UCL she trained at the Courtauld Institute of Art. The research for her first monograph, The Pollaiuolo Brothers: the Arts of Florence and Rome (Yale University Press 2005), centred on aspects of production, design and patronage in later fifteenth-century art, with a focus on the interrelation of the arts, disegno, portraiture, and the figure of the goldsmith-painter-sculptor. While an I Tatti Fellow she collaborated on the exhibition Renaissance Florence: the Art of the 1470s, (1999-2000). Related projects include the exhibition Nameless: Anonymous Drawings of 15t- and 16th-Century Italy (Moray Art Centre, Scotland) and co-authored With and Without the Medici: Art and Patronage in Tuscany, 1434-94. Her most recent book, Frame Work: Honour and Ornament in Italian Renaissance Art (Yale University Press 2019), examines framing in and around painting, sculpture and related arts in respect to social ritual, artistic change and the production of meaning. Wright has published extensively on relief sculpture and the public situation of statuary (Art History, 2011) and she is now studying the transformations of gold in Early Modern art and society.