Alive with Local Food launch
Description
A launch party for 'Alive with Local Food' - a Strategy for supporting and growing the local food economy across the Forth Valley and Lomond region! Hear about what's happening with local food across the region, meet producers and other foodie folk, participate in local food activities, and (of course) eat some local nibbles!
Event runs from 16:30 - 18:30, split into two parts -
16:30 - 17:30 - Alive with Local Food launch & presentations
17:30 - 18:30 - Alive with Local Food networking, nibbles, and workshops
... more details below:
---
16:30 - 17:30 - Alive with Local Food launch
- Alive with Local Food:
Local Food & Drink Coordinator, Ashley Robinson will outline the ambitions and activities of Alive with Local Food. This is including the aims of enabling a vibrant local food economy, investing in the people at the heart of local food, shaping a resilient future for our food system, and showcasing and celebrating local food.
- How to get involved - how you, your organisation, or your business can get involved in upcoming local food events and activites.
- Poster Unveiling: the winner of Stirling high school poster competition for the Forth Valley Food Festival
We will also hear about:
Local food success stories - examples of the different areas of the food system that the Alive with Local Food Strategy and actions are seeking to support. Including:
·

Stirling Neighbourfood:
Stirling's weekly 'click and collect' local market, Stirling Neighbourfood, is an innovative and important route to market for local producers. Stuart Guzinski will explain Neighbourfood and its positive impact for local food economies and communities. He will also detail Forth Environment Link's exciting new development, of expanding the online food market model across Scotland with funding support from the LEADER programme.
·

Gartur Stitch Farm:
Based just outside Port of Menteith, this diversified small-holding run by Kat Goldin and Kevin Harrison has gone from strength to strength. Gartur Stitch Farm offers creative workshops, farm dinners, 'Meet the Goat' experiences ,and more. We will learn more about their diversified approach to farm life and business, including their experiences participating in the Forth Valley Food Festival 2018 and their recent successful Crowdfunding bid.
·

The Hub G63 & Wild Wonders foraging project:
Ruth Glasgow is heading new social enterprise, The Hub G63 based out of Drymen - which is engaging and supporting the local community in sustainable living. She will outline the Hub's activities that include zero waste pop-up shops, a community food growing project, and regional local food distribution. Ruth will also touch on her participation in the Wild Wonders training programme - a pioneering Forth Valley & Lomond LEADER project that up- skills local businesses with in-depth foraging knowledge.
·

The Kitchen @ 44 King Street
At the heart of Stirling city centre, this exciting new project is a great example of partnership, community, and collaboration. Sara MacMillan will detail the food plans for the Kitchen @ 44 King Street - including a rooftop tiny farm, community kitchen, and commercial kitchen for local food businesses.
---
17:30 - 18:30 - Alive with Local Food networking, nibbles, and workshops
A chance to network with foodie-folk and nibble on locally-sourced goodies, meet with local producers of the Neighbourfood weekly market, and participate in food activities. All activities are free and open for all, apart from the 'flower crown workshop' requires booking (details below).
Activities include:
- Meet the Hens (Egglicious Eggs) - local free-range hens to meet and greet.
- Live music - from Stirling High School budding musicians.
- Grow Your Own salad (Forth Environment Link) - use upcycled materials, sow some seeds, and take home future zero-food-mile salads!
- Coffee Roasting 101 (Counter Roast) – everything you ever wanted to know about coffee, from our local roasting expert, Stewart from Counter Roast. Stewart will walk us through his 'Stirling Signature' coffee blend, roasted locally in Clackmannanshire, with samples available at the event to have a taste. He will show the different stages of roasting, explain the nuances of choosing different elements in coffee blends, and what you should be looking for in your morning brew.
- Bee Keeping basics with Stirling High students - Explore the food activities of Stirling High students - from bee-keeping on Stirling castle, to food production with local ingredients, to growing their own veggies on the roof-top garden.
- Local Food & Active Travel (Stirling Active Travel Hub) - learn how to combine local food and active travel more often - veggies on foot, or bread by bike.
- Mini Flower Crown workshop (Tomnah'a Market Garden)
Tomnah'a Market Garden will be putting on a mini 'Grown Not Flown' Flower Crown workshop! The flowers are all grown by Tomnah'a in Comrie, just north of Stirling, and are all local and seasonal blooms with low 'flower miles'.
The workshop is free to attend, but you must book ahead of time as the spaces are very limited. So, if booking, please ensure that you attend so that others don't miss out.
There will be two sessions held: 17:30 - 18:00, & 18:00 - 18:30. There are two ways to book:
1) You can book via the Stirling Neighbourfood online market here, look for the workshop under the Forth Environment Link 'producer' tab.
2) Or you can book via a separate Eventbrite booking page - contact the Local Food & Drink Coordinator, Ashley Robinson at Robinsona@stirling.gov.uk to request a booking link.
---
16:30 - 18:30 - Stirling Neighbourfood Marketplace & Taster-session:

The launch event is being held simultaneously with the click'n'collect weekly farmers market, Stirling Neighbourfood - an innovative way to connect local people to local producers. There will be free tasters and a chance to chat with your farmer, baker, or food producer - but if you'd like to buy food on the day, make sure to pre-order via the Neighbourfood website before midnight, Tuesday June 04th.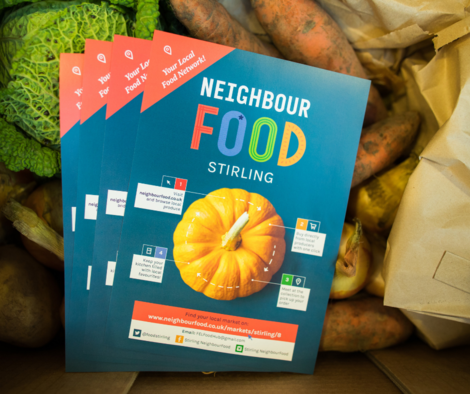 Any questions please contact the Local Food & Drink Coordinator, Ashley Robinson.