Event Information
Location
Kalkscheune Berlin
2 Johannisstraße
10117 Berlin
Germany
Description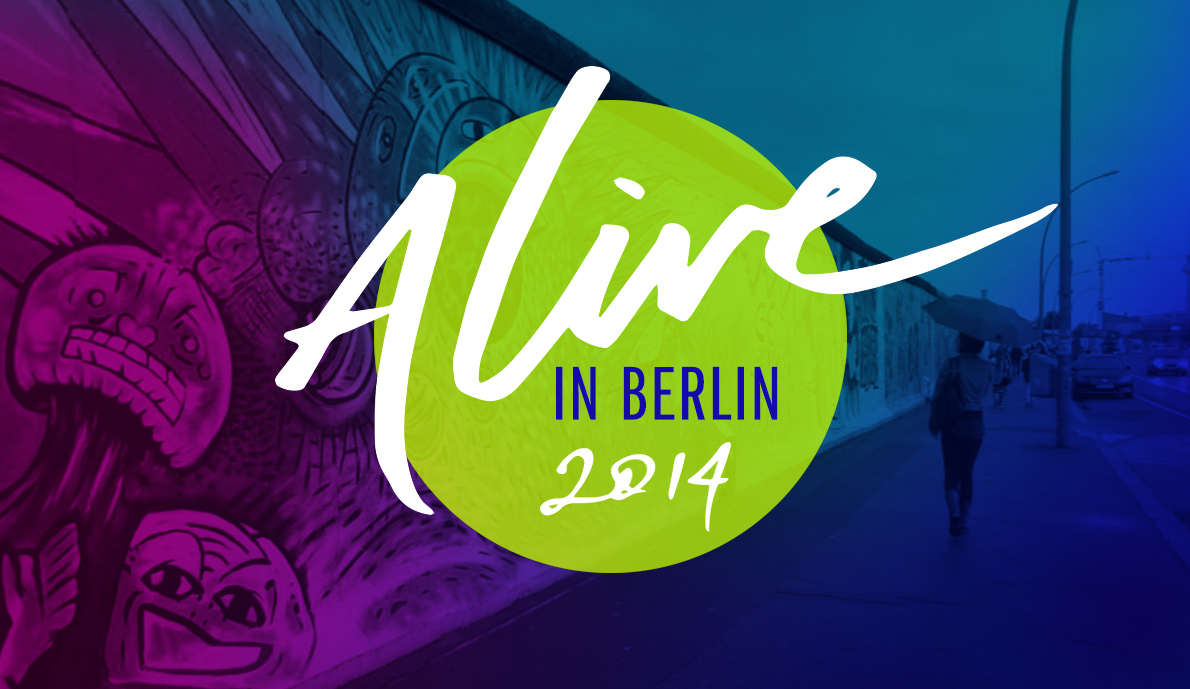 We're so excited that you'll be coming to Berlin to come ALIVE with us in May!
What's included with every ticket:
General Seating

ALIVE Workbook

ALIVE tote bag

Morning and Afternoon Snacks and Drinks

Admission to all keynotes, workshops and most scheduled activities

Admission to the Big ALIVE Party on Friday Night
You'll have to make your own travel and accommodation arrangements but we will send all ALIVE Insiders a super cool Guide and tips to make it very easy for you to join us!
VIP Tickets
For those of you who love to sit in the front row and enjoy some special treatment we are also offering a very small number of VIP tickets. These will include all of the above of course, plus these cool features:
Priority Check-In

Front Row and Centre Seating for all Keynotes

Special care by our very own VIP Hostess

3 Months Free Membership of the super secret ALIVE Academy

A 30-minute Implementation Strategy Session with ALIVE Creator and Life Coach Extraordinaire Jana Schuberth within 3 months post the event.
Whatever you choose...
IT'S TIME TO COME ALIVE IN BERLIN. JOIN US!
What is it?
Alive in Berlin is a global gathering devoted to personal transformation that takes place on the 30th and 31st of May 2014 in Europe's most exciting city.
The event will bring together world-class experts, visionaries and change makers from a variety of communities and disciplines.
Together, we'll explore the common threads that connect us and make us come alive.
The core themes we'll be exploring are:
WORK & MONEY

RELATIONSHIPS & SEX

COMMUNITY & SPIRITUALITY

HEALTH, FOOD & FITNESS

ADVENTURE & ASPIRATION

A SHARED COMMITMENT TO CHANGE
Alive in Berlin is a unique opportunity to surround yourself with other extraordinary people who are committed to changing themselves and the world around them for the better.
Our keynote speakers include experts in business, creativity, adventure, health and passion.
We also want to strengthen the bonds between our communities in Europe, the US and the rest of the world – again, focusing on what we have in common -passion, rebelliousness, and a powerful curiosity and hunger for change.
We believe that by sharing our stories and knowledge in an open and relaxed atmosphere, we can hold each other to higher standards and build a support network that transcends topic area and geography.
It's our mission to nurture your dreams and ambitions and enable you to walk away with the mindset, practical tools and confidence to step up your game and create lasting change in your own community and the world at large.
THE EXPERIENCE
Alive in Berlin is not just about getting a temporary hit of inspiration, it's about making deep connections and coming away with a solid plan of action.
Rather than leaving with your head in the clouds, overwhelmed with information and ideas and ultimately coming back down to earth with a bump, we want you to feel confident, re-energised and ready to wholeheartedly step all areas of your life up to the next level over the long-term.
The two-day event will include 8 brilliant expert speakers from a wide range of disciplines, space throughout the weekend for relaxed conversation and interaction, daily Q&A sessions where you can interact directly with many of our speakers and coaches, and opportunities to get active and involved for those who want to. There will also be a chill room and coffee corner to relax, reflect and take time out if you need to!
Why?
TRANSFORMATION DOESN'T HAPPEN IN A VACUUM.
Change doesn't happen alone. The truth is, what you're doing at the moment probably isn't working otherwise you'd already have what you really want.
We need each other to facilitate change. We need to see and hear from people who are where we want to be, in the flesh. Visceral, real life experience that you can't ignore and keep at arm's length. Commitment to change and reaching our full potential requires physical presence, immersion, interaction. Walk away changed, ready for a new way of life.
WE WANT TO HELP YOU:
• Rekindle the big, beautiful dreams and goals you've been tempted to give up on
• learn what's holding you back from achieving those dreams
• Give you clarity of where you are right now, where you want to be, and what action you need to take to get there
• Provide you with a realistic action plan to take forward immediately following the event
Most of all, we want to help you come alive. For a small investment of time and money, you could move your life on in leaps and bounds. What are you waiting for?
When?
We'll be taking over Berlin City on Friday and Saturday the 30th and 31st of May 2014!
This is a long weekend for Berliners, as Thursday the 29th is a Bank Holiday in Germany and Sunday the 1st of June is International Children's Day. We invite you to use the Sunday to play and explore the gorgeous, historical capital of Europe (and we'll even help you choose what to see and do!).
Expect the unexpected, we have some surprises in store for you!
Where?
The Kalkscheune will be our appropriately unique venue for this inaugural event, and is located in the heart of Berlin, right next to the world famous Friedrich Stadtpalast, close to the hussle and bussle of the central Alexanderplatz and the gorgeous area of Hackesche Hoefe, with plenty of different lodging and food options in the area for our attendees.
Who?
Alive is for people like us. People who are curious, who want the most out of life, who aren't willing to settle for second best. People who want to change their lives and the world around them, and are willing to work hard to make it happen. People who crave deep connections and meaningful conversation, not empty words and superficial small talk.
This is our time, this is our fun, this is our tribe. This is our chance to come together and become a movement. By changing ourselves, we can begin to change the world.
Confirmed speakers so far include Chris Guillebeau and Pamela Slim. To see the full line-up visit www.aliveinberlin.com.
Refund / exchange policy (please read!):
All AiB tickets are non-refundable. Transfers and name changes on tickets are available for a £75 fee up to 45 days prior to the event. After April 15th 2014 no further transfers or name changes will be possible.
Make sure to sign up to the Insider Emails so we can let you know when the next batch goes on sale!
Video and Photography Usage (please read!):
All keynotes and activities are filmed and photographed for public sharing and internal use within Alive Events Europe Limited. With the purchase of this ticket you give your consent to these materials being used and published.
Date and time
Location
Kalkscheune Berlin
2 Johannisstraße
10117 Berlin
Germany