Alkemio Kitchen brings you a seasonal menu unlike anything you've ever seen before, 10 courses of exciting, audacious and colourful food!
About this event
Chef Fergus Blair is on a mission to carpet bomb your palettes with a world of bold flavours and innovative ingredient combinations, through a series of 10-courses of audacious 'modern global fusion' cuisine, fine dining style - in one of London's most unique venues - a classic English church near Notting Hill.
This is Fergus's deepest dive into seasonal ingredients yet, with an emphasis to wildly reinterpret what is possible with this great British autumnal ingredients, using formats, cuisines and spice profiles from around the world.... expect to be taken on a journey!
What to expect
• You'll be greeted at the grand entrance of the church with a home-brewed kombucha based cocktail and canapés
• Take a pew for an innovative 10-course fine-dining style taster menu (see below) - colourful, vibrant food with bold flavour combinations
• Meet host Fergus, who will explain the inspiration behind each creative and colourful dish
• Vegetarian options available
• Min 2 guests per booking + guests will be seated at separate tables, unless they would like to be at a shared table.
Menu
Mystery Canapes + Arrival cocktail
Sea Bream + Pumpkin Ceviche
Sanbaizu reduction, pumpkin seed/XO pesto, Yuzu/Avocado cream
Smoked Corn + Fermented Blackberry
Chipotle, tajin, crumb, herbs
Beetroot Churros + Goats Cheese Ice Cream
Plantain crisp, salsa verde
Kimchi Verde + Soy Cured Yolk
Sesame cracker, roasted carrot
Jerusalem Artichoke Dauphinoise + Brisket Croquette
King Oyster Mushroom, Shiitake + Black garlic Ketchup
Kinoko in X0 Taco
Shiitake, Oyster, Shimeji with toasted satay + mint
Plum Jerk Poisson
Cornfed poisson, sous vide then fried, tossed in plum and rose jerk
Beet risotto, carrot and cinnamon puree, rose and cola reduction, thyme salsa
Corn and basil sorbet
Deconstructed pumpkin pie
Smoked maple/miso meringue, carrot cake ice cream
Vegetarian options available (please enquire), menu may be subject to minor changes
Tables of 2-12 people (bigger table possible, please get in touch beforehand), £68 pp, please contact us if any dietary requirements, wine pairing of 7 x 100ml glassed plus 1 cocktail available for £38. £20 deposit to book, pay remainder on the evening.
WhatsApp 07379775128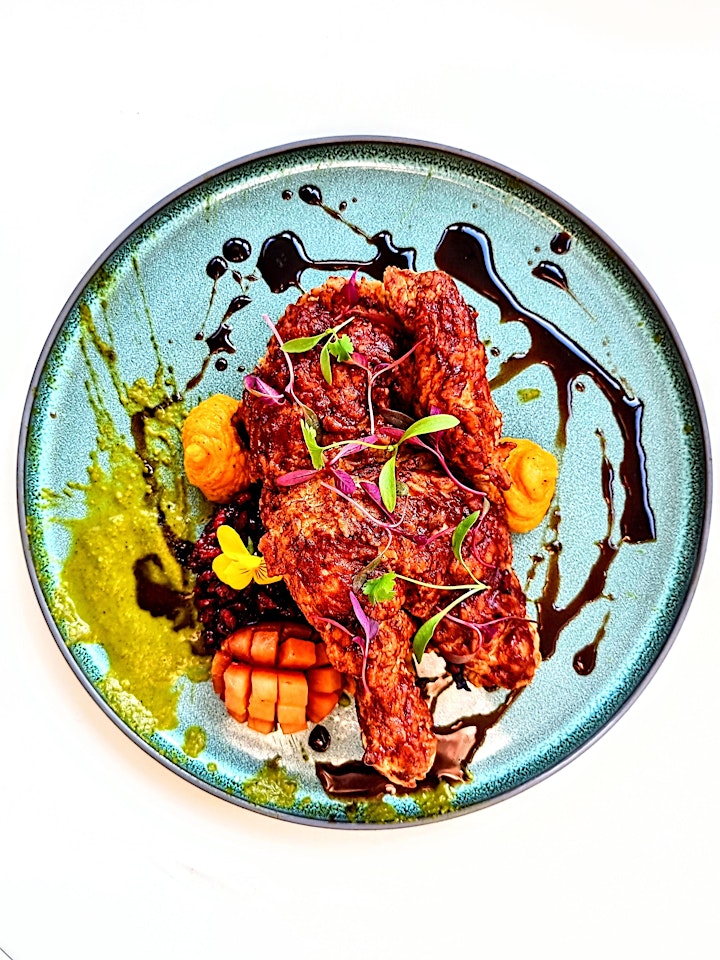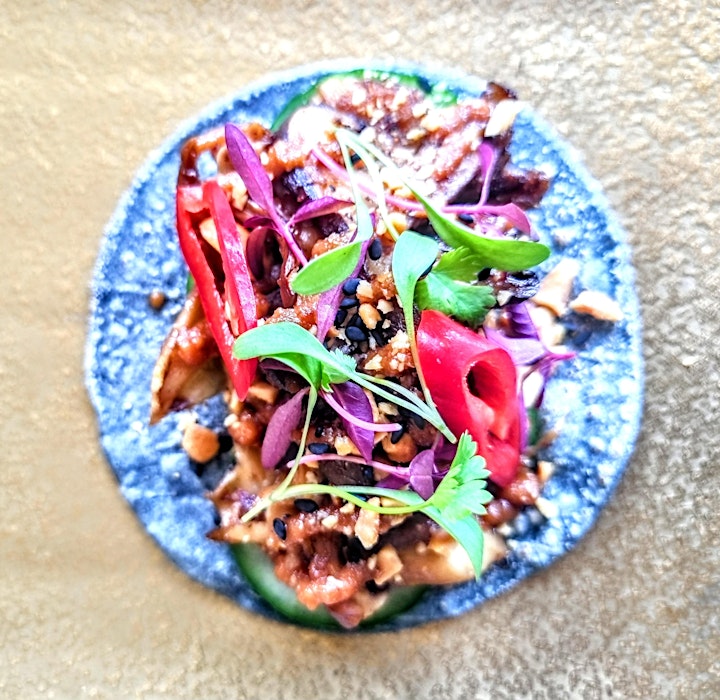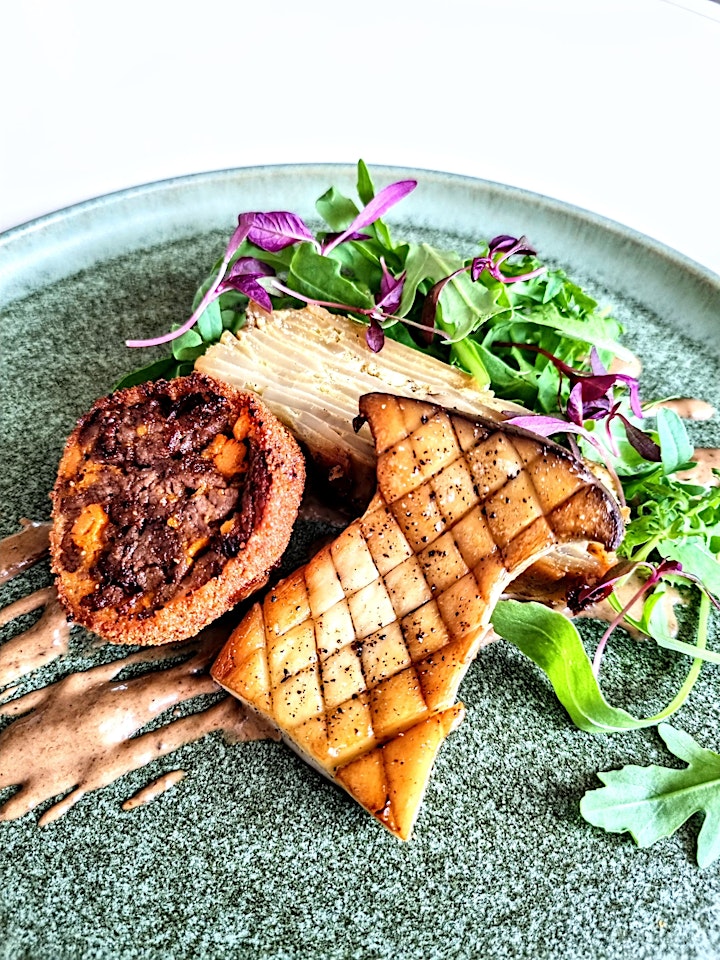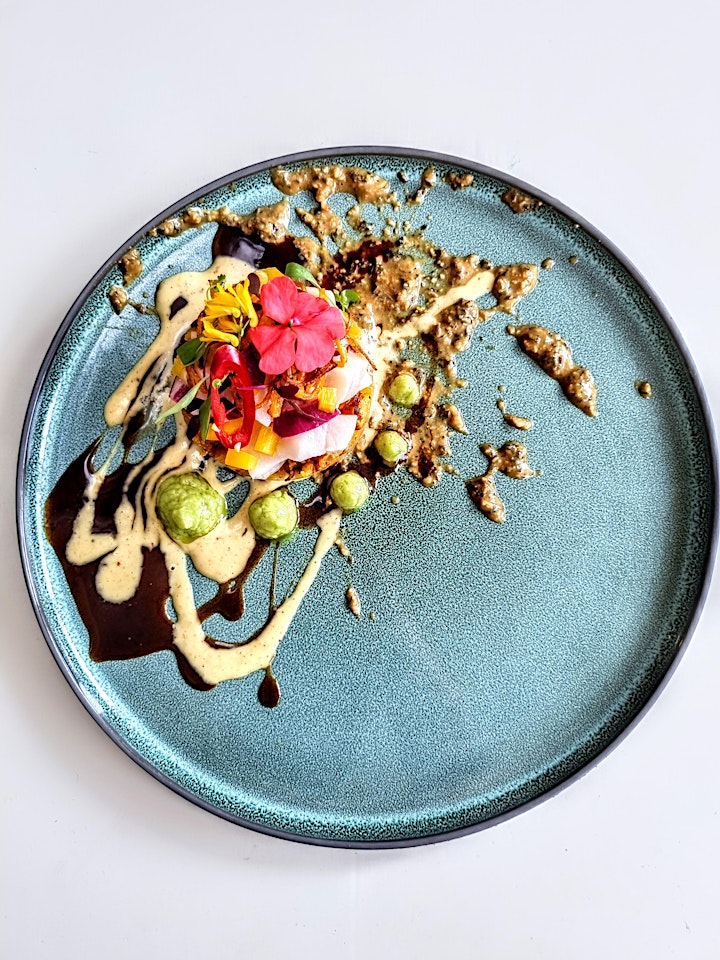 Organiser of Alkemio Kitchen- Autumnal fusion 10 course taster menu in a church!