Description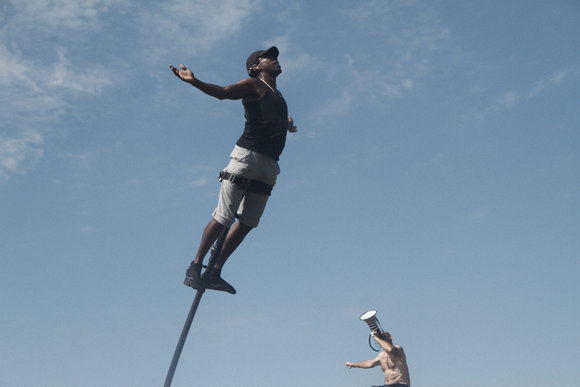 A New Direction would like to invite you to the private view of all eyes on us, a short film that follows the journey of four disabled people in the run up, performance and aftermath of the opening ceremony for the London 2012 Paralympic Games.
Date: Monday 02 September 2013
Time: 1.30 - 2.30pm (Screening & Q&A Two)
Venue: BFI (NFT 3 auditorium), Stamford St, London, SE1 9NN
The film follows the lives of David, Stephen, Johnnie and Lauren, and explores the impact that being involved in the Paralympic Opening Ceremony had on their lives, asking whether perceptions of disabled people (and young people) have shifted as a result of London 2012. The photographic images reveal a unique insight into the performers training.
A New Direction commissioned Eelyn Lee Productions to produce and direct the film exploring disability and access to cultural participation working with a group of talented young film makers from the Olympic host boroughs.
all eyes on us was born out of the London 2012 Olympic and Paralympic focus on young people, optimism and the future.
* The film contains subtitles and an audio description of the film is available. The event will be sign language interpreted. The film lasts 26 minutes and will be followed by a Q&A panel discussion.
* The NFT is accessible but there is space for only 7 wheelchair users per screening. Please let us know of any access needs when booking your ticket.

Organizer of all eyes on us - Screening 2 and Q&A
Please note: we endeavour to make all of our events accessible to all. All of our venues are wheelchair accessible. For further accessibility information please refer to the venue's website.
A New Direction is a London-based non-profit generating opportunities for children and young people to unlock their creativity.
Why does A New Direction exist?
London is one of the greatest creative hubs in the world. Every day, thousands of the children and young people who live here are inspired by the city's culture to unleash their own creative side. They have the chance to develop their skills, talents and passions, becoming people who can thrive in a challenging, changing world and boost our wider society.
But there are also thousands of young people who miss out on London's creative opportunities. Barriers of inequality or simple lack of support stop young people from reaching their creative potential, which has knock-on effects for their chances of personal fulfilment and success in later life.
What is the vision of A New Direction?
Inequality is not set in stone; we can make London into a city with equal opportunities to engage with culture and be creative for all young people and children. This is our vision.
We are working towards a society where all children and young people can thrive through developing their creativity.
What does A New Direction do?
We work directly with the organisations at the front line: schools, cultural venues, local authorities and businesses. We unite those organisations to campaign for better policies that serve children and young people. We organise joint events and projects to reach a broader audience. We connect young people to mentors, work experience and inspiration.
Who does A New Direction help?
Children and young people in London and through helping them, wider society.