Sales Have Ended
Registrations are closed
The sign-up for this event has now closed. Please email allwestofengland@gmail.com for access.
Sales Have Ended
Registrations are closed
The sign-up for this event has now closed. Please email allwestofengland@gmail.com for access.
ALL Lesson Learnt in 2020 - a VIRTUAL CONFERENCE
About this event
Our fabulous #ALLSW Conference
returns in 2021 WITH A DIFFERENCE
Experience the conference buzz - DIGITALLY - whenever, wherever, however FOR FREE!
Sign up NOW for an exclusive link to watch the Keynote and ALL the Workshops
Recorded webinar link released 27th Feb 2021
KEYNOTE
SUZI BEWELL - Passport to the world: globalising the curriculum in MFL
Overview: Offer your pupils a virtual passport out of lockdown and dare to explore the wider French, Spanish and German speaking world in your lessons. When teachers and learners explore the beautifully diverse world around them, rich cultural conversations can't help but happen.
Allow Suzi to reignite your passion, globalise your curriculum and transform your existing Scheme of Work.
4 WORKSHOPS
Liam Printer - Motivation
Maud Waret - Decolonising the Curriculum
Joe Dale - Quizzing and Retrieval
Judith Rifeser - Authentic Texts - delivered in German - a Conference first!
Liam Printer: A practical approach to building intrinsic motivation in the languages classroom.
Overview: This webinar provides attendees with practical, evidence-based, strategies that will build enthusiastic engagement among language learners, leading to heightened intrinsic motivation for both the teacher and their students. Participants will leave this webinar with a host of low-prep, easy to implement, classroom activities based on educational research that are proven to build motivation in the classroom.
Maud Waret: We need to talk about decolonising the curriculum.
Overview: Maud will include a variety of resources in French and Spanish on use of language, themes and cultural references in this webinar. After receiving a solid classical education in the humanities, Maud realised that the curriculum reflected a very small proportion of humanity. It was predominantly about white middle-class men through a celebration of their successes or a reaffirmation of their interests. Thus, change is needed. The national curriculum and every teacher's lesson planning would benefit from a serious, consistent and ground breaking overhaul in order to counterbalance white predominance in popular culture and general knowledge. Maud has thus embarked on a series of online presentations in order to share her passion for decolonising the curriculum while promoting black history, black and mixed-race experiences and black, their cultural identities and representations in the media. Through her work on afro hair and black representations in lesson resources, she is challenging the imposition of Caucasian beauty standards on ethnic minorities in Europe.
Joe Dale: Quizzing tools and retrieval practice in MFL
Overview: In this webinar, Joe Dale will showcase a variety of self-marking tests using free web-based tools, which promote retrieval practice, reduce teacher workload, facilitate formative assessment opportunities and provide learners with effective feedback in and out of the languages classroom.
Judith Rifeser:
Wie authentische Texte uns helfen im Deutschunterricht Brücken zu bauen
Wie können wir authentische Texte wie Filme, Gedichte und Geschichten, aber auch Rätsel und Witze in den Deutschunterricht einbauen und damit unsere Schüler*innen aktiv in den Unterricht einbeziehen und sie zum Lernen motivieren? Was konnten wir im letzten Jahr lernen? Dieser Vortrag beschäftigt sich mit diesen Fragen und zeigt anhand praktischer Beispiele, wie diese Konzepte und Ideen direkt in den Unterricht eingebaut werden können. Aufgrund spezieller Nachfrage wird dieses Seminar auf Deutsch stattfinden.
How authentic texts can help us build bridges in the German classroom
How can we use authentic texts such as films, poems and stories but also puzzles and jokes in the German classroom to motive and engage our pupils? What could we learn from the experiences over the past year? This talk engages with these questions and makes use of practical examples than can be taken directly into the German classroom. Upon special request this talk will be given in German.
-------
Speaker Information
Suzi Bewell is a well-known languages teacher and trainer. Until 2015, she ran the PGCE MFL course at York University. She has over 20 years' experience of teaching French, Spanish and German, and more recently Mandarin in the UK and overseas, is a SSAT Lead Practitioner for language and also runs her own successful educational consultancy http://www.pollyglotlanguages.co.uk supporting languages teachers worldwide.
Thank you as always to the huge generosity of our sponsors and publishers kindly donating raffle prizes. These will be announced in due course.
Twitter: @suzibewell
-------
Liam Printer is the host of The Motivated Classroom podcast and currently works as a Spanish teacher and Approaches to Learning Coordinator at the International School of Lausanne in Switzerland. He is currently finishing his Doctorate in Education with his thesis focussing on motivation and teaching languages through storytelling and his research has been published in two peer reviewed journals. He was the keynote speaker at the Irish Association of Spanish Teachers national conference in 2019 and has been invited as a speaker at a variety of international language teaching conferences. He has worked as an educational consultant with schools in Finland, China, Luxembourg and Switzerland. For a more detailed bio please visit his website: https://www.liamprinter.com/about.html
Twitter: @liamprinter @motclasspodcast
Instagram: @themotivatedclassroom
-------
Maud Waret is a mixed-race French woman living in the UK. As a feminist, environmentalist and humanist, she believes that education is a fundamental right and an unalienable duty. People of all background, abilities, ages, ethnicity and financial means deserve a varied and challenging curriculum. Education should equip students with the right tools to make sense of the world they inhabit. Maud currently teaches Foreign Languages in a state secondary school in Hertfordshire. She studied literature and history in France at the Sorbonne and did her PGCE in London at Goldsmiths University.
Twitter : @profprofMFL
-------
Joe Dale is an independent languages consultant from the UK who works with a range of organisations such as Network for Languages, ALL, The British Council, the BBC, Skype, Microsoft and The Guardian. He was host of the TES MFL forum for six years, former SSAT Languages Lead Practitioner, a regular conference speaker and recognised expert on technology and language learning. He has spoken at conferences and run training courses in Europe, North America, South America, the Middle East, the Far East and Australasia. He was a member of the Ministerial Steering Group on languages for the UK coalition government and advised on the Linguanet Worldwide project for The Language Company. He created ICT activities for the new Institut Français, ALL and Network for Languages Primary French Project Niveau Bleu, Blanc and Rouge courses and was short-listed for a NAACE Impact Award in 2013 too. Joe supported the Erasmus Plus project Conflict to Cooperation with 5 European countries and is currently supporting the Erasmus Plus Project Learning to think and live outside the box. He also worked on the Supporting Schools Reform in Algeria project through the British Council 2019-2020. He was recently described in a Guardian article as an 'MFL guru' and 'the man behind the '#mfltwitterati'.
Twitter: @joedale
-------
Judith Rifeser is a languages and media teacher, researcher, filmmaker. She is the Joint Coordinator of the PGCE Secondary Languages Programme at Goldsmiths. She is the ALL Deputy Membership Officer and a long-standing committee member of ALL London. A German and Spanish specialist, she has been teaching modern languages and EAL in the UK, Spain, Italy and the US in the primary and secondary school sector, as well as in higher education. Previously, she was Head of KS5 German and schoolwide Teaching and Learning Facilitator in a London secondary school. She has worked with Into Film, the BFI and Linguascope to develop engaging authentic film resources for the languages classroom.
Frau Dr. Rifeser ist Sprach-und Medienpädagogin und ist Co-Leiterin der Sprachlehrerausbildung (PGCE) für die Sekundarstufe an der Goldsmiths University. Sie ist auch "Honorary Deputy Membership Officer" für ALL und ein langjähriges Ausschussmitglied von ALL London. Sie hat sowohl Erfahrung im Fremdsprachenunterricht in der Primar- und Sekundarstufe als auch im Hochschulwesen. Nachdem sie als Juniorprofessorin für Sprachen an der Johns Hopkins University tätig war, übernahm sie zuletzt die Leitung der Abiturklassen im Fach Deutsch, sowie die Verantwortung für die schulinterne Weiterbildung an einer englischen Schule. Jetzt widmet sie sich vor allem der Aus-und Weiterbildung von Sprachlehrer*innen und beschäftigt sich insbesondere mit dem Medium Film im Sprachunterricht.
Dr. Judith Rifeser, MPhil (Cambridge), PGCE MFL, FHEA
Twitter: @rifjudy
-------
BOOKING:
PLEASE NOTE: access to the content will be assigned to your sign-up email address. Please ensure it is entered correctly.
CONTACT DETAILS:
Contact allwestofengland@gmail.com with any queries about this event
Please be aware that the ALL West of England committee is made up entirely of volunteers, who are either serving or retired MFL teachers, and that we don't have an office or phone number.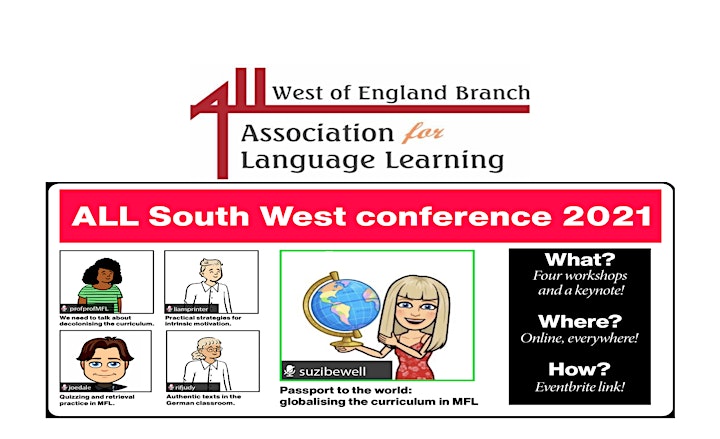 ALL Lessons Learnt in 2020